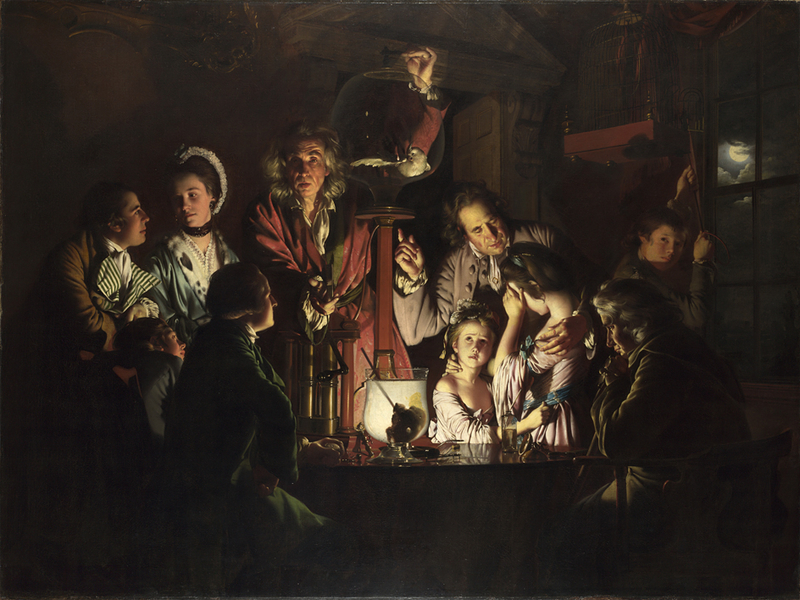 Photo credit: The National Gallery, London
(Born Derby, 3 September 1734; died Derby, 29 August 1797). English painter, active mainly in his native town and generally known as 'Wright of Derby'. He was one of the most original, versatile, and accomplished British artists of the 18th century and the first major English painter whose career was based outside London. In 1751–3 and again in 1756–7 he trained under Hudson in London, and after returning to Derby he made a name as a portraitist in the Midlands, his works displaying fluent composition and a firm grasp of character. In the 1760s he began to paint candlelit scenes of various types, showing the fascination with unusual lighting effects that was to run throughout his career. He was influenced in some of these by Dutch painting, but in his depictions of the contemporary scientific world he broke new ground—his most famous work, An Experiment on a Bird in the Air Pump (1768, NG, London), has been described by Sir Ellis Waterhouse as 'one of the wholly original masterpieces of British art'. Such works won him a considerable reputation, and in 1772 James Northcote called him 'the most famous painter now living for candle-lights'.
Read more
In 1768–71 Wright worked in Liverpool, and in 1773–5 (in company with John Downman) he visited Italy, where he assiduously studied the antique but was even more impressed by the eruption of Vesuvius he witnessed and by a kind of man-made equivalent—the great fireworks display held annually at the Castel S. Angelo in Rome (he painted several pictures of both subjects). On his return to England in 1775 he moved to Bath, hoping to fill the gap left by Gainsborough's departure for London, but his more forthright style did not please sophisticated society there and in 1777 he returned to Derby. He remained there for the rest of his life apart from short journeys when he made tours of the Lake District in 1793 and 1794 (landscape became increasingly important towards the end of his career). Appropriately, Derby Art Gallery has far and away the finest collection of his work.
Text source: The Oxford Dictionary of Art and Artists (Oxford University Press)