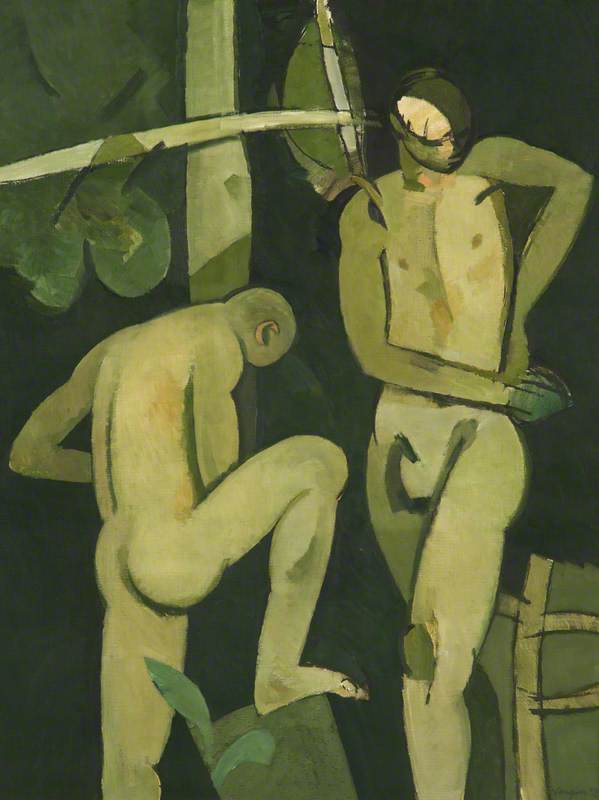 © the estate of Keith Vaughan. All rights reserved, DACS 2023. Photo credit: The Whitworth, The University of Manchester
(b Selsey, Sussex, 23 Aug. 1912; d London, 4 Nov. 1977). British painter, draughtsman, designer, and writer. In the 1940s, with his friend John Minton, he was one of the leading exponents of Neo-Romanticism, characteristic works of this time being coloured drawings of moonlit houses. His later work, in which he concentrated on his favourite theme of the male nude in a landscape setting, became grander and more simplified, moving towards abstraction (Leaping Figure, 1951, Tate, London). Vaughan also designed textiles and book-jackets, and he taught part-time at several art schools in London, notably the Slade. His varied activities brought him critical and financial success, but he felt deep insecurity about his work and his role in life, as is revealed in his book Journal and Drawings (1966), extracts from a diary he had begun in 1939 (a new edition appeared in 1989).
Read more
As well as containing many perceptive comments about art, it gives a remarkably frank (and often highly amusing) account of his homosexual and masturbatory activities (the first edition was much less explicit) and of the struggle with cancer that led to his suicide.
Text source: The Oxford Dictionary of Art and Artists (Oxford University Press)