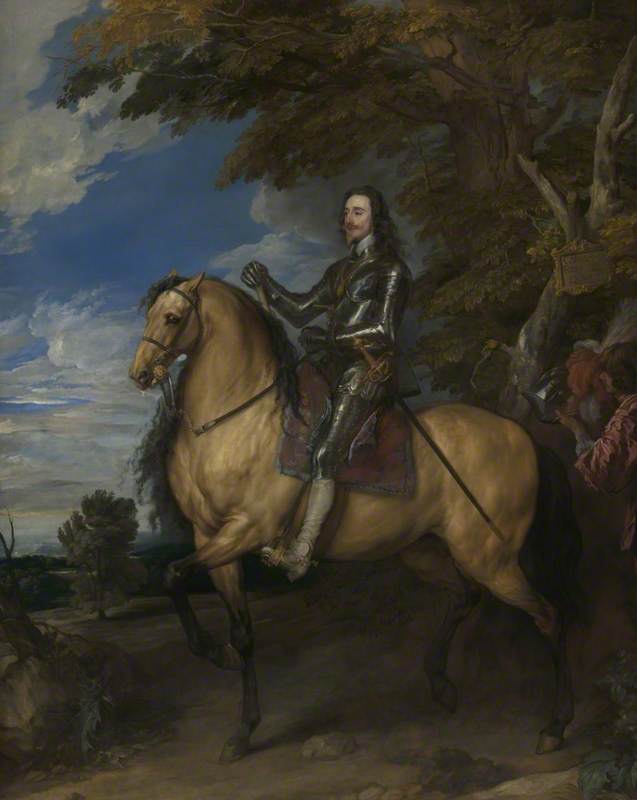 (Born Antwerp, 22 March 1599; died London, 9 December 1641). Apart from Rubens, the outstanding Flemish painter of the 17th century, renowned chiefly as one of the greatest of all portraitists. In 1609 he was apprenticed to Hendrick van Balen in Antwerp. He was exceptionally precocious and on his earliest dated painting (Portrait of a Man aged 70, 1613, Mus. Royaux, Brussels) he has proudly inscribed his own age (14) as well as that of the sitter. From about 1617 to 1620 he was Rubens's chief assistant, but in this period he also painted works of his own and established an independent reputation: in 1620 the Earl of Arundel's secretary wrote from Antwerp to tell his employer that 'Van Dyck is still with Signor Rubens, and his works are hardly less esteemed than those of his master.'
Read more
Van Dyck's early work was based very firmly on that of Rubens (there is no trace of influence from van Balen); experts still sometimes have difficulty in differentiating their hands, although van Dyck's style was typically less energetic and more nervously sensitive than that of his supremely robust mentor, reflecting differences in character and constitution (van Dyck was highly strung in temperament and comparatively slight in physique). In addition to learning so much from Rubens's paintings, van Dyck also consciously imitated his aristocratic demeanour and way of life: Bellori wrote that 'His manners were those of a lord rather than an ordinary man, for he had been accustomed to consort with noblemen in Rubens's studio.' However, he did not have Rubens's prodigious intellectual powers or force of personality and although he was intelligent and charming, he sometimes struck people as haughty (he was certainly vain about his good looks, as his numerous self-portraits testify).

In 1620–1 van Dyck visited London, where he spent a few months in the service of James I, then in 1621 moved to Italy, where he stayed until 1627. At the beginning of this period he was primarily a painter of figure compositions (and he always nursed unfulfilled ambitions to produce grand decorative schemes in the manner of Rubens), but in Italy he turned increasingly to portraiture, a field in which Titian was his chief inspiration. He travelled a good deal, but worked mainly in Genoa, where he painted a series of grand portraits of the nobility in which he established a distinctive aristocratic type, with slender figure and proud bearing. A superb example is the full-length Marchesa Elena Grimaldi (1623, NG, Washington), of which Sir David Piper wrote (Van Dyck, 1968): 'this is how one imagines any feminine aristocrat worthy of her rank must feel herself essentially to be, yet did not know it till van Dyck showed her—aloof and formally regal, but endowed with an elegance and grace that are infinitely seductive.'

After leaving Italy, van Dyck worked mainly in Antwerp for the next few years, 1628–32. During this period he painted some of his finest religious works, including a series of major altarpieces for local churches, beginning in 1628 with the Martrydom of St Augustine (church of St Augustine, Antwerp, on loan to the city's Koninklijk Mus.). He was a devout Catholic and his religious pictures are often highly emotional in tone. In 1632 he moved to London to become court painter to Charles I, who knighted him in that year. Van Dyck was based in England for the rest of his life (he married one of the queen's ladies-in-waiting in 1640), but he never really settled there and was always on the lookout for opportunities elsewhere: between 1634 and 1641 he made three visits to the Continent (he was away for about two years in all), and during the second trip he went to Paris in the hope of winning the commission to decorate the Grande Galerie of the Louvre (which went instead to Poussin). Nevertheless, in spite of his frustrations in England (which included dilatory payments from the king), it is probably for his portraits of Charles, his family, and his courtiers that van Dyck is best remembered: he depicted his royal and aristocratic sitters in images of such beguiling beauty and glamour that it is hard to envisage the era other than through his eyes, and these pictures have had a profound and lasting influence on British art. Gainsborough, in particular, revered van Dyck, but he was an inspiration to many others until the early 20th century, when society portraiture ceased to be a major form of artistic expression.

The contemporary poet Edmund Waller described van Dyck's studio as a 'shop of beauty', and he is often characterized as a shameless flatterer of his sitters—when Charles I's niece Sophia of Bavaria first met Queen Henrietta Maria in 1641 she wrote: 'Van Dyck's handsome portraits had given me so fine an idea of the beauty of all English ladies that I was surprised to find that the Queen, who looked so fine in painting, was a small woman raised up on her chair, with long skinny arms and teeth like defence works projecting from her mouth.' However, not all his sitters felt that their looks had been enhanced: when the Countess of Sussex saw the portrait van Dyck painted of her in 1639–40 (now lost) she felt 'quite out of love with myself. The face is so big and fat that it pleases me not at all. It looks like one of the winds puffing—but truly I think tis like the original.'

In addition to his painted portraits, van Dyck planned a series of etchings of famous contemporaries, to be known as the Iconography. He etched a few plates himself (showing masterly fluency in the technique) and had others made from his drawings by various printmakers. The project was unfinished at his death, but 100 etchings were issued as a set in 1645 (other editions subsequently appeared). After he moved to England, he had little time or opportunity to produce paintings other than portraits, but for his own pleasure he made some remarkably fresh and informal drawings and watercolours of the English countryside (Wood near a Harbour, c.1635–41, Barber Inst., Birmingham). This aspect of his work—looking forward to the great English watercolour tradition—is all the more surprising considering that any landscape elements in his oil paintings are usually treated in summary or conventional fashion.
Text source: The Oxford Dictionary of Art and Artists (Oxford University Press)