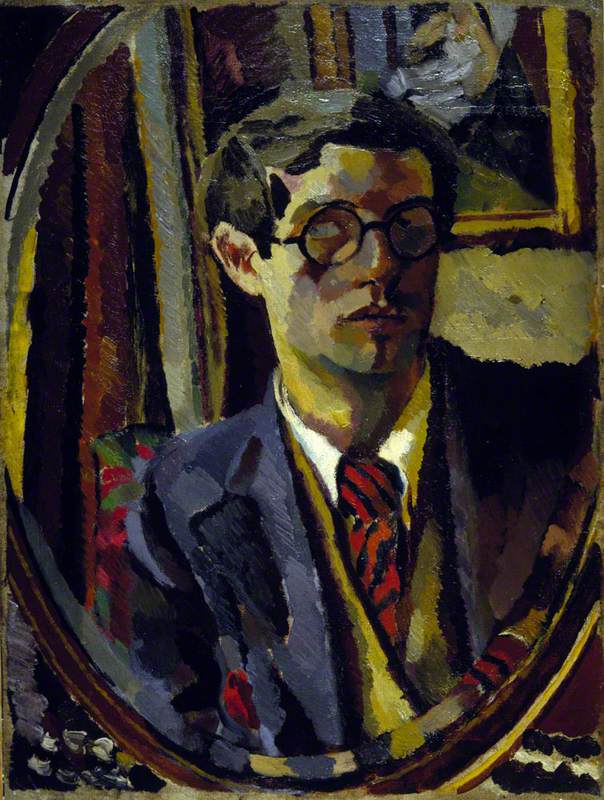 © Estate of Duncan Grant. All rights reserved, DACS 2022. Photo credit: National Galleries of Scotland
(b Rothiemurchus, nr. Aviemore, 21 Jan. 1885; d Aldermaston, Berkshire, 8 May 1978). British painter and designer. Through the writer Lytton Strachey (his cousin) he became a member of the Bloomsbury Group, and he was also familiar with avant-garde circles in Paris (he met Matisse in 1909 and Picasso soon afterwards). Up to about 1910 his work—which included landscapes, portraits, and still lifes—was fairly sober in form and restrained in colour, but he then underwent a rapid development to become one of the most advanced of British artists in his response to modern French painting (he was included in Roger Fry's second Post-Impressionist exhibition in 1912). From about 1913 he was also influenced by African sculpture, and he was one of the first British artists to produce completely abstract pictures.
Read more
However, this extreme avant-garde phase was fairly short-lived and he soon reverted to a figurative style. In 1913 he began working for the Omega Workshops, and having discovered a taste and talent for interior decoration, he sought similar commissions when the Workshops closed in 1919. In this field he worked much in collaboration with Vanessa Bell, with whom he lived from 1916. He was at the height of his popularity and esteem in the 1920s and 1930s, but after the Second World War his work went out of fashion. However, he lived long enough to see a great revival of interest in the Bloomsbury Group, which brought a renewed appreciation of his own work. Apart from paintings, his work included designs for textiles, pottery, stage scenery, and costumes.
Text source: The Oxford Dictionary of Art and Artists (Oxford University Press)