Sculptures are often viewed as long-lasting works of art, especially those that stand in our public places and are held in our public collections. There are relatively few modern British sculptures of people from the global majority. The ones that existed before the twentieth century usually highlight the physical attributes of the Black person depicted – as either a means of entertainment or employment.
In the modern era, this representation of the global majority has entered a period of reformation, as shown by the 1985 bronze statue Platform Piece 1.
Artists are often compelled to capture an individual's perceived ethereal spirit in solid form, and sculptors Jacob Epstein and Ronald Moody were, like Paul Robeson, liberal, radical, and humane in their outlook and their artworks.
Paul Robeson was born in 1898 in Princeton, New Jersey, USA. He died in 1976, aged 77, in Philadelphia. Robeson was well-known as a bass-baritone concert artist, and he was also a lawyer, stage and film actor, a professional football player, and an internationally famous political activist who was an expert in over a dozen languages.
He left a vast legacy that includes elements of his artistic, political, personal and athletic life. Robeson is often seen as an artist who used his art as a part of a social, cultural and political revolution. He was the embodiment of a Renaissance man but has been largely omitted from the historic public gaze.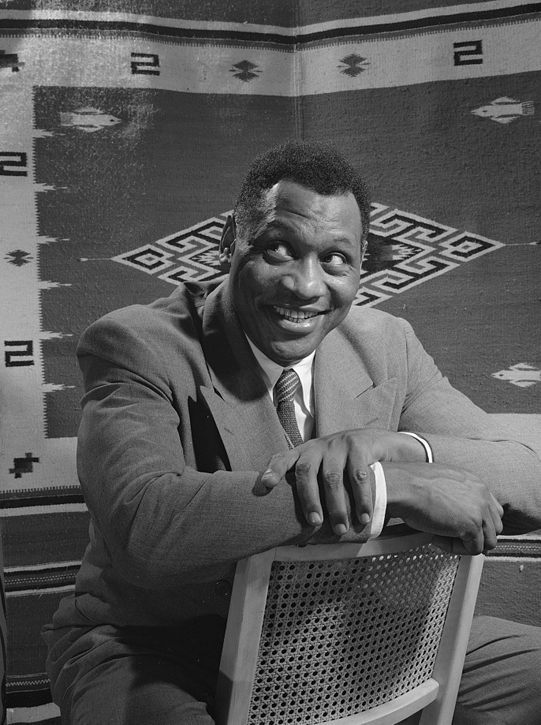 Robeson's personal and social life was influenced by his experiences of war, American modernism and the work towards the decolonisation of the USA. Robeson became a full-time artist and an activist after giving up his career as a lawyer because of the racism he encountered in the profession.
As an activist, Robeson's public reception was dictated by the imperial and racial politics of the time. His political ideology evolved over a period of several years, and the impact of global events such as the Sino-Japanese War and the civil rights movement in the United States.
It was a personal reception in Communist Russia that led Robeson to say, 'I am at home... Here I am not a Negro but a human being for the first time in my life... I walk in full human dignity.'
This statement of humanity and equality expresses a similar position of the activist, and first Black President of South Africa, Nelson Mandela.
Jacob Epstein was an American-born artist who created art that was often surrounded by controversy; some of his public sculptures were vandalised and mutilated as he fought to capture the full humanity of his subjects.
Epstein was a sculptor who made Britain his home; he brought his migrant experiences to his work in Britain, and used his initial outsider status to analyse and introduce new ways of seeing to the British artistic scene at the beginning of the twentieth century.
The first of Epstein's Robeson sculptures was created after a visit to New York in 1927.
Epstein captures Robeson in a bronze bust sculpture where he is depicted with an upward and forward-looking gaze, which is a feature of a majority of Epstein's sculptural bust work.
Epstein was familiar with depicting images of people who existed outside of the centre of British and Western society.
In his vast output (there are over 300 works by Epstein on Art UK alone), there are several sculptures that speak to his observation of exceptional people, and those who exist in the margins of society. These include depictions of bohemian artist Augustus John, and also busts of people as renowned as Albert Einstein, as well as relatively unknown people like Victor, the son of a West African cook who worked for the Epsteins in 1949.
The bronze sculpture of Victor, with green patina, was created because Epstein thought the young child a 'cute and handsome model'.
Epstein produced a second public bust of Paul Robeson in 1940. Again, Robeson is shown as a figure with his head held high.
In the decade before this sculpture was completed, Robeson had been sharing his beliefs in equality for all as he joined the fight for better pay and conditions with the Welsh miners in the Rhondda Valley during the 1930s. Robeson had a chance meeting with the Welsh miners in London in 1929, and he lent them his voice and his support in their call for equality. Additionally, in the following years, Robeson sent regular financial contributions from his concerts to support the Welsh miners. He also held a concert for the Scottish miners when he visited the country in 1949.
Ronald Moody, from the island of Jamaica, was a sculptor who practised a great deal of his art in his new home in the UK, and throughout Europe. Moody was an experimentalist in the materials he used – with his striking 1968 creation of Paul Robeson, Moody utilised copper and resin that produces an uneven skin tone throughout with a raised texture that extends from the representation of Robeson's hair and onto his face. This is a feature that also appears on Moody's 1958 companion stone sculptures The Youth and The Mother.
These sculptures appear to have been arrested amid an unfinished transformation process, appearing to have an almost womb-like origin. The choice of the uneven surface on the finished sculptural portraits is indicative of the restlessness and the movement of the subjects, and implies a journey of understanding.
Moody's images can be viewed as modernised figurations of the multiplicity of non-European identities represented in the world. In his Robeson piece, Moody injects his dedication to universalism as he combines the concept of calm stillness with the nascent energy of forward movement. It can be viewed as not an actual sculptural portrait, but an aspirational image of growth, of a person in the process of full human development.
Moody's inclusion of Robeson in his catalogue of sculptures indicates his view of Robeson as a universalist, as someone like himself, who was a participant in the development of a shared imperial culture, not merely a recipient of cultural imperialism.
As a Black Caribbean, and a Black American, they were reclaiming and reimagining the imperial British and American cultures, and promoting more creative and egalitarian ways of British, American and global status and respectability for citizens.
Intellectual exploration was often linked to exceptional social and political activism. For Robeson and Moody, Pan-Africanism, Communist and Enlightenment thought was an integral part of their writings, creations and the activism that was evident in their public social and political service. Robeson was so attracted by the Marxist ideas of a workers' society, he became committed to the Soviet Union – he even sent his son, Paul Robeson Jr (b.1928) to be educated in Moscow when he was nine years old.
This 1938 sculpture of Paul Robeson Jr, by Jacob Epstein, featured the open-eyed innocence that also characterised the later 1949 bust of the child Victor.
Robeson performed and toured in the UK in the early 1920s and 1930s: he was spectacularly successful following his landmark appearances at the Drury Lane Theatre in Show Boat from 1928 – it was this show that led to Jerome Kern's and Oscar Hammerstein's Old Man River song being known as Robeson's own theme tune.
Throughout his career, Robeson altered the lyrics of the original song by removing the N-word and alternate racial slur in the 1936 film's rendition. This signified Black indolence, to be more in accordance with his developing worldviews, and turned the song into one of resistance and defiance to oppression. As a recording artist Robeson recorded in excess of 270 songs between 1925 and 1961.
Robeson was a founder of the Council on African Affairs and was keen on implementing anti-colonialism and anti-fascist measures into modern society. This became a part of his history of supporting civil rights causes, and Soviet policies, which brought scrutiny from the FBI during the Second World War. His refusal to publicly reverse his political advocacy meant he was denied a US passport, all of his American concerts were cancelled, and his means of earning within America were severely limited for over a decade. Although his recordings continued to sell in Britain, there was an embargo on sending US currency to America and so his income collapsed.
Robeson was also under investigation by the Special Branch of the Metropolitan Police which opened a file on Robeson and his wife Eslanda in 1933.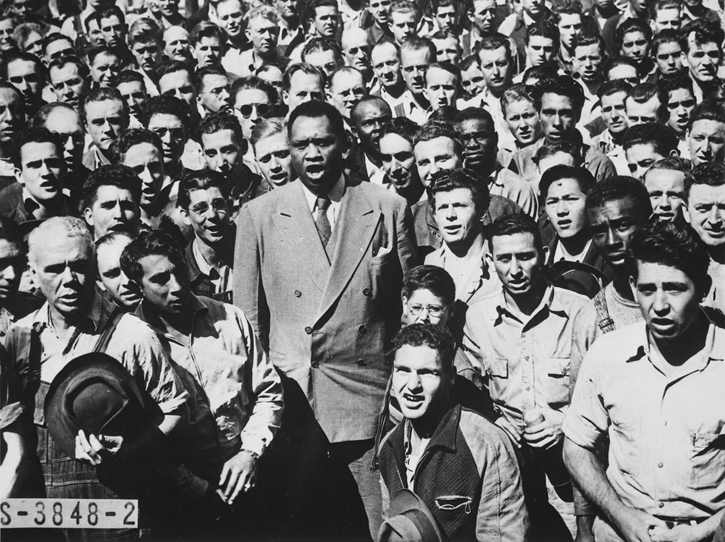 Robeson was frequently called the 'Tallest Tree in our Forest' as a leader persistently calling for socialist change and equality; he was physically taller than most of his contemporaries, and also, as a scholar, intellectually more robust.
In 1958, Robeson became the first Black performer to sing in St Paul's Cathedral in London.
Robeson's legacy includes paving the way for many other activists in the global Civil Rights movement. He is quoted at a rally at London's Albert Hall on 24th June 1937: 'The artist must take sides. He must elect to fight for freedom or slavery. I have made my choice. I had no alternative.'
Epstein's and Moody's inclusion of Robeson as a subject in their portrait sculpture inventories is a symbolic action of remembrance, but also a guide to direct people's thinking in the present and future.
Sculptures can also be used as mirrors of values, so the viewer can choose to perpetuate or change the shape of their community, relationships and culture as a result of interacting with the work. Statues and sculptures are a means to open a dialogue between the past and the present. They are selected personal history lessons to be shared with the public.
Paul Robeson, constructed in bust form as a Renaissance man, can either be respected and replicated, or assigned to history as a lesson learnt, and forgotten.
Marjorie H. Morgan, playwright, director, producer and journalist