The unearthing of an early Margaret Mellis painting, Untitled, 1939, during a research trip to The Redfern Gallery in London, led to it becoming a key work in the emerging narrative for the exhibition 'Margaret Mellis: Modernist Constructs' at Towner Eastbourne, which is open to the public until 30th January 2022.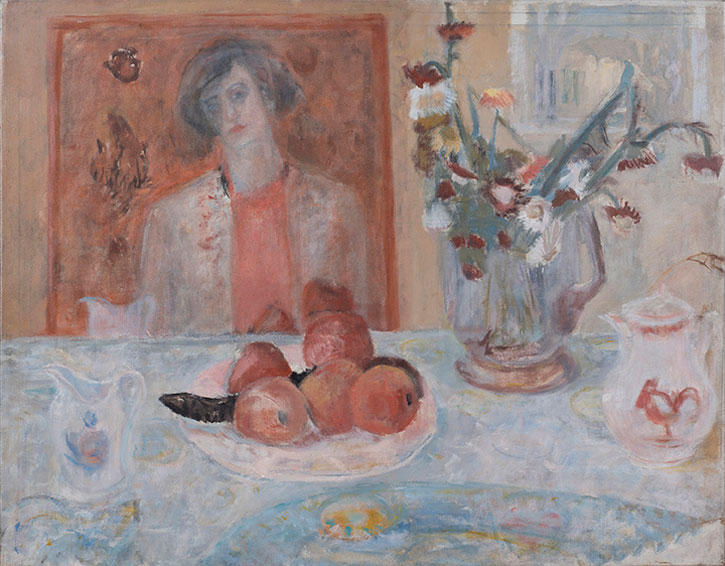 This seemingly innocuous oil on canvas was puzzling. Why had the artist chosen to depict what appeared to be a black banana, which once noticed, dominated the painting, and demanded your attention? The resounding answer is that Mellis was drawn to both the beauty of life and death, not discriminating or editing between the two but embracing the juxtaposition.
This work was an early indication of her preoccupation with decay, varying forms of which she would return to throughout her career, whether in her paintings of wilting flowers from the 1950s, or her envelope drawings from the 1980s, her fascination with the aesthetic of deterioration remained an overarching theme. One that undoubtedly manifested in the driftwood constructions she dedicated the last 20 years of her practice to.
From a young age, Mellis showed considerable artistic talent. This was confirmed in 1929 when, at the age of 15, she was accepted into Edinburgh College of Art; she was taught by Samuel Peploe and William Gillies and learned alongside Wilhelmina Barns-Graham and William Gear.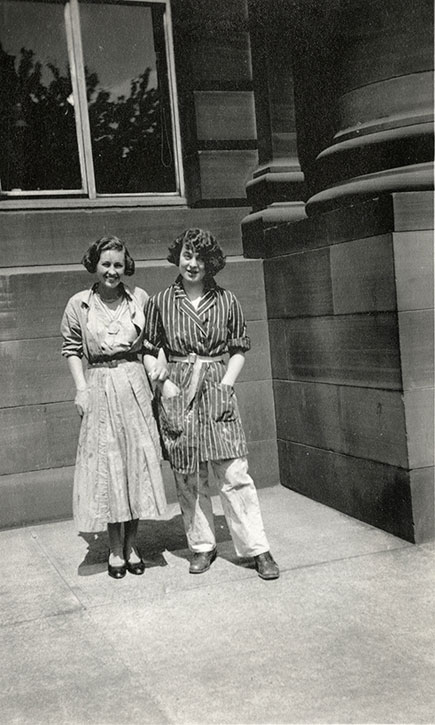 Awarded an arts scholarship in 1933, Mellis travelled across Europe, pausing in Paris to study under the Cubist André Lhote, then going on to travel through Spain, Algiers and Italy. As she passed back through Paris on route home to England, she visited a Cézanne exhibition where she met art critic Adrian Stokes (1902–1972), whom she married in 1938.
The couple moved to London, both studying at the Euston Road School, however, aware of impending war, Mellis and Stokes set about finding a place not only for themselves to live and work but for their circle of artistic friends. Mellis searched for a home that could accommodate their needs, a location that was far from the capital, a place that would offer safety, comfort, and inspiration for the sheltering artists and their families.
They found Little Parc Owles, a large stone-built dwelling in Carbis Bay, overlooking St Ives in Cornwall. Thereafter began the migration of artists from London, a move that would become a significant catalyst in the formation of The St Ives School. Mellis and Stokes were first joined in their home by William and Nancy Coldstream and their daughters, then followed by Ben Nicholson, Barbara Hepworth, their triplets, their nanny and cook. The Russian constructivist Naum Gabo, having met the Nicholsons in London in 1936, moved his family into a cottage a short walk from Little Parc Owles. They, as many artists who would follow, responded to the rugged Cornish landscape, the craggy coastline and the remarkable quality of light in Cornwall.
With so many people living and working in Mellis and Stoke's home, bedrooms doubled as painting and sculpture studios and hallways as a place to bed down. The practical implications of several families living together were many, as were the complexities of the finely balanced dynamics between artists, friends, mothers and partners, a situation that resulted in a household that was as full of life as it was tension. Mellis was simultaneously an artist, host, a new wife and the youngest amongst her spirited living companions.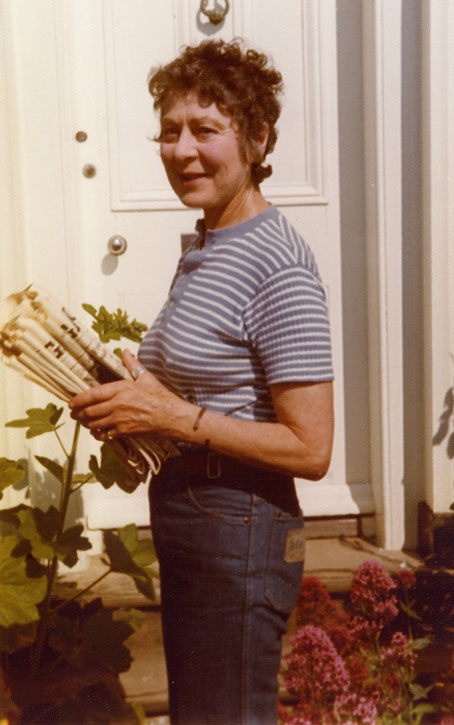 Surrounded by modernist artists, and amidst the chaos of their communal living, she remained dedicated to her practice, however, finding the physical space to paint was difficult. After noticing certain qualities in her paintings, Nicholson encouraged Mellis to 'do collage' – believing that this medium would suit her.
She used card, transparent papers, and household labels to make small compositions. Gabo was so taken with one of her experiments, Collage with Red Triangle, 1940, that he asked her to make one for him. However, when he left for America in 1946, he returned the collage to her – believing that she should benefit from it rather than him. Such was the admiration from Nicholson that he selected one of Mellis' collages, Brown Construction, 1941, for the 1942 exhibition 'New Movements in Art' at the London Museum.
Again, her reluctance to depict the pristine is present in her collages – they are raw and reactionary. Mellis deliberately chose not to elevate the medium of collage: she refused to labour over every cut and there was no hierarchy in her choice of paper, on occasions using labels from mouthwash bottles, cigarette packs and toilet paper packaging. That is not to say the compositions were not skilful – they were, there is an inherent intuition in the placement of the pieces.
Her skill and humour are evident in Third Collage, 1940. This considered arrangement evokes a playful narrative between the sun, the moon and society through the addition of an empty crossword puzzle.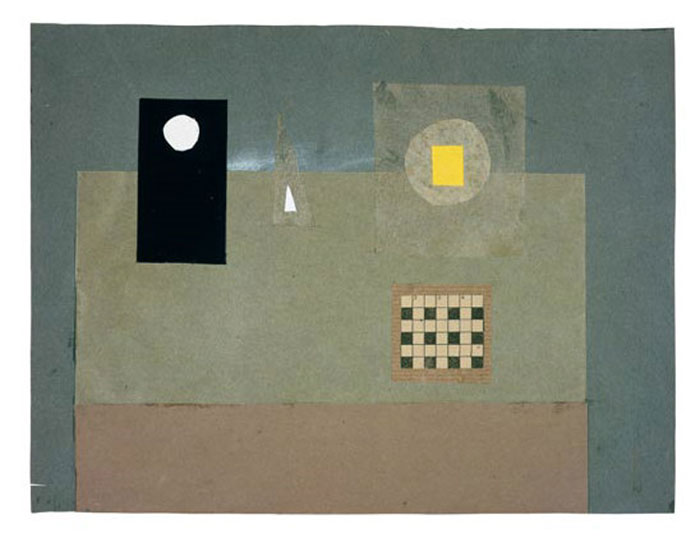 By the end of 1939, the Nicholsons had moved out, having found a place to live close by. In late 1940 Mellis' son, Telfer Stokes, was born. Mellis and Stokes' marriage ended abruptly in 1946, at which point she began to distance herself from St Ives and the life that she had established with Stokes.
Fellow St Ives artist Patrick Heron introduced Mellis to his friend the artist Francis Davison (1919–1984) whom he hoped would revive Margaret, and in 1948 they married. The couple left Cornwall to eventually settle in Southwold, Suffolk, where they both worked as artists pursuing their separate practices, whilst supporting each other artistically and as husband and wife. Their decision to leave St Ives removed Mellis from the limelight that was beginning to fall on the St Ives artists and from the accelerating reputation of her peers.
In the late 1970s, Mellis began to make driftwood constructions. These works were born from a precarious heap of driftwood that occupied one corner of Mellis' home studio. Initially, the wood was collected for firewood but when she discovered a painted red piece that was 'simply too good to burn' she realised the potential of the heap was far more than fuel. She nurtured this woodpile, adding to it after scavenging trips to the Suffolk shoreline – a short walk from her home.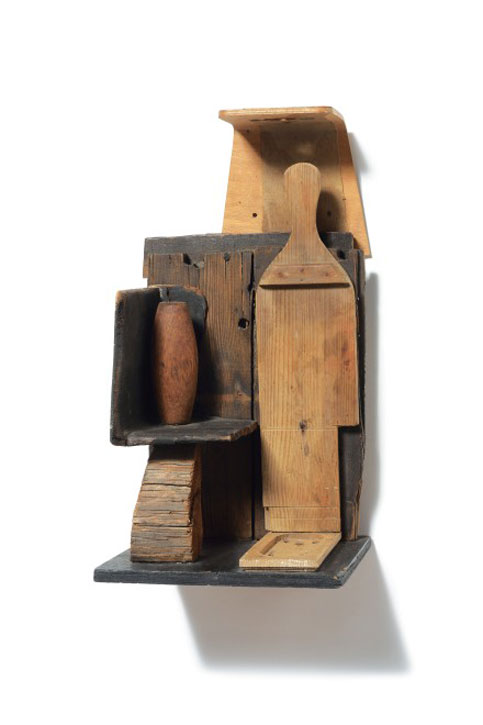 The heap consisted of wood discarded at sea from fishing vessels and small boats. Each piece was imbued with the action of the time, from the relentless tides that washed them ashore to the indents and marks of their former function.
A paddle-shaped board became a motif that Mellis re-used in many works such as, Resurrection, 1985, and Evening Walk, 1986, amongst others. The paddle, or kipper basher, a by-product of the fishing industry, was repurposed again and again to embody and represent the essence of a figure.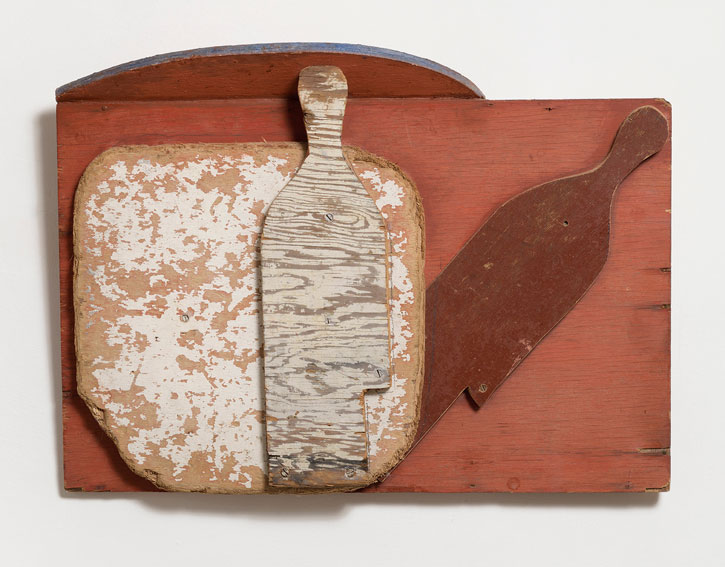 She intuitively arranged and rearranged these wooden fragments on the floor of her small studio until there came a moment when they were 'right' and fixed into place. Describing the process of making Bogman, 1990, Mellis said: 'I found a boat skeleton in the marsh, it was half underwater but not rotted… I laid it down on the studio floor. It was nearly too good to do anything with, but not quite, because almost without touching them bits of wood came out of my woodpile and lay down on the broken bones.'
The first constructions were numbered successively such as Sixteen, 1980, or Twenty-Six, 1981. Thereafter narrative titles emerged for each arrangement, Cloud Cuckoo Land, 1991, or a title referenced a residue word or symbol.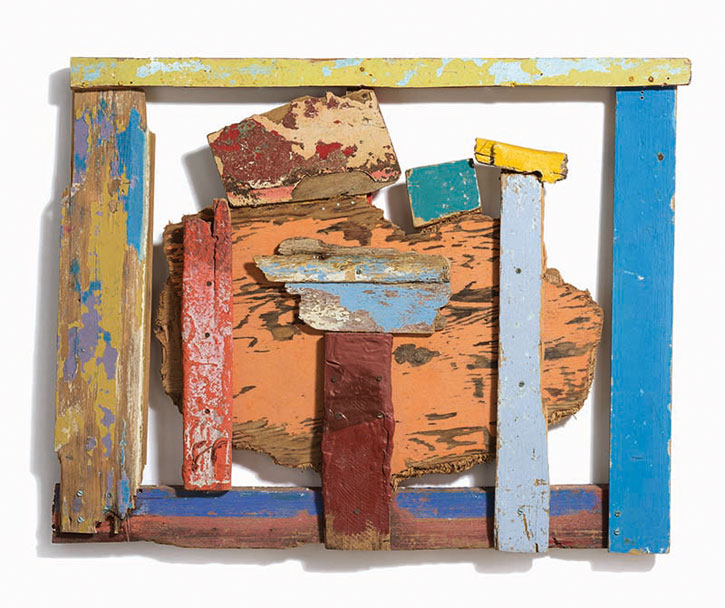 Mellis' compulsion to repurpose materials extended beyond the use of driftwood. She would diligently collect and store materials in her studio and home. Orange peel was dried for use as firelighters, used envelopes were resent in the post – having had the original address firmly crossed through. Other envelopes were opened out to form unusually shaped drawing paper with delicate blue interiors.
Anemone, c.1956, was to be the first of many envelope drawings. A simple pencil sketch shows the bent stems of the anemone drooped over the sides of a jar: its flower heads too heavy for the stems, one rests suspended on the edge of the paper.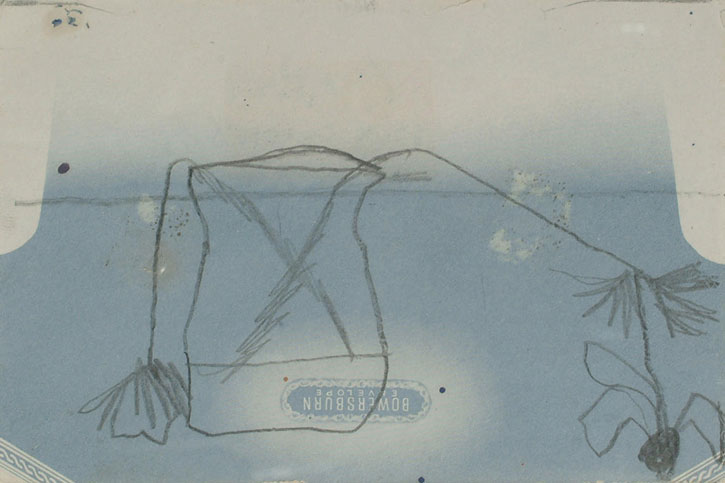 This insignificant sketch – for what was to be a painting – was kept and rediscovered by Mellis decades later. The mix of the patterned paper, the edges of the open envelope defining the composition and her swift mark-making were to be a combination that she would continue to explore. She documented the colour and vibrancy of the flowers both freshly cut and as they withered – often keeping them past the point of being discarded.
Karen Taylor, Curator at Towner Eastbourne
A generous selection of Mellis' construction works, envelope drawings and early works can be viewed in 'Margaret Mellis: Modernist Constructs' at Towner Eastbourne until 30th January 2022.