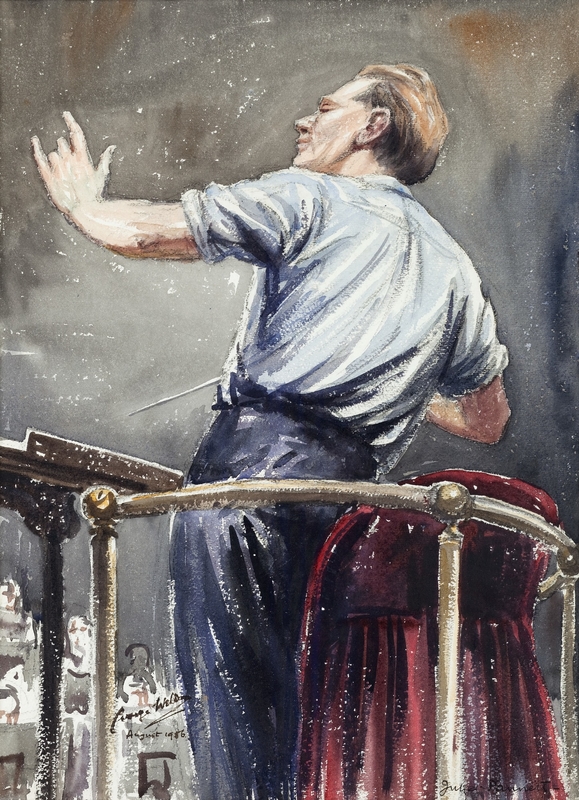 © the artist's estate. Photo credit: Royal Academy of Music
Career portrait painter working in oil, watercolour, charcoal and sanguine, born in Hove, Sussex, mother of the artists Denis and Liz Pannett. She studied at Brighton College of Art, teachers including Louis Ginnett, Charles Knight and Morgan Rendle. She showed at RA, RP and elsewhere. Solo and family exhibitions included Brotherton and Cooling Galleries, galleries in New York and Cleveland in Ohio, and at Coventry Cathedral Festival; and in 1986 in Hong Kong with her children. Pannett was special artist to the Illustrated London News, 1957–64. She was a freeman of the Painter-Stainers' Company, with a prize in 1960, and a freeman of the City of London. Her main works included two portraits of HM The Queen as well as other members of the royal family.
Read more
National Portrait Gallery holds many pictures by her, as do Oxford and Cambridge University colleges. Juliet Pannett: Chronicler of her Times was organised at the National Portrait Gallery in 2004–5 to celebrate her ninety-fourth year. Lived in Angmering Village, Sussex.
Text source: 'Artists in Britain Since 1945' by David Buckman (Art Dictionaries Ltd, part of Sansom & Company)