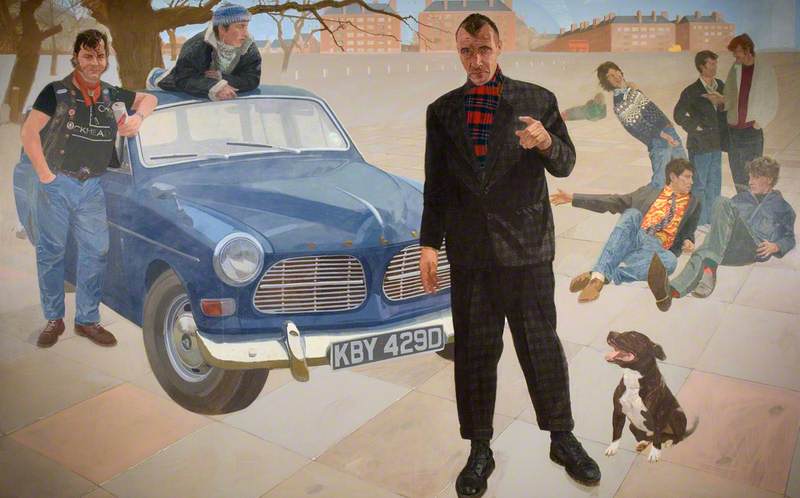 © Humphrey Ocean. All rights reserved, DACS 2023. Photo credit: Wolverhampton Arts and Heritage
Painter and teacher who studied at Tunbridge Wells School of Art, 1967–9, Brighton College of Art, 1969–70, and Canterbury College of Art, 1970–3. In 1976 Ocean was artist-in-residence on an American tour with the singer Paul McCartney. Ocean had strong popular music connections, for a time being bass guitarist with the Ian Dury group Kilburn and the High Roads. In 1979 he obtained a commission for the Artistic Records Committee of the Imperial War Museum. From 1978 showed at RA Summer Exhibition. Other exhibitions included Whitechapel Open Exhibition at Whitechapel Art Gallery, from 1980; Imperial Tobacco Portrait Award at National Portrait Gallery from 1980, Ocean being a winner in 1982. In that year he wrote, illustrated and published The Ocean View.
Read more
In 1983 Ocean was included in the Woodlands Art Gallery show British Artists at Cyprus College of Art and in 1986–7 his selection of work from the collections of Ferens Art Gallery, Hull, toured from that gallery with a group of Ocean's own drawings and paintings. National Portrait Gallery holds Ocean's portrait of the poet Philip Larkin. Ocean taught at Oxford Polytechnic, 1974–6, and part-time from 1979 at Oxford Polytechnic, Canterbury College of Art, City & Guilds of London Art School and Cyprus College of Art. Was included in Contemporary British Art at The Millinery Works in 2002, the year of his residency at Dulwich Picture Gallery. That resulted in the show How's My Driving there, in 2003. Ocean was married to the artist Miranda Argyle. Lived in London.
Text source: 'Artists in Britain Since 1945' by David Buckman (Art Dictionaries Ltd, part of Sansom & Company)