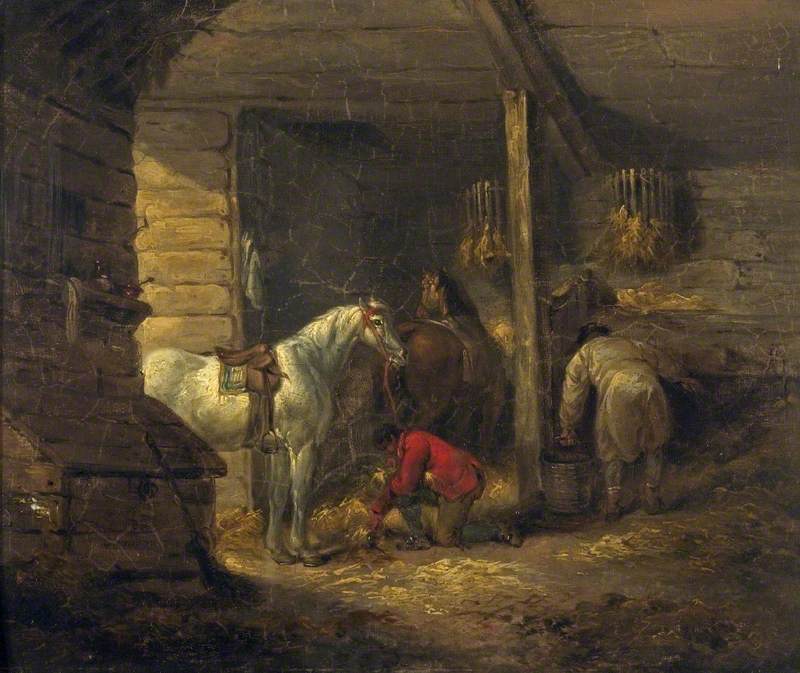 Photo credit: Gloucester Museums Service Art Collection
(b London, 26 June 1763 [or, according to his own account, 26 May 1762]; d London, 29 Oct. 1804). English painter, mainly of scenes from rural life, the son and pupil of Henry Morland (?1716–97), a painter of portraits and fancy pictures who was also a dealer, forger, and restorer. George was precocious and a fluent worker and produced a huge amount of work, in spite of leading a dissolute life and often being drunk, in hiding from his creditors, or in prison. His name is particularly associated with small scenes of middle- and lower-class rural life, usually drawn more from the tavern and the stable than the cottage. The quality of his work is uneven, but at his best he showed a spirited technique and a sure sense of tone. His paintings became extremely popular and he was much imitated and forged; numerous prints were made after his work, some of them by his brother-in-law William Ward.
Read more
With Wheatley and Ibbetson he established the village scene in the English painter's repertory.
Text source: The Oxford Dictionary of Art and Artists (Oxford University Press)