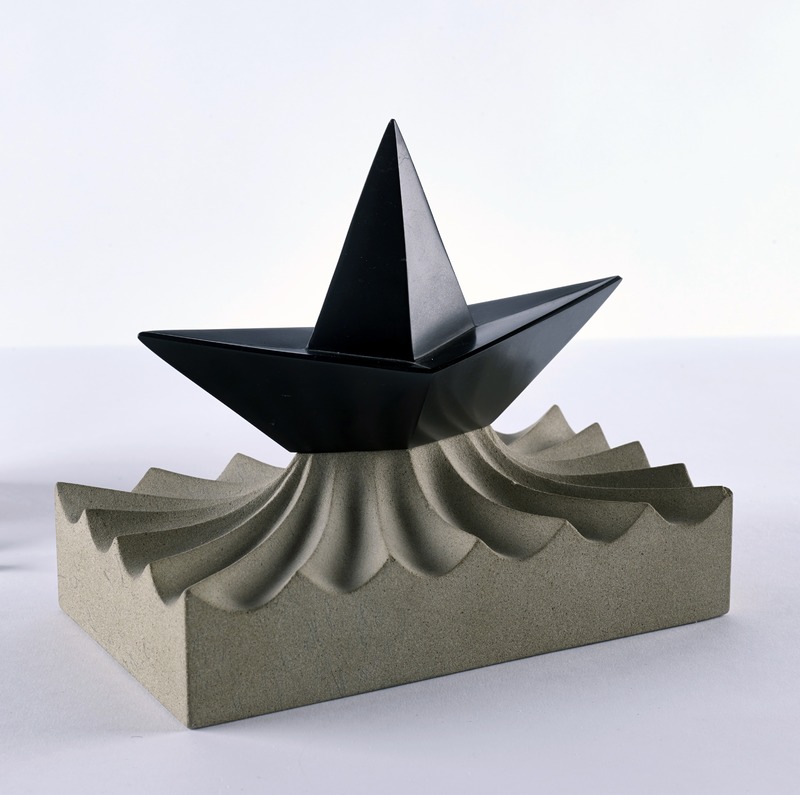 © By courtesy of the Estate of Ian Hamilton Finlay. Photo credit: National Galleries of Scotland
Writer and artist in many media, born in Nassau, Bahamas, of Scottish parents; brought to Scotland as a child. After a short period at Glasgow School of Art Finlay saw military service in Germany, then did a variety of agricultural jobs including shepherding in the Orkneys. Began to write fiction, drama and poetry, some single-word poems presaging concrete poetry. In 1961 Finlay with Jessie McGuffie started the Wild Hawthorn Press to publish contemporary work, for most of the 1960s publishing the magazine Poor. Old. Tired. Horse. In 1966 Finlay and his wife Sue moved to an isolated farmhouse near Dunsyre, Lanarkshire, transformed the garden into a sculpture park as an antidote to the modern movement and sought to promote an art which pays homage to a lean, classical tradition.
Read more
Aptly he changed the name of his home to Little Sparta. Finlay had many solo shows, including Deichtorhallen, Hamburg, and Buro Sophia Ungers, Cologne, both in Germany, respectively 1995 and 1997, Aberdeen Art Gallery, 2001, Tate St Ives, Ingleby Gallery, Edinburgh, and 100 Postcards at Milton Keyes Gallery, all 2002; Victoria Miro, 2003; and prints at UBS Painewebber Art Gallery, New York, 2004. His later installations included Serpentine Gallery, The Ark and Den Haag, Netherlands, all 1998. In addition to Little Sparta, Finlay created another equally poetic garden in France, unknown to anyone except his closest associates. It was celebrated in his book Fleur de L'Air: A Garden in Provence, published by Wild Hawthorn Press in 2004. There was an eightieth-birthday show at Inverleith House, Royal Botanic Gardens, Edinburgh, in 2005. He was shortlisted for the Turner Prize in 1985. The Scottish National Gallery of Modern Art holds a body of work by him.
Text source: 'Artists in Britain Since 1945' by David Buckman (Art Dictionaries Ltd, part of Sansom & Company)