The name Lucy Wertheim is not generally known, yet despite this she is the inspiration for two complementary major summer exhibitions at the Towner Art Gallery, Eastbourne – 'A Life in Art: Lucy Wertheim' and 'Reuniting the Twenties Group'. Such a focus, however, will enable her essential influence on mid-twentieth century modern art in Britain to deservedly become more widely recognised and respected.
Wertheim's ardent support and promotion of the young artists of her era, in the areas of painting, sculpture and drawing, undoubtably positively enhanced many significant artistic careers. Included in those she encouraged, collected or exhibited in her own London gallery were familiar names such as Henry Moore, Barbara Hepworth and Frances Hodgkins, manifesting in an impressive contribution to the British art scene of the age.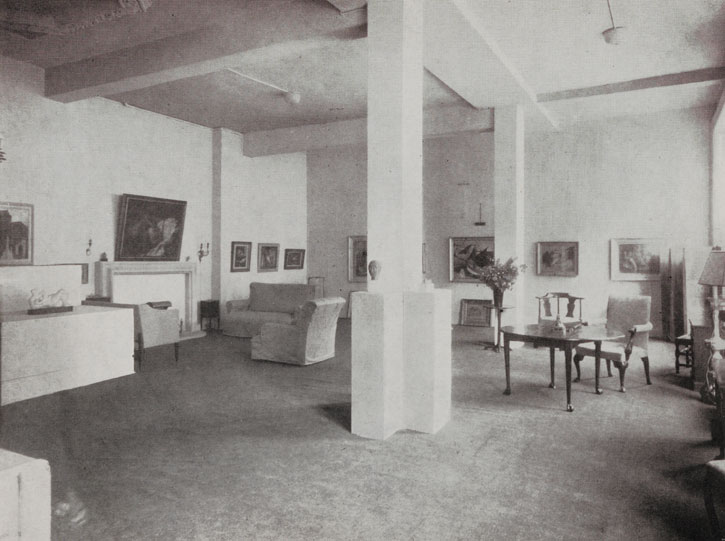 Born to parents William and Annie Pearson, who lived in the Greater Manchester area, Lucy was the eldest of four daughters. Her family had gained some wealth from their involvement with the local cotton industry. After leaving home, Lucy married Paul Wertheim (1878–1952) in 1902. Born in Amsterdam, her Dutch husband became a British citizen and the couple had three children together.
Despite having no formal education in the subject, Wertheim had great enthusiasm for art and the age of Modernism suited her preferences. She particularly enjoyed the primitive style. Alfred Wallis (1855–1942), a Cornish fisherman who became a recognised painter of harbour scenes in a naïve style, was just one among many Wertheim supported. Motivated by the idea that artists should have opportunities to succeed and flourish, her patronage of the arts manifested in several ways.
Wertheim's championing of individual artists became indicative of her philanthropic approach. Her introduction to painter Christopher Wood, for example, led to her buying one of his paintings. In turn, Wertheim soon became his devoted patron. In 1930, just before an exhibition of his paintings aided by Wertheim, Wood was killed in a train accident.
Wertheim continued on her quest, however, and after buying artworks from artists such as sculptor Henry Moore, she was inspired to become a dealer and open her own gallery, as part of an ambitious project to showcase the very best talent of the age.
Frances Hodgkins may have been the one to persuade Wertheim to make this bold move. Hodgkins, a painter who had emigrated from New Zealand to London years earlier and who was noted for her landscapes and still life paintings, would certainly recognise the value of a new gallery for fellow artists in Britain. Also, Wertheim's transformation from art enthusiast to gallery owner was an apt way to harness her passion for the subject.
After careful deliberation, the decision was made to site the Wertheim Gallery in the British capital and it opened in 1930 at 3–5 Burlington Gardens, in Mayfair. Wertheim's good head for business complemented her enthusiasm and her keen aptitude for promotion aided in propelling many into the creative limelight.
Her gallery supported and exhibited numerous respected artists. Those included in her shows were painters such as Suzanne Cooper, a rising star of British Modernism who often created works of a similar subject matter to Wallis and Wood, having grown up on the Essex coast. Walter Sickert was another, known for his portraits, interiors and street scenes.
Members of the White Stag group of Modernist artists, based in London then Dublin, such as co-founder artist Kenneth Hall, were also included. Hall met Wertheim in 1934 and after seeing his portfolio, she then facilitated his first-ever show, at the Wertheim Gallery. Here notable collectors were able to obtain several of his artworks, events that were typical of Wertheim's beneficial advocacy.
Also part of the White Stag group were English artist Basil Rakoczi and Irish painters Nano Reid and Norah McGuinness, among a host of up-and-coming creative talents, all receiving positive attention from Wertheim.
In turn, landscape painter Rowland Suddaby had his first one-man show at the Wertheim Gallery in 1935. Northumberland-born Phelan Gibb, who drew inspiration from the European avant-garde, was another artist Wertheim favoured, in addition to Surrealist painter and designer John Banting. The list, in fact, was impressively long with artists John Bigge, Henry Stockley, Leslie Hurry, Cedric Morris, Isla Rodmell and many more all gaining from Wertheim's showcasing of the wealth of Modernist talent in Britain at that time.
Such devotion included Wertheim's founding of the Twenties Group, which aimed to specifically promote the work of artists aged below thirty years old. This included artists such as the renowned English sculptor Barbara Hepworth, in addition to Reid, Rakoczi and McGuiness among others.
Although a success, the outbreak of the Second World War caused the group to cease. It was an era of conflict that impacted the Wertheim Gallery, which was also forced to close in 1939. After the war ended, Wertheim created her autobiography. Published in 1947 and entitled Adventure in Art, it recounted her years of commitment to British Modernism.
Interestingly, after championing male and female artists with equal fervour, she detailed the difficulties of being a professional woman in the male-centric art world. Her role challenged conventions of the age by not only being an amateur enthusiast turned professional gallerist, but simply by being a woman in an age when many fellow females were excluded or deterred from professional positions.
In 1948, Wertheim began to donate some of the artworks she had accumulated to galleries such as the Auckland Art Gallery in New Zealand and later bequeathed more to the Towner Art Gallery itself.
Wertheim's autobiography is to be republished to coincide with the Towner's exhibitions. While highlighting the artists she both deeply admired and hugely supported, the shows also seek to expose the contribution Wertheim made to art as patron, collector and gallerist.
While featuring some of the great names of Modernism in Britain, including Wood, Hepworth, Moore and Hodgkins among others, Wertheim may be revered as a pioneer in her own right and her significance to twentieth-century British art is here for a twenty-first-century audience to explore.
P. L. Henderson, art historian, curator of @womensart1 and author of Unravelling Women's Art (Aurora Metro, 2021)