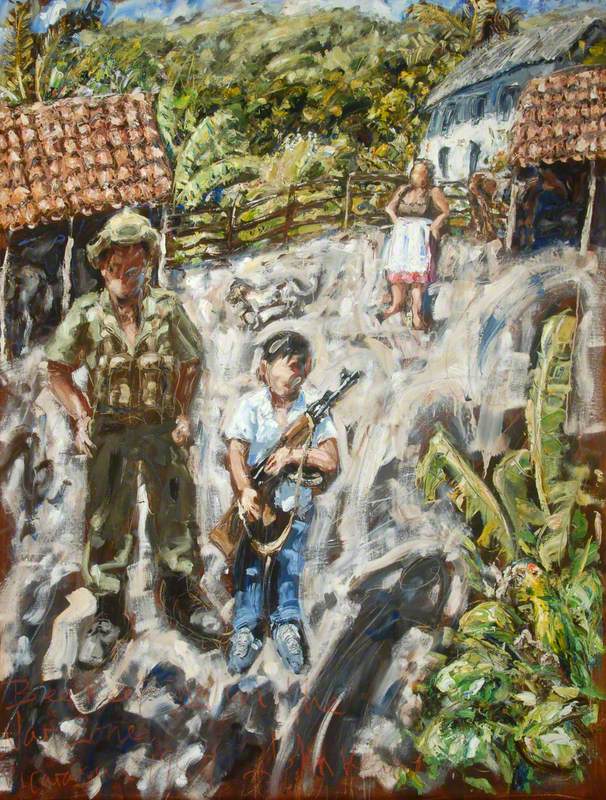 © the artist/courtesy Flowers Gallery, London and New York. Photo credit: Middlesbrough Institute of Modern Art, mima
Painter and printmaker, born in Hertfordshire. He studied at Camberwell School of Arts and Crafts, 1972–6. Keane was artist-in-residence at Whitefield School, 1985–6; completed a screenprint for Greenpeace, 1988; had a commissioned exhibition about Ollerton mining community for Nottinghamshire County Council, 1990–1; and a set of murals was painted for Salsa Celestina, Palace Theatre, Watford, 1993. He became popularly known as the result of his commission by Imperial War Museum in 1991 to cover the Gulf War as an official artist with the British Army. The pictures were shown in 1992 at the Museum, which acquired Mickey Mouse at the Front. Keane's many group appearances included Whitechapel Open from 1983; Artists Against Apartheid, Royal Festival Hall, 1986; Chicago Art Fair, 1987; Silkesborg Kunstmuseum, Copenhagen, 1988; and Lannon Cole Gallery, Chicago, 1991.
Read more
After a solo show at Minsky's Gallery, 1980, he exhibited frequently in Britain and abroad, with Angela Flowers Gallery/Flowers East from 1985. In 2000, Keane joined Greenpeace International's ship Amazon Guardian to witness the start of a long campaign against illegal logging in Brazil, Flowers East showing the resulting pictures in 2001. Back to Fundamentals, at Flowers East, was a 20-year retrospective for the artist and John Keane – The Inconvenience of History, a show at the London Institute, both taking place in 2004. Contemporary Art Society, provincial galleries and The Detroit Institute of Fine Art hold examples.
Text source: 'Artists in Britain Since 1945' by David Buckman (Art Dictionaries Ltd, part of Sansom & Company)