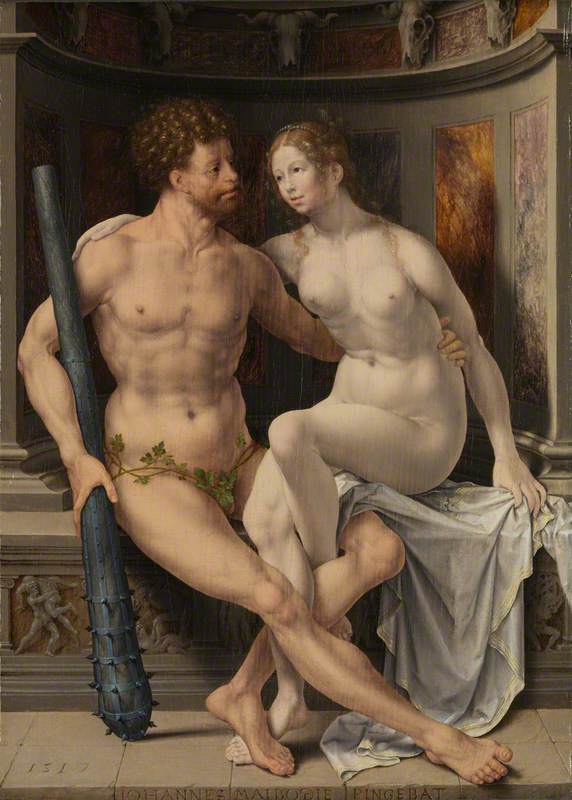 Photo credit: The Henry Barber Trust, The Barber Institute of Fine Arts, University of Birmingham
(b ?Maubeuge, c.1478; d ?Antwerp, 1 Oct. 1532). Netherlandish painter, probably from Maubeuge (now in France), from which his name 'Mabuse' derives. In 1503 he became a master in the Antwerp painters' guild, and a few years afterwards he entered the service of Philip of Burgundy (illegitimate son of Duke Philip the Good and later bishop of Utrecht). In 1508–9 he was part of Philip's retinue when he visited Rome as ambassador to the Vatican. After his return to the Netherlands, Gossaert seems to have settled in Zeeland, although it is not known in which town he made his home. His work before his Italian journey is in the tradition of Hugo van der Goes and Gerard David, whose influence can still be seen in the Adoration of the Magi (NG, London), probably painted soon after his return.
Read more
His later work, however, was transformed by the experience of Italy, although the motifs he learned there were never thoroughly digested and coexisted with Flemish forms and details. Vasari acclaimed him for being the first 'to bring the true method of representing nude figures and mythologies from Italy to the Netherlands', but in, for example, Neptune and Amphitrite (1516, Gemäldegalerie, Berlin), the life-size muscle-bound figures are in fact closer to Dürer than to any Italian contemporary, and the curious classical temple in which they stand has bizarrely hybrid architectural elements. Gossaert was highly thought of by his contemporaries: his commissions took him to various towns in the Netherlands, his patrons included Margaret of Austria (see Habsburg) and Christian II of Denmark, and his work was widely influential. However, to modern eyes there seems justice in Dürer's assessment of him as better in execution than in invention ('nit so gut im Haupstreichen als im Gemäl'). Jan van Scorel was Gossaert's pupil for a short time.
Text source: The Oxford Dictionary of Art and Artists (Oxford University Press)