A new podcast series — Sculpting Lives — written and presented by Dr Sarah Victoria Turner (Deputy Director, Paul Mellon Centre for Studies in British Art) and Jo Baring (Director, The Ingram Collection) explores the lives and careers of a number of women who contributed in groundbreaking ways to the histories of sculpture and art.
Each episode takes a woman sculptor as its subject, exploring the artworks, networks, connections and relationships of these artists. Sculpting Lives includes new interviews with curators, friends, family and the artists themselves, and is recorded in places that are significant for these women — their studios, as well as galleries and public places where their work is on display.
'I don't want to use a language that really segregates people. I don't want to use a language that makes them think about gender — if they are looking at a female artist or a male artist.' – Rana Begum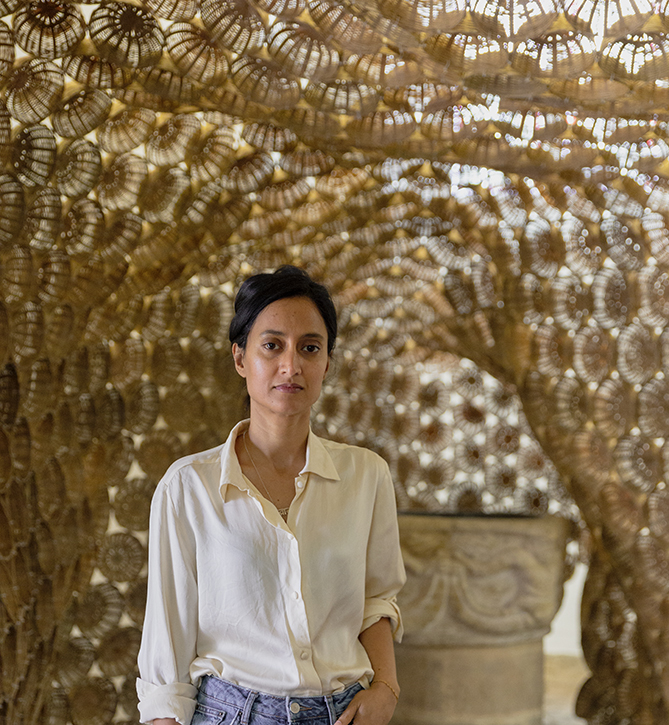 Rana Begum is the subject of the last episode of series one of the Sculpting Lives podcast. Through interviews with the artist herself and curators who have worked closely with her, this episode explores how relevant categories such as 'sculpture' and 'sculptor' are for an artist working today. Begum resists such neat pigeonholing herself, preferring to describe herself more expansively, and perhaps more loosely, as a 'visual artist'.
However, she does not dispense with categories altogether and is acutely interested in the history of sculpture and three-dimensional art forms, often drawing on artistic languages of Minimalism and Constructivism, as well as the geometric patterning that dominates Islamic art. Begum is interested in her work posing questions about meaning — about what kind of work art can do in the world — rather than providing any straightforward answers. She gives a serial number as the title of her works, denying the associations of a more descriptive name.
'She's somebody that doesn't respect those divisions or those hierarchies of design, of fine art. She doesn't give them so much reverence,' observed curator Hammad Nasar when we discussed Begum's work with him. Easy categorisation of her practice is near impossible because she works with an extremely broad range of materials and across disciplines.
When we visited her at her studio in north London, she was working with neon spray paint, reflectors more commonly used on cars, plywood and baskets. As Anne Barlow, Director of Tate St Ives, commented to us, Begum's work takes materials that are more commonly used on industrial sites or in urban architecture and then creates something new, revealing 'different patterns, different geometries, or perhaps inherent structures in a material or a form which she then makes into something else.' This act of transformation is at the heart of Begum's artistic practice.
Begum also treats the environment in which her works exist as an essential component of her work. Light, for example, is another kind of material for her. She plays with the way it transforms a work, changing it on every encounter, refusing the notion of the static, permanent view of her three-dimensional forms. Her piece No. 814, which was installed as part of the sculpture park at Frieze Art Fair in 2018, is indicative of this play between light and form. Constructed from laminated coloured glass, no two experiences or photographs of the work are the same. The sunlight choreographed a changing rainbow of patterns on the grass of Regent's Park each day.
Another of our interviewees for this episode is Clare Lilley, who curated the selection for the Frieze Sculpture project and selected Begum's work for inclusion in the 2018 show. With her, we opened up a discussion about the uneven representation of women sculptors at such events and their presence (or sometimes lack of it) in the art market. Conducting the research for Sculpting Lives has starkly demonstrated to us that equal representation for women artists – in museums, galleries, archives, in art histories and in the market – is still something to be achieved and there remains a huge amount to be done in articulating and examining the work of women sculptors.
Begum was born in Bangladesh and came to Britain as a child. In this episode, we were keen to really explore with her issues of personal history, biography and identity and how important these are – or are not – to understanding her work. Begum's preference for a language of abstraction often resists any easy correlation between her life and the work that she creates. However, during the interview, Begum discussed how, more recently, she has felt it more important to talk about her background and also the challenges that are still faced by women, and women of colour, in particular, working in the art world today. What is it like to juggle a career as an artist and bring up two children? How do you sustain a career as an artist? What opportunities and challenges are there when working with industrial materials and large-scale installations? These are all questions that Begum answers with a refreshing openness in the episode.
'Living in East London I feel like I'm almost living in a bubble. [You leave and] you are made to remember your skin colour, you're made to remember your gender, you're made to remember your religion and all of those things you take for granted when you live in a place like this,' she observed. In incredibly subtle ways, her work opens up a conversation about the relationship between our bodies, our histories, our humanity and our experiences in the world. She is interested in the viewer's emotional response as much as anything she has to say about what she has made. As we walk around her work, or experience one of her installations, we are made to feel ourselves inhabiting the world and how we shape experiences in relation to objects and forms we encounter.
Jo Baring, Director of The Ingram Collection of Modern and Contemporary British Art, and Sarah Turner, Deputy Director for Research at the Paul Mellon Centre for Studies in British Art
Find the Sculpting Lives podcast on Audioboom where you'll find listening options, and follow the podcast on Instagram