A new podcast series – Sculpting Lives – written and presented by Dr Sarah Victoria Turner (Deputy Director, Paul Mellon Centre for Studies in British Art) and Jo Baring (Director, The Ingram Collection) explores the lives and careers of a number of women who worked against preconceptions, forging successful careers and contributing in groundbreaking ways to the histories of sculpture and art.
Each episode takes a woman sculptor as its subject, exploring the artworks, networks, connections and relationships of these artists. Each episode is recorded in places that are significant for these women – their studios, as well as galleries and public places where their work is on display – and includes new interviews with curators, friends, family and the artists themselves.
'I was quite ambitious to be a good sculptor… I went from having very good write ups to very bad write ups and I felt really alienated by all that and on the whole I haven't had a very happy experience with critics for the last two decades'. – Elisabeth Frink, 'National Life Stories: Artist Lives', British Library
'She doesn't want to be defined by that [gender] … She is her own woman... she is concerned with what it means to be human … so if you are exploring that then if you are defined by feminism that feels slightly restricting I suspect. I think she could have found it difficult to feel that she needed to be defined by anything, whatever it was, but in a way, isn't that a great bit of feminism?' – Annette Ratuszniak, Curator, Frink Estate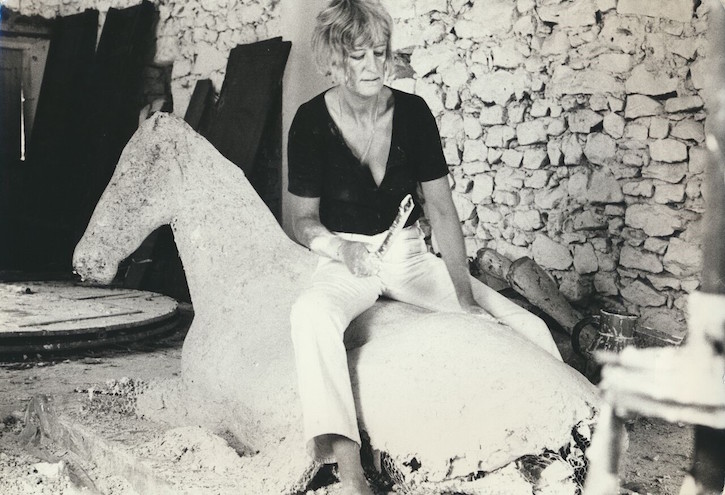 Elisabeth Frink was born into an army family, and her childhood was overshadowed by the Second World War. She grew up near a military base in Suffolk and witnessed bombers fighting in the skies above her or returning to the base in flames. These experiences, and other upheavals of the twentieth century, led her to ask fundamental questions about the nature of humanity in her work.
When she died in 1993, she had created over 400 sculptures, many of which are well-known public commissions. In our new podcast episode on Elisabeth Frink, we re-examine this incredible productivity and put her back into contexts which have been forgotten and consider how artists can be side-lined by the 'art world' yet remain popular with the public.
Frink experienced considerable early success – she was still an art student at Chelsea College of Art, and only 22 years old, when the Tate acquired her sculpture Bird. The following year, 1953, the Arts Council followed up by buying another cast of the same work and in 1955, she was given her first solo show at St George's Gallery in London. That show was reviewed in The Times – quite an achievement for a 24-year-old sculptor – and the reviewer commented, in words that reveal the gender biases of the post-war art world: 'Here is a sculptor of rare promise, indeed of rare quality, for Miss Frink's handling of the problems of sculptural form is such that one has to make no allowances for her youth, or for her sex'.
Her work of this time – expressionistic with flayed, violent, tense forms – led to her being closely associated with the 'Geometry of Fear' sculptors. These were a group of men, older than Frink, such as Lynn Chadwick and Reg Butler, whose work at the 1952 Venice Biennale was described as 'the most vital, the most brilliant and the most promising of the whole Biennale'.
In the same year, an article in The New Statesman and Nation, pronounced Frink as 'the most talented [artist]. Her animal sculptures are tortured, split and rigid with fear. Their suppressed screams resulting from violent suffering and pain. Every twisted muscle, stretched skin and flared sinew is exploited vehemently'.
So how and why could an artist as feted as she was, who received such early recognition, could, in her own words, say towards the end of her career: 'I do think in contemporary art terms I'm an outsider'?
In what ways was she an 'outsider'? What was she 'outside' of exactly? She was a CBE before she was 40, and a Dame at 52. She was one of the very few female Royal Academicians when she was elected in 1973 and her major public sculptures include the Kennedy Memorial in Dallas and other successful and high-profile pieces at Salisbury Cathedral, London's Piccadilly and Manchester Airport.
These questions about her public profile, her reputation within the art world and how she positioned herself are all discussed further in the podcast, with contributors such as Simon Martin, Director of Pallant House in Chichester, and the artist Cathie Pilkington RA, discussing their connections to Frink's work. Standing in front of Frink's iconic Horse and Rider (now situated on Bond Street in London), we reflect how, in an art world increasingly dominated by abstraction, Frink remained resolute in her commitment to working both figuratively and in bronze, often setting her at odds with contemporary fashions. Yet, she also saw herself as an artist with moral obligations to comment and interact with contemporary events, including making political statements through her work.
Frink was reticent to talk about the impact of gender on her career and we set this within the context of her education and the development of her career in post-war Britain. Talking to Annette Annette Ratuszniak, who was curator of the Elisabeth Frink Estate, we also get a sense of the incredible, art-filled environments Frink's created, a sense of her working life and homes in the UK and France. With Annette, we also discuss how artistic reputations are formed, and how important it is for artists to consider their own legacy and we also discuss the impact an artist's family has on their posthumous reputation and how this is managed.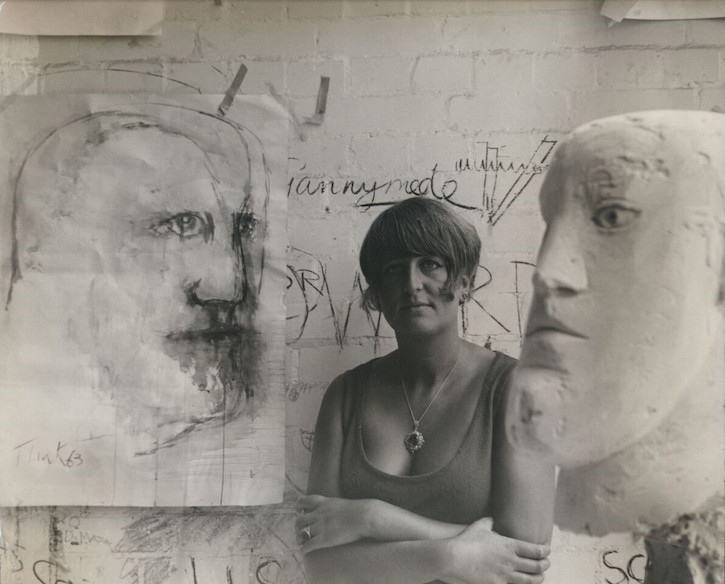 'She respected herself. She took herself seriously and she took the work seriously, due to the nature of the work. She knew what it was she wanted to explore.' – Annette Ratuszniak, Curator, Frink Estate
'She was doing something which was internationally significant and does deserve reappraisal.' – Simon Martin, Director, Pallant House Gallery
'A lot of her work resonates in a really contemporary way.' – Cathie Pilkington, RA, First Female Professor of Sculpture at the Royal Academy
Jo Baring, Director of The Ingram Collection of Modern and Contemporary British Art, and Sarah Turner, Deputy Director for Research at the Paul Mellon Centre for Studies in British Art
Find the Sculpting Lives podcast on Audioboom where you'll find listening options, and follow the podcast on Instagram