Sculpture was seen by many to be – throughout the twentieth century and before – a man's domain. Often using heavy and hard materials, sculpture was not typically viewed as a suitable profession for women artists.
Our new podcast series – Sculpting Lives – seeks to change this long-held view. In it, we'll discuss the lives and careers of a number of women who worked against these preconceptions, forging successful careers and contributing in groundbreaking ways to the histories of sculpture and art.
Each episode takes a woman sculptor as its subject, exploring the artworks, networks, connections and relationships of these artists. Each episode is recorded in places that are significant for these women – their studios, as well as galleries and public places where their work is on display – and includes new interviews with curators, friends, family and the artists themselves.
We start our series right at the beginning of the twentieth century. In 1903 Barbara Hepworth was born in Wakefield, West Yorkshire. By the time of her death in 1975, she had become one of the most important artists of the century, creating a poignant and innovative sculptural language. She has two museums named after her – the Barbara Hepworth Museum and Sculpture Garden in St Ives, Cornwall, and The Hepworth Wakefield – an honour conferred on very few artists.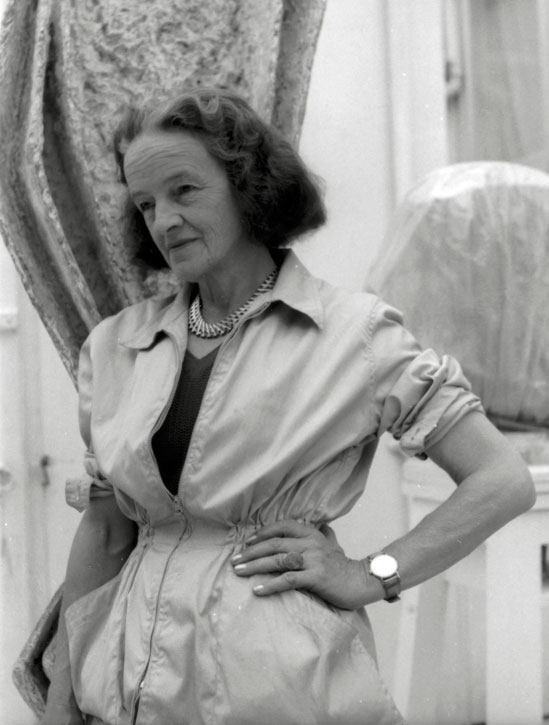 What stood out for us, across all our interviews with curators working with and looking after Hepworth's work today, was the esteem with which the sculptor is held. Also notable is how her work, and the example of how she shaped her career, continue to provide a source of inspiration and fascination for many of our interviewees, as well as many contemporary artists and audiences. Hepworth undoubtedly stands out.
'If you look at the history of modernism, it's a lot of male sculptors, Hepworth is an exception.' – Anne Barlow, Director, Tate St Ives
'A normal person from Wakefield, a remarkable artist but a remarkable woman.' – Eleanor Clayton, Curator, The Hepworth Wakefield
Compared to many women sculptors working in Britain, there has been a good amount written about Barbara Hepworth, both her work and life – she became one of the most internationally successful and well-known British artists of the twentieth century – and yet there is still much more to be found out about her. In our episode dedicated to Hepworth, we followed her career trajectory from Wakefield to London, and then on to St Ives. The podcast format allows us to go behind the scenes and to create soundscapes of places that meant the most to an artist.
As we followed Hepworth across the country, one of the main topics of our conversations was how she negotiated the question of gender in relation to her artistic practice. How did she describe her work? What barriers did she face in becoming a sculptor? How did she describe the experience of being one of a small handful of women artists exhibiting on an international stage in the mid-twentieth century? The answers are not clear-cut and we found that her response to these questions shifted across the course of her career.
We also discuss how she negotiated the challenges of a very busy home life (she was mother to a son and triplets), with a single-minded dedication to her profession. In her lifetime, she often refused to let biography impact the way she was viewed as an artist, insisting she was to be understood as an 'artist' rather than as a 'woman artist'. Such issues and questions about terminology, identity and self-positioning feel extremely relevant and alive today.
'Hepworth... didn't see herself as a feminist at all and didn't see herself as a pioneering woman, she just felt she was a pioneering sculptor.' – Stephen Feeke, curator and writer
'Her work is so rich and relatable and related to life in the way that an artist who is perhaps working in the studio away from that doesn't necessarily have all those connections.' – Eleanor Clayton, Curator, The Hepworth Wakefield
One of the biggest challenges to any artist, and especially sculptors, is having a large enough space in which to make work. In St Ives we find out about the pure practicalities of Hepworth's life as a sculptor; how she had to secure new larger spaces in which to make more ambitious large-scale public works. Hepworth was very conscious of her role and responsibilities as an internationally significant artist. After working predominantly in stone and positioning herself as a carver, her move to bronze in the 1950s opened up the big public commissions she is now world-famous for, such as Single Form, a 21-foot-high sculpture weighing five-and-a-half tonnes, which was unveiled at the United Nations Plaza in New York in 1964.
However, it would be a mistake to imagine Hepworth as somehow isolated, working away in a remote idyll in Cornwall. From her home and studio in St Ives she ran a busy and successful business. She was a very good salesperson of her own work. Hepworth knew she had to participate in the hustle of the art world: she was aware of the importance of having her work in the collections of major institutions, as well as displayed in era-defining exhibitions, such as the Venice Biennale.
Hepworth was also acutely aware of her legacy, engaging her family in her desire, after her death, to turn her St Ives house, studios and garden into a dedicated museum, run by the Tate.
We also visit Yorkshire Sculpture Park, where Hepworth's monumental Ancestor I (Family of Man) has been on display since the Park's inception. We learn that visitors to the park have an emotional response to Hepworth and we ask why she still relevant to contemporary audiences and why we are still so powerfully moved by her work.
'What Hepworth understood, all through her career, and wanted to convey, was the power of human relationships and the positivity of human relationships.' – Sara Matson, Exhibitions and Displays Curator, Tate St Ives
Jo Baring, Director of The Ingram Collection of Modern and Contemporary British Art, and Sarah Turner, Deputy Director for Research at the Paul Mellon Centre for Studies in British Art
Find the Sculpting Lives podcast on Audioboom where you'll find listening options, and follow the podcast on Instagram