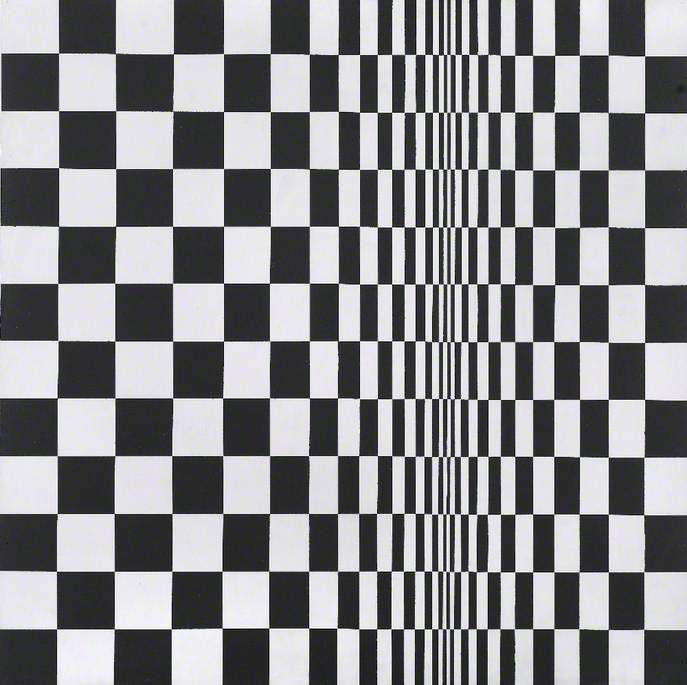 © courtesy the artist and Karsten Schubert, London. Photo credit: Arts Council Collection, Southbank Centre, London
Bridget Riley (b London, 24 Apr. 1931). British painter and designer, rivalled only by Vasarely as the most celebrated exponent of Op art. Her interest in optical effects came partly through her study of Seurat's technique of pointillism, but when she took up Op art in the early 1960s she worked initially in black and white. She turned to colour in 1966. By this time she had attracted international attention (one of her paintings was used for the cover to the catalogue of the exhibition 'The Responsive Eye' at the Museum of Modern Art, New York, in 1965, the exhibition that gave currency to the term 'Op art'), and the seal was set on her reputation when she won the International Painting Prize at the Venice Biennale in 1968. Her work shows a complete mastery of the effects characteristic of Op art, particularly subtle variations in size, shape, or placement of serialized units in an all-over pattern.
Read more
It is often on a large scale and she frequently makes use of assistants for the actual execution. Although her paintings often create effects of vibration and dazzle, her decorative scheme for the interior of the Royal Liverpool Hospital (1983) uses soothing bands of blue, yellow, pink, and white and is reported to have caused a drop in vandalism and graffiti. She has also worked in theatre design, making sets for a ballet called Colour Moves (first performed at the Edinburgh Festival in 1983). Unusually, the sets preceded the composition of the music and the choreography. Riley has travelled widely (a visit to Egypt in 1981 was particularly influential on her work, as she was inspired by the colours of ancient Egyptian art) and she has studios in London, Cornwall, and Provence.
Text source: The Oxford Dictionary of Art and Artists (Oxford University Press)