You had your vote, now we've got your film!
In March 2019 we opened up a poll to have your vote on a work by a female artist in a collection in the UK. This was to celebrate International Women's Day and to showcase the partnership between Art UK and Open Arts Objects.
There were four choices: Mary Beale's Self Portrait, Angelica Kauffmann's Alexander Gordon. 4th Duke of Gordon, Keeper of the Great Seal of Scotland, Bridget Riley's Kashan, and Annie Louisa Swynnerton's Montagna Mia.
You voted for Riley's painting, Kashan, housed in Amgueddfa Cymru – National Museum Wales, Cardiff.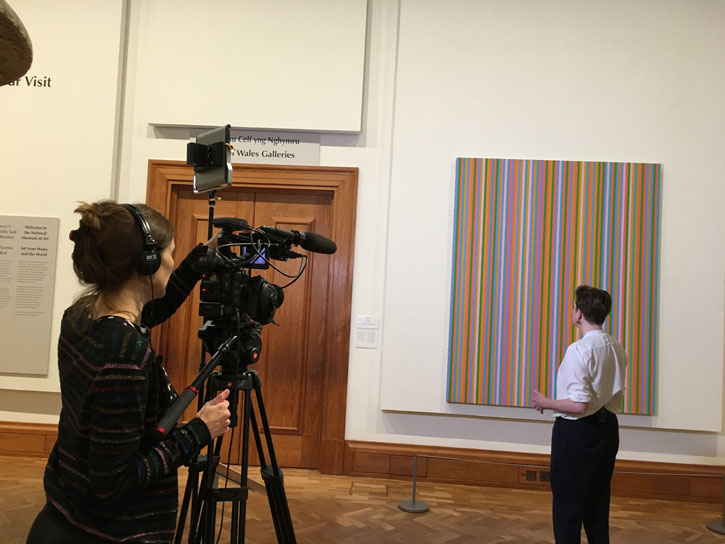 In the summer of 2019, the Open Arts Objects team travelled to Cardiff to film Bryony White, Senior Curator of Modern and Contemporary Art in the museum, to talk about Kashan. And here is the film:
2019 is a particularly important year to have invited the nation to vote on a painting by a woman artist and reflect on the role women have played in the arts – as well as the importance of opening up access for all.
This year marked the 50th anniversary of the Open University, and instrumental to the foundation of the OU was Jennie Lee, who was also dedicated to widening participation in the arts.
As Britain's first Minister of Arts under Harold Wilson's government, she argued that culture should be inclusive. Art UK and the Open University continue that legacy by providing resources that are free and open access.
Open Arts Objects film and teaching support materials are all free and open access and can be found on the Open Arts Archive.
Leah Clark, Senior Lecturer: Art History at The Open University
You can find Open Arts Objects on Twitter, Instagram, Facebook and YouTube