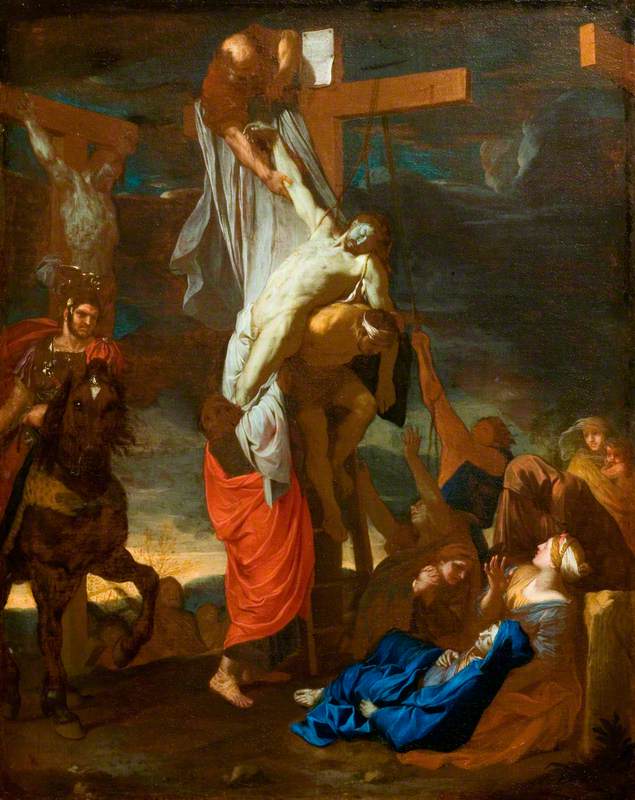 Photo credit: Victoria and Albert Museum, London
(bapt. Paris, 24 Feb. 1619; d Paris, 12 Feb. 1690). French painter, designer, and art theorist, the dominant artist of Louis XIV's reign. He trained under Vouet and quickly made a name for himself, winning a commission from Cardinal Richelieu when he was barely out of his teens; the only surviving picture from this commission (for the Palais Cardinal in Paris) is Hercules and the Horses of Diomedes (c.1640, Castle Mus., Nottingham). In 1642 Le Brun went to Rome in company with Poussin, who was returning from his visit to Paris, and remained there until 1646. After his return to Paris he was soon busy with varied commissions and during the 1650s he established himself as the leading decorative painter in France. In 1662 he was raised to the nobility and named first painter to the king, and in 1663 he was made director of the Gobelins factory and of the Académie Royale.
Read more
For the next two decades, until the death of his patron Jean-Baptiste Colbert (Louis XIV's chief minister) in 1683, Le Brun was virtually the dictator of the visual arts in France. He not only supervised all the great royal commissions, but also turned the Académie into a channel for imposing a codified system of artistic orthodoxy (see academy). His lectures, formulated on the classicism of Poussin, came to be accepted as providing the official standards of artistic correctness and gave authority to the view that every aspect of artistic creation can be reduced to teachable rule and precept. In 1698 his illustrated treatise Méthode pour apprendre à dessiner les passions…was posthumously published; in this, again following theories of Poussin, he purported to codify the visual expression of the emotions in painting. The treatise went through numerous editions in French and other languages and remained a standard textbook for art students until well into the 19th century. Despite the classicism of his theories, Le Brun's own talents lay rather in the direction of flamboyant and grandiose decorative effects. Among the finest of his works for the king were the Galerie d'Apollon at the Louvre (1663), and the famous Galerie des Glaces (Hall of Mirrors) (1679–84) and the Escalier des Ambassadeurs (Great Staircase) (1671–8, destroyed in 1752) at Versailles. Because his artistic domination became so closely identified with the political despotism of Louis XIV, Le Brun's posthumous reputation suffered, but it rose again in the second half of the 20th century, a major exhibition of his work at Versailles in 1963 being a landmark in demonstrating the range and quality of his work. In addition to his achievements as a decorative painter, he was a fine portraitist and an extremely prolific draughtsman.
Text source: The Oxford Dictionary of Art and Artists (Oxford University Press)