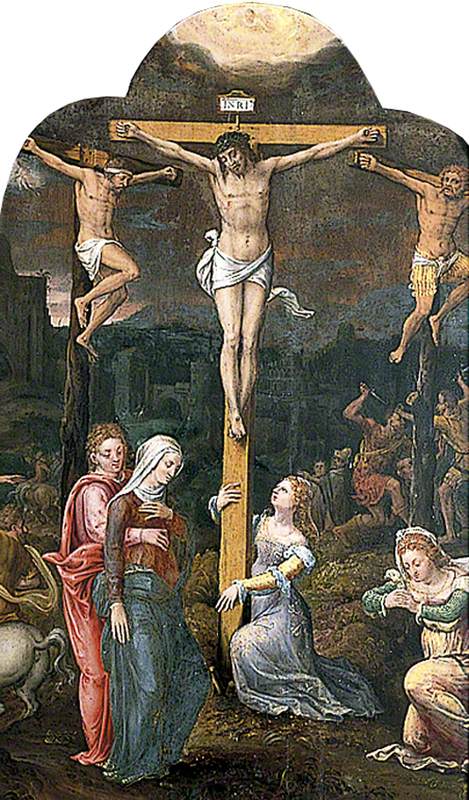 Photo credit: Royal Pavilion & Museums Trust, Brighton & Hove
(b Aelst, 14 Aug. 1502; d Brussels, 6 Dec. 1550). Netherlandish painter, architect, sculptor, designer of tapestries and stained glass, writer, and publisher. He was probably a pupil of Bernard van Orley in Brussels, but he was active mainly in Antwerp, where he became a member of the painters' guild in 1527. Some time before then he had probably been to Rome and in 1533–4 he visited Constantinople. His mission to gain business there for the Brussels tapestry works was unsuccessful, but the drawings he made on his journey were later published by his widow Mayken Verhulst as woodcut illustrations in Les Mœurs et fachons de faire des Turcz (The Manners and Customs of the Turks, 1553). He ran a large workshop and was regarded as one of the leading Antwerp painters of his day, but his work is fairly run-of-the-mill and he is generally more important for his publishing activities.
Read more
Like his paintings, his books are saturated in Italian influence, and the translation that he and his widow issued of the architectural treatise of Sebastiano Serlio (1549–53) played a large part in spreading Renaissance ideas in the Netherlands (it was from this edition, too, rather than from the Italian original, that the English translation of 1611 was made). Pieter Bruegel the Elder was his son-in-law, and, according to van Mander, his pupil, but there is no trace of Coecke's influence in his work.
Text source: The Oxford Dictionary of Art and Artists (Oxford University Press)