In collaboration with Towner Eastbourne, 'Queering the collection' highlights works by LGBTQIA+ artists in the collection, written by Collectively podcast host and artist Renee Vaughan Sutherland.
What caught my eye when looking at Patricia Preece's Girl in Yellow Dress were the two potted hyacinths placed on the table beside the subject of this painting. Despite being off-centre, they are by no means discreet and are in competition with the sitter, as your eye is consistently drawn away from the girl, back towards the plants.
In full bloom, each is contained in its own small terracotta pot – the larger plant, placed in a bright yellow breakfast bowl, looms over its smaller, greener companion that sits discreetly on a ceramic saucer. There is an unsettling feeling that these two flowers mean something, and are not simply there by happenstance – there is intent behind their inclusion.
My belief in their symbolism deepened as I began to unravel the artist's personal relationships, especially as it has recently been suggested (and evidenced) that the picture is highly unlikely to have been created by Preece, but more plausibly by her life partner Dorothy Hepworth.
Preece and Hepworth met at the Slade School of Fine Art in 1918 and, by all historical accounts, were inseparable from then on. They later travelled to Paris to study and spent time in Europe before returning to Britain and eventually settling in the village of Cookham, where Hepworth's parents purchased them a house to live in. Preece was renowned for her vibrant and flamboyant personality and, by contrast, Hepworth was quiet and insular. They were ensconced in art circles at the time, connected to the Bloomsbury Group and friends with local couple and artists Stanley Spencer and Hilda Carline.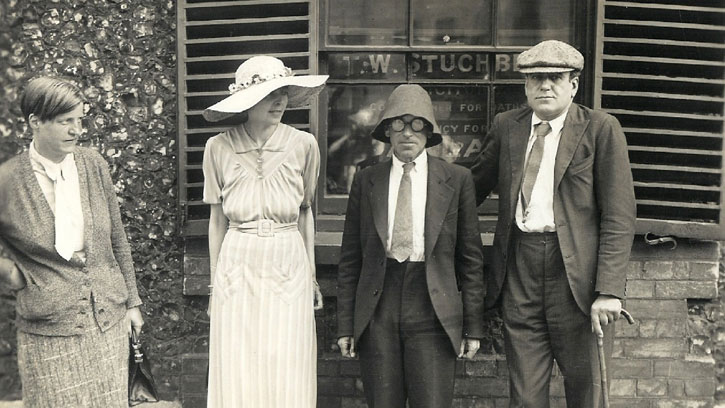 The Great Depression in the 1930s saw the Hepworth family bankrupt and, as a result, the women were unable to pay the mortgage. Shortly after this Stanley Spencer became increasingly close with Preece, resulting in his wife leaving him and ultimately Spencer divorcing her. Within a week of the divorce being granted, he married Preece. Hepworth however, was still on the scene. In a photo of the wedding day, Dorothy appears to be a bridesmaid. She and Patricia went on the honeymoon to St Ives straight after, leaving Stanley Spencer in Cookham working on a project.
On returning home the new bride discovered that, in her absence, Spencer had slept with his ex-wife, laying the ground for Preece to insist upon no further intimacy between the newly married couple. Preece gained control of the household's finances, and Spencer was evicted from the home whilst Dorothy and Patricia remained.
Without condoning manipulative, dysfunctional behaviour, the reality is that life would have been extremely difficult for two queer women artists living together and surviving as a couple throughout the 1930s and 1940s. It does appear that there may have been a game plan to secure stability to ensure they could continue to live and work – together. Stanley Spencer was also complicit – his choices and decisions influenced by his desires equally contributed to this outcome.
But back to the hyacinths: for decades, Dorothy Hepworth allowed her work to be signed and promoted by Patricia Preece, with the most notable evidence being that Hepworth continued to sign Preece's name on work that postdated her death in 1966. Their relationship and its determination to survive, plus the co-production in creating and promoting work reflective of their personalities, strengths and creative ambitions, for me personally, embodies queerness to the core.
Renee Vaughan Sutherland, artist and host of Towner Eastbourne's podcast Collectively