The Royal Scottish Academy of Art & Architecture (RSA) was founded in Edinburgh in May 1826 and is the oldest artist-led body in Scotland. Our rich heritage could already be explored through our paintings online, but we were also one of the first collections to take part in Art UK's sculpture project.
Among the RSA's sculptures on Art UK are portrait busts of eminent Academicians and past Presidents. But there is also a wealth of work by Keith Rand RSA, whose life and work I had the rare privilege of exploring.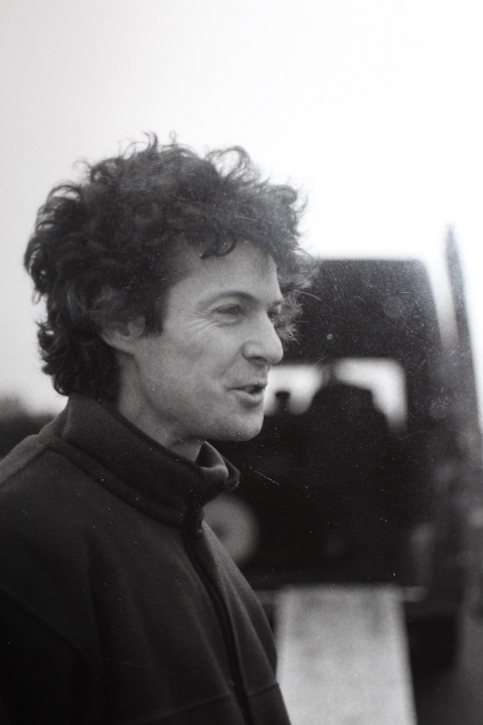 Born at a British military base in Rinteln, West Germany, in 1956, Rand then boarded at the Woodroffe School in Dorset. Afterwards, he trained as a cartographic surveyor with Ordnance Survey in Southampton before undertaking a portfolio year at Dewsbury and Batley Technical and Art College in West Yorkshire. He enrolled at Winchester College of Art in 1979, graduating with First Class Honours in 1982.
The subsequent mastery of his medium is little evident in his early work. Inspired by both tensile and kinetic interests, he used wood, glass, metal, concrete, and slate. He was clearly experimenting and trying to find his own style, as evidenced by his sculpture drawings.
For these works, he used significant amounts of sawdust to create outline shapes, on hillsides and in fields. These ephemeral pieces point to a subtler yet more intense symbiotic relationship between his sculpture and his preferred medium – wood – with the natural world.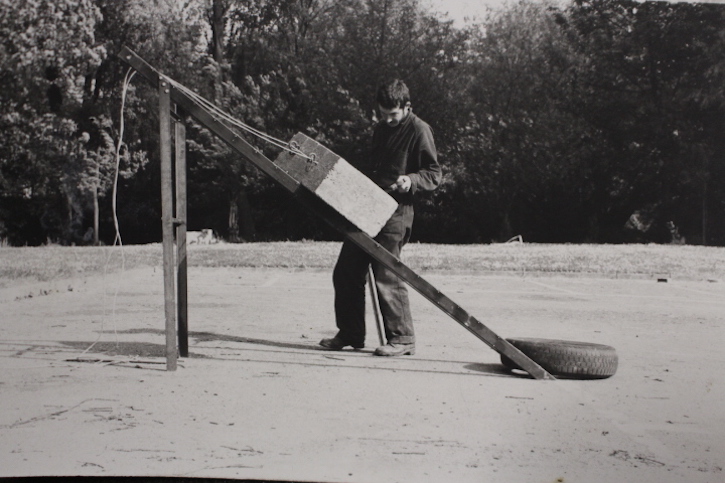 Rand worked for woodworking studios in London and at Breamore in Hampshire. Desperate to achieve his own niche, in 1984 he arrived in rural Aberdeenshire, as a part-time sculpture technician at the Scottish Sculpture Workshop (SSW) at Lumsden.
Founded in 1979 by Fred Bushe RSA, the ethos of Lumsden was to teach new – and share existing – skills and techniques in an open and supportive environment. A key focus was the large communal table, where attendees and staff were encouraged to eat, using the informality and closeness to exchange ideas. However, Rand's initial enthusiasm for the place in time gave way to restlessness.
Rand, who suffered from severe bouts of depression, found the community aspect more challenging to cope with regularly on a personal basis. He also became increasingly frustrated with his role as a technician, at a time when his own creativity was battling to emerge, and finally, he resigned.
He stayed in Lumsden, where he built a studio at Quarry Hill Cottage on the Craig Estate. He augmented his income by teaching part-time in the sculpture department at Gray's School of Art in Aberdeen, and was visiting lecturer at Glasgow School of Art and Duncan of Jordanstone College of Art, Dundee.
In the catalogue for the SSW's 4th Annual Sculpture Open, held in 1987 at Kildrummy Castle, Rand wrote: 'I am a constructor foremost, not a carver or a modeller – what concerns me the most is the way an object is put together and I find building and manufacturing skills of great interest.'
Indeed, at this time Rand was working as a constructivist, making large wooden structures evocative of agricultural machinery or implements. But he was already pushing into new areas such as the steam-bending of wood, which he introduced to Lumsden.
Hugely practical, Rand deployed steam-bending in the manufacture of pieces of domestic furniture, in particular chairs.
His personal library, though small, included books on rural woodworking techniques and rustic furniture making. A prototype Expanded Elm Seat represents this aspect of Rand's output, and some of his earliest exhibitions promoted his furniture making.
This piece was exhibited at the Crawford Arts Centre in St Andrews in 1988. It is a fascinating work, cut from a single plank of wood, which has then been subjected to the steam-bending box. Inserted wooden wedges tie the piece in its finished shape.
Rand developed a unique leg joint for his seating: two vertical parallel cuts are made in a piece of wood to create three equal tines. The plank is then steamed, allowing the central of the three tines to be bent in one direction and the other two bent together in the opposite direction. Already evident in his Expanded Elm Seat, he was to develop and refine the joint, which was prominent in his unrealised designs for Mackintosh-inspired, high-backed gallery seating at Glasgow's Gallery of Modern Art.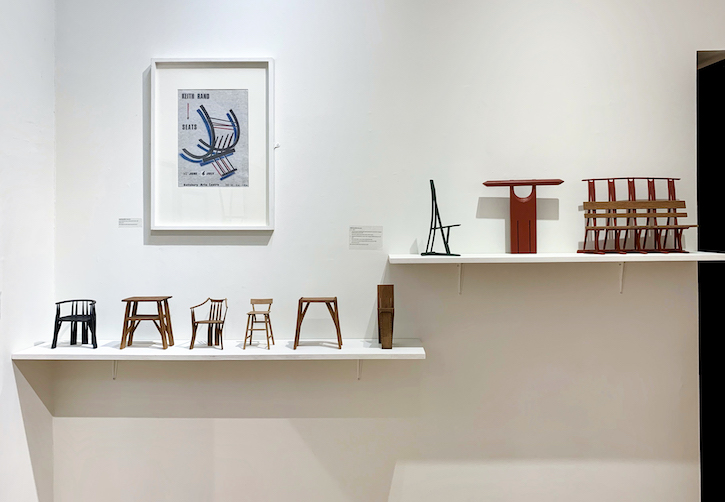 Lumsden was important to Rand for many reasons, and although he lived and worked in rural England for a long time, much of what he achieved latterly had its roots firmly embedded in his earlier years in Scotland.
Pig is an example of Rand's work at this time, which reveals many aspects of sculpture-making which he was subsequently to abandon.
Pigs feature in many of the pencil sketches Rand made while he was at Winchester. He saw in them something darker, literally earthier. Pig's alternative title is Erotic Carving, where the snout is exaggerated and the rest of the form is suggestive of human reproduction as much as the fecundity of swine.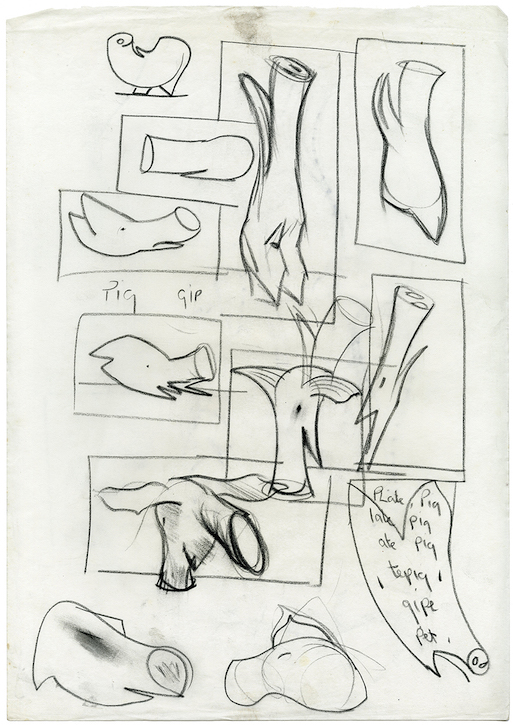 Rand disliked the hardness of the wood and the fact that he had to carve the piece, releasing the hidden form from its confines. The splits in the wood, poorly masked by the subsequent use of fillers and oil staining, also displeased him. However, such setbacks served only to nurture his deeper understanding of wood as a medium.
The catalogue that accompanied an exhibition of sculpture, including works by Rand, at Sherborne Old Castle in Dorset in 2000, notes:
'Keith Rand extends the sculptural possibilities of his material through an approach that develops a process of deconstruction, and is informed by our dependency on the natural world. A perennial theme is the sculptural harmony of space, mass, surface and line. Refining traditional woodworking techniques such as splitting, carving and pairing, he reconstructs elements of the timber to create sculpture that is contemplative, reconnecting human experience with the natural world.'
This was Rand's very clear response to the restrictions he felt with Pig. From this point forward, firstly using copper wire to recreate the original profile of a deconstructed sculpture, and latterly relying on the wood itself to retain the shape invisibly, Rand would tease his sculptures into being.
Sculpture is traditionally viewed from the exterior. Rand, in contrast, regarded the total sculpture as an entity, almost a living form. To him, the treatment of the inner faces of his deconstructs were as important to the overall feel of the piece as its outer faces.
Examples of Rand's approach to surface finish can be seen in his maquette for Wax Piece as well as in Field Figure Pipers, where he has also applied surface pigment.
Rand learnt how to source his timber – selecting trees to be felled, and, while the wood was still green, splitting the bole into triangular sections. This provided for irregularly shaped pieces. He started by roughly marking an outline in pencil on one of the wedges. Referring to his sketchbooks for an 'essence', he would transfer his idea. He would then cut and shape using a plethora of tools, many salvaged from second-hand dealers or bought on eBay.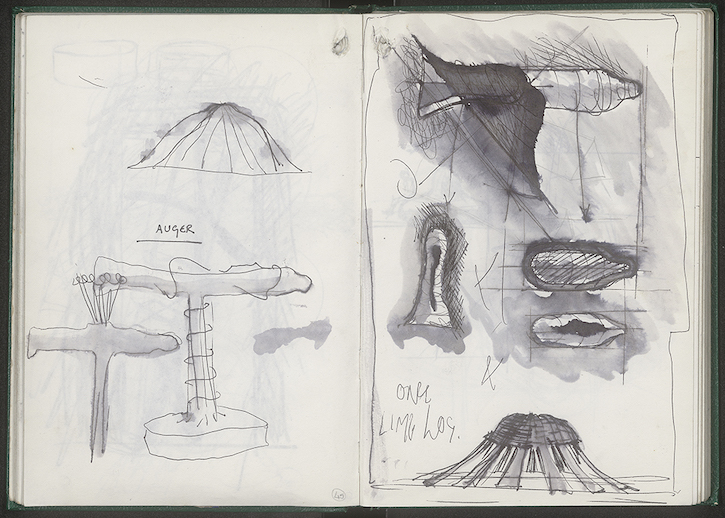 The other pertinent contribution to Rand's mature practice is the importance of landscape, and in particular the boundaries between lowlands and uplands (or highlands), first explored during his time in Lumsden.
Apparently abstract forms, such as Parsonage Down II, are mature examples of sculptures informed in their structure, surface texture, and patina by a sense of place.
Rand was elected an Associate Member of the Royal Scottish Academy in 1996, in which year, ironically, he left Scotland to become artist-in-residence at the River Parrett Trail in Somerset.
At Cannington Agricultural College he worked with students exploring sustainable and ecological practices to create public landforms and structures. These include marker posts, gates, stiles, footbridges and benches, constructed mainly in wood but including metalwork. Subtle, understated but beautifully designed and crafted, these sit comfortably in the landscape.
Whilst at Lumsden, Rand made a piece for the nearby Tyrebagger Sculpture Park, creating a new crown for a storm-damaged spruce tree. Segmented Sitka (1994), is made of steam-bent sections joined together in a form evocative of a pinecone or bark. It sits high above viewing height and thus blends masterfully with its setting.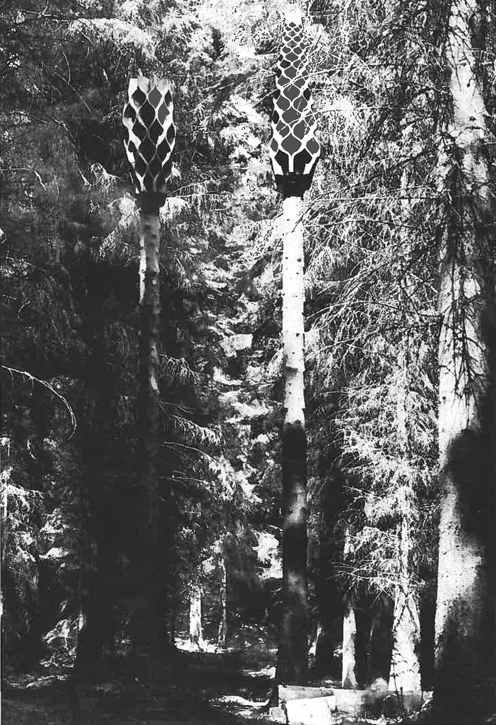 About the same time, Rand was asked to make a piece for Grizedale Forest in Cumbria. Visiting the site, he came across a fallen tree. Rand retained the tree in its entirety, building a house-like pod around its roots and thus created a work at once distinctive and arresting.
He also executed drawings and painted plaster maquettes for a public fountain for the town of Callander, which does not appear to have been realised.
Although Rand enjoyed a number of solo exhibitions and was a regular group exhibitor, his work resonated most powerfully when shown in non-traditional exhibiting spaces. These included National Trust properties as well as the outstanding exhibition 'Into the Light', held in Winchester Cathedral in 2011, just two years before Rand's tragic early death.
Winchester's gothic architecture found a sensitive foil in Rand's elegant large-scale, tensile constructions. These included the haunting Silent Figure I, which is evocative of an ethereal being.
In all these works, Rand remains true to his medium, redefining form and deeply conscious of the play of light across the deceptively fabric-like folds. It is entirely apposite that the majority of Rand's site-specific works remain in situ, with a significant number to be found in hospital oncology units, yet his work remains less well-known than his technical mastery and poetic vision deserves.
In 2015, two years after Rand's death, his partner, the curator Annette Ratuszniak, and her family made the generous donation of the Keith Rand Studio Gift to the Royal Scottish Academy.
The Studio Gift, the largest holding of Rand's work in a publicly accessible collection, includes over 100 sketchbooks and notebooks, and hundreds of drawings ranging from portraits and life drawings to studies of animals and preparatory works for sculpture. There are tools, completed sculptures and a rich group of maquettes and trial pieces for his sculpture and furniture.
These include examples from all phases of his sculptural practice, from the early expanded and locked forms, through staved forms, original forms and ridge forms, to the tensile forms of his late works. Project files, photographs, videos and exhibition catalogues complete the holdings.
The Keith Rand Studio Gift offers a rare overview of a sculptor's practice and has already been drawn on to augment RSA Collections-based displays, such as in the exhibition 'Ages of Wonder: Scotland's Art 1540 to Now' in 2017. The exhibition 'Interior Landscapes' features a never-before-seen selection of Rand's drawings, sketchbooks and designs for furniture and site-specific work.
In one of the sketchbooks on display, in the artist's hand, is inscribed the words: 'The anomaly between art object and functional object interests me. Where do we draw the line?' 'Interior Landscapes' is the first exhibition from the Keith Rand Studio Gift that reveals the synergy of Rand's sculptural approach with his furniture-making practice.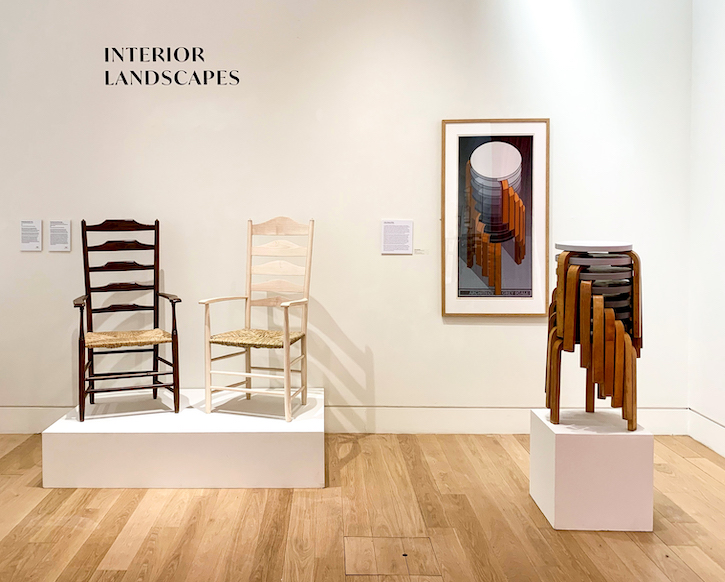 Many of Keith Rand's sculptural pieces from the RSA collections feature on Art UK. His work deserves to be better known, and anyone wishing to consult the Studio Gift is welcome to get in touch with the RSA. The Royal Scottish Academy is delighted to have recently received a further gift of Rand's work, which includes additional sculptures, sketchbooks and archival material.
Robin H. Rodger, Documentation Officer, Royal Scottish Academy of Art & Architecture
The exhibition 'Interior Landscapes' was due to continue at the RSA until 25th July and can be viewed online.
(A version of this article appeared in the Journal of the Scottish Society for Art History, published in 2019, and on the RSA blog. The author gratefully acknowledges the generous permission of the Journal's Editorial Board to adapt his article for this Art UK story. More about the Scottish Society for Art History)