Our mission at Pallant House Gallery is to provide new perspectives on British art from 1900 to now, and to champion artists who have been unfairly overlooked. It will probably come as no surprise that many of these overlooked artists are women. Our autumn 2019 exhibition, 'Radical Women: Jessica Dismorr and her Contemporaries' curated by Alicia Foster, reveals the fascinating history of alliances and connections among the women artists of the early twentieth century, centred on the pioneering work of Jessica Dismorr (1885–1939).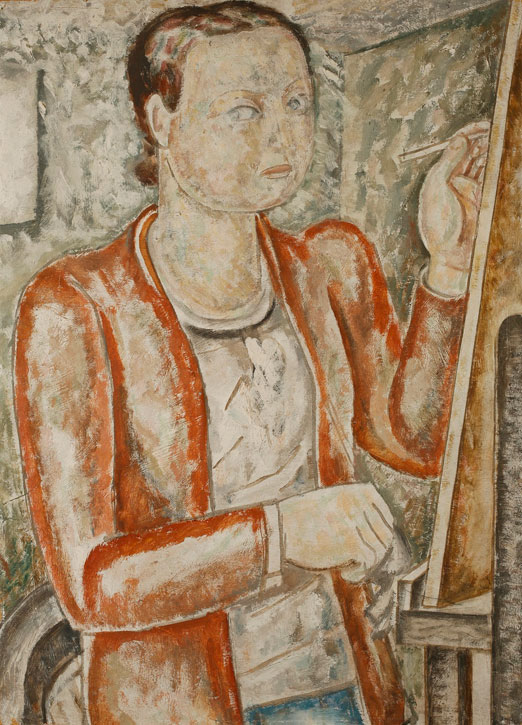 Although by no means a household name, Dismorr was at the forefront of the avant-garde in the early twentieth century. She was a leading member of both the Rhythm and Vorticism movements.
Despite her achievements, the largely male-dominated narrative of art history has reduced her role. Take for example William Patrick Roberts' painting The Vorticists at the Restaurant de la Tour Eiffel: Spring 1915 which depicts the Vorticist group, including Ezra Pound and Wyndham Lewis.
There is quite literally no room left at the table for their fellow artists Jessica Dismorr and Helen Saunders who are entering through the door in the top left corner. Dismorr is clutching a purse, perhaps a reference to the financial support she gave the group.
Whether it was his intention or not, Roberts' here perfectly captures the tension between the traditional roles of 'artist' and 'woman'. It is only really since the 1970s that art history has been re-examined to unearth the forgotten women artists, and there is still much to be done. Art galleries and museums must seek out these alternative narratives, as well as actively collecting and exhibiting the work of women artists.
However, not everyone has the means to visit an art gallery, and exhibitions are by their nature temporary. Digital channels such as Art UK and Wikipedia offer new ways for us to champion women artists beyond the confines of the gallery, so we were excited to hold our first Wikipedia edit-a-thon earlier this month.
The Radical Women Wikipedia Edit-a-thon took place on Friday 7th February. The day began with a presentation by Art UK's Content Editor Lydia Figes and a brief introduction to the Gallery from our Director, Simon Martin, Stuart Prior, Project Coordinator for Wikimedia UK provided in-depth training into the practicalities of editing and creating Wikipedia articles, as well as the ethos behind Wikipedia.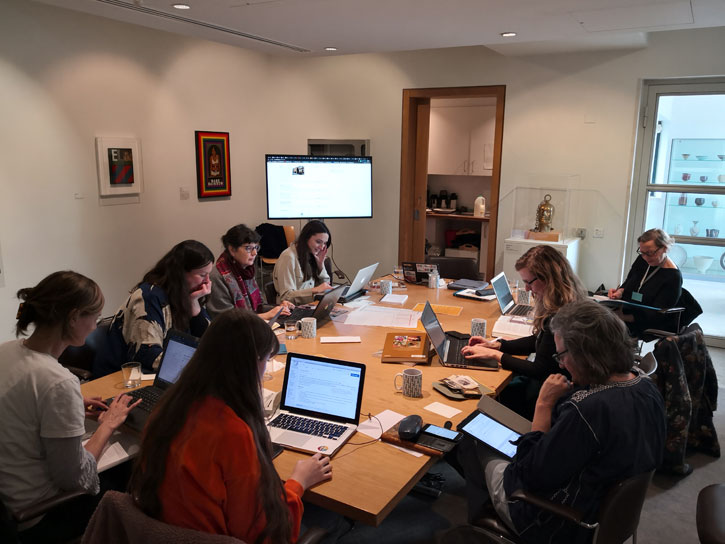 Our librarian provided books and reference materials from our Art Library and we also partnered with publisher Eiderdown Books, who solely publish books about female artists written by female academics and writers.
Over the course of the day, we created one new article, edited 16 articles, added over 2,000 words and 37 new references. Read more about just some of the women artists at the forefront of the avant-garde movements of the twentieth century below.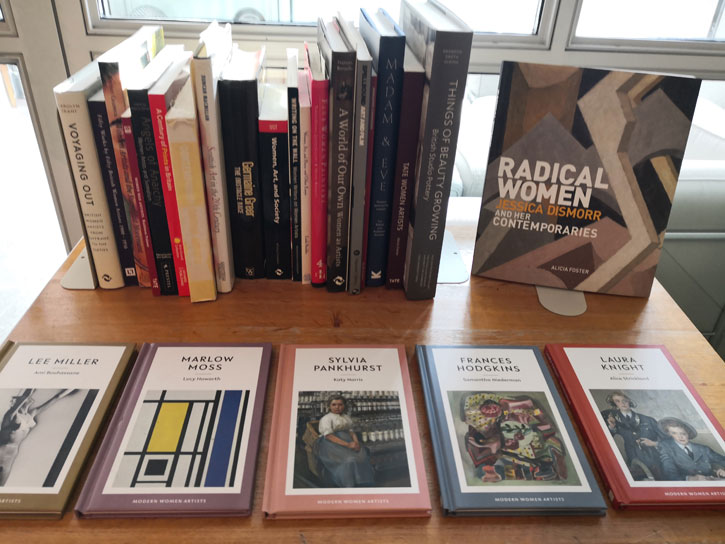 Rachel Howard
Rachel Howard was born in County Durham in 1969. She attended a Quaker school from the age of sixteen and this upbringing had a profound effect on the questions she tried to answer through her work.
From 1995 to 2008 she primarily used household paint but has more recently employed oils. She allows the paint to separate inside the can, so that the pigments and varnishes can be used in isolation.
Frances Hodgkins
Known primarily for her landscapes and still lifes, Frances Hodgkins is considered to be one of New Zealand's most prestigious and influential painters.
She was also a leading figure in the British Modernism, developing her unique style and palette in Britain and Europe, where she travelled extensively. Her work influenced a generation of artists, merging still life and landscape.
Marlow Moss
A central figure in the development of European non-figurative art, Marlow Moss (1890–1958) was a British Constructivist artist.
She is closely associated with Piet Mondrian and while her contribution to the history of modern art is arguably on a par with his own, she has relegated to relative obscurity.
Laura Knight
One of the most successful and popular painters in Britain in the first half of the twentieth century, Laura Knight (1877–1970) paved the way for greater recognition of women artists in Britain.
In 1936, she became the first woman to be elected to the Royal Academy and in 1965 was the first woman to have a large retrospective there. She is best known for her paintings of London's theatre and ballet scene, as well as her paintings made as a war artist during the Second World War, including her controversial depiction of the Nuremberg Trials.
Evelyn Dunbar
The only salaried woman artist working for the War Artists' Advisory Committee, Evelyn Dunbar (1906–1960) is perhaps unsurprisingly best known for recording women's contributions to the Home Front during the Second World War. Her work reflected her deep devotion to nature, particularly the landscape of Kent, where she lived for much of her life.
She also painted murals, most notably at Brockley County Secondary School and at Bletchley Park Teacher Training College representing the college motto, 'Alpha and Omega'.
While we are pleased to have, even in a small way, increased the visibility of women artists on Wikipedia, we were also thrilled by the reactions of our participants, who all left feeling empowered and inspired to keep editing Wikipedia. This was especially encouraging to hear as less than 20% of Wikipedia editors are women.
We are hoping to build on the success of the edit-a-thon and hold future exhibitions and events that will ensure that women's contributions to art history are no longer forgotten.
Sarah Jackson, Communications Officer at Pallant House Gallery