Art UK's series of online talks, in partnership with Bloomberg Philanthropies, celebrates collection curiosities from around the UK. The programme consists of 30-minute talks delivered by museum and gallery curators and directors, each exploring a handful of artworks from their unique collections. A huge array of venues participate, showcasing well-known works and uncovering little-known gems. A range of media are represented, from oil on canvas to digital works and sculpture.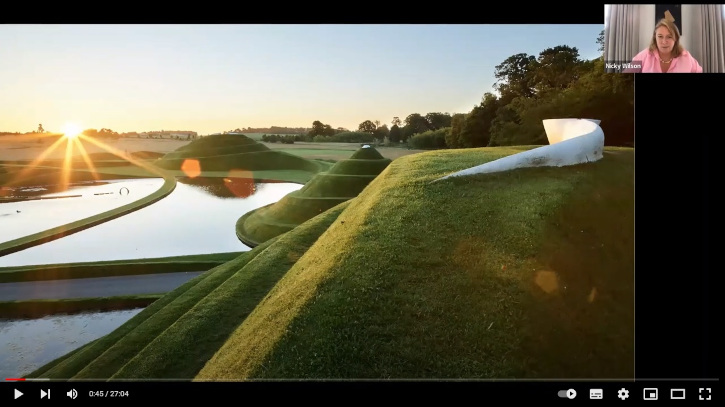 To celebrate Art UK's exciting sculpture project milestone of recording and digitising over 13,500 UK public sculptures, here are five fascinating sculptures featured in the series so far.
1. Gateway by Joana Vasconcelos (b.1971)
In her introduction to Jupiter Artland, Nicky Wilson, Director and Founder, took us on a journey through the intriguing sculpture park, sweeping in through the welcoming arms of Charles Jencks' Cells of Life to the visual and experiential delight within.
The park appears quirky and playful, and so it should come as no surprise that one of the sculptures featured is also a fully functioning swimming pool. As Nicky explains, Gateway is made up of 11,366 hand-painted and glazed tiles, and is inspired by the ley lines that are said to intersect on the site.
This treasure trove is home to numerous other sculptures, some of which you can see in the related Curation.
Art Unlocked: Jupiter Artland took place on 18th May 2022 and you can watch a recording of the talk here:
2. Susie Wolff: Portrait of a Racing Driver by Angela Palmer (b.1957)
This talk, given by Imogen Gibbon, Deputy Director and Chief Curator of Portraiture at the National Galleries of Scotland, showcases a range of portraits relating to Scotland and Scottish identity. Highlights include Alexander Nasmyth's Sakæus, a unique portrait of the first Arctic Inuit to freely travel to Scotland and Horse McDonald by Roxana Halls, an energised portrait of one of Scotland's most renowned singers.
One of the most intriguing and unusual portraits discussed is Susie Wolff: Portrait of a Racing Driver by Angela Palmer. As Imogen explains, Susie Wolff, a former professional racing driver, champions women in motorsport and co-founded Dare to Be Different, a programme which supports women who work in or want to work in the industry.
Susie's portrait is a sculptural piece made of crystal glass, based on the last helmet she used in her professional career. The fragility of the object, as Imogen highlights, 'reminds us of the vulnerability and bravery of drivers like Wolff as they take extraordinary risks in pursuit of ever-faster speeds.' The choice of recreating the helmet has further poignance as, as the artist Angela Palmer is quoted in saying, the helmet 'played a significant role in bestowing her equal status as a driver – once her helmet was on, no one knew if she was male or female.'
Art Unlocked: National Galleries of Scotland took place on 21st July 2021 and you can view the related Curation, or watch a recording of the talk here:
3. Untitled (History) by Rachel Whiteread (b.1963)
Neil Lebeter, Senior Curator: Modern & Contemporary Art at National Museum Wales, gives a fascinating tour in this Art Unlocked, showcasing a range of works from the collection. This includes Thomas Jones' The Bard, an iconic image for Wales, which has come to represent, as Neil put it, 'liberty in the face of tyranny, and also of a loss of culture, language and identity.'
The talk also features the haunting sculpture Untitled (History) by Rachel Whiteread. As Neil highlights in his talk, 'Her work tends to cast the negative space around objects, often those with intense personal associations such as mattresses, books, chairs', and it is this eerie memorialisation which gives the work such a unique presence.
Art Unlocked: National Museum Wales took place on 9th February 2022 and you can view the related Curation, or watch a recording of the talk here:
4. Trumpet Boy by Yinka Shonibare (b.1962)
In this Art Unlocked, Caro Howell, The Foundling Museum's Director, explores the fascinating history of the UK's first children's charity and its first public art gallery. Caro discusses a range of works which illustrate the charity's development, including William Hogarth's portrait of Thomas Coram, the hospital's founder.
Caro explores a range of material, both historical and contemporary, from architectural features and sheet music to paintings and sculpture. One highlight of the talk is the sculpture Trumpet Boy by Yinka Shonibare.
This piece, as Caro explains, connects with a range of more hidden stories in The Foundling Museum's history. The representation of children in the collection, for example, is actually quite unusual. Caro also comments on how Yinka references ideas of identity and empire 'through his use of what is seen as "African" fabrics, which are in fact Dutch fabrics modelled on Indonesian fabrics that were then sold to Africa', and how this highlights the fact that The Foundling Hospital itself was supportive of the empire. As Caro puts it, 'the Foundling children could become useful citizens and, in a sense, engines of empire.'
Art Unlocked: The Foundling Museum took place on 11th August 2021 and you can view the related Curation, or watch a recording of the talk here:
5. Daphne by Claire Curneen (b.1968)
For Gallery Oldham's Art Unlocked talk, Rebecca Hill, Fine Art Curator, explored some key works from the vast and diverse collection. Highlights include the striking In the Red by Kanak Chanpa Chakma and the captivating goddess Circe by John William Waterhouse.
Daphne is another mythological character represented in the collection. This delicate porcelain piece created by contemporary ceramicist Claire Curneen, presents the Greek myth of Daphne, who was the object of Apollo's desires. When she prayed to her father, the river god Peneus, for help in escaping Apollo's infatuation, she was changed into a laurel, and here Curneen depicts this point of transformation.
Rebecca describes taking the sculpture out of the museum and into a local school as part of the Art UK Sculpture in Schools project: 'the students spent a lot of time sketching from life, exploring the stories in the sculptures, making some really amazing three-dimensional pieces as well.'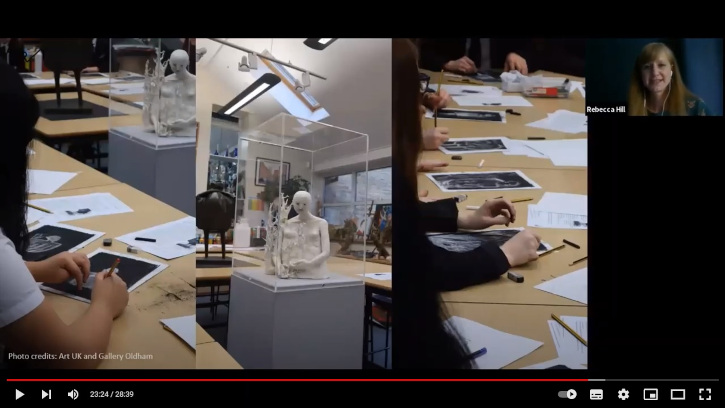 Art Unlocked: Gallery Oldham took place on 9th June 2021 and you can view the related Curation, or watch a recording of the talk here:

These five sculptures are just a taster of the huge range of works explored in the Art Unlocked series of online talks. To hear about even more artworks, why not attend our next talk? They are all free, and you can see what's coming up next on our Eventbrite page. Make sure you keep an eye on Art UK on Twitter for updates and you can subscribe to our weekly newsletter too.
Jolif Guest, Collections Content and Liaison Officer, Art UK