We recently reached the end of an important phase of the Art UK Sculpture project: our last Coordinator completed their work with us to catalogue sculptures in public collections across the UK.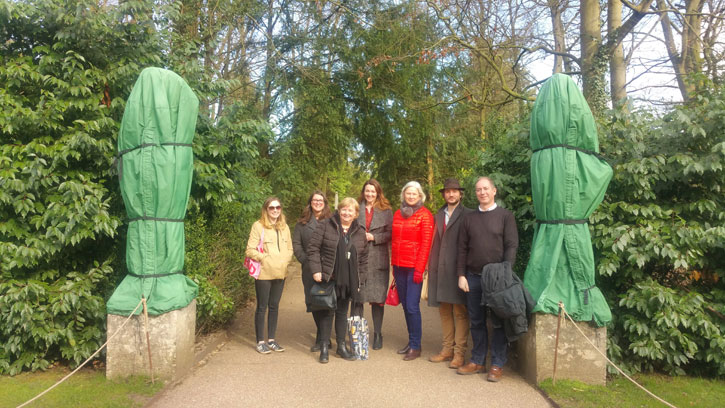 Over the last two-and-a-half years, 26 people have been recruited to the sculpture project Coordinator team and have worked tirelessly to liaise with collections, record their sculpture and organise photography sessions. During this time, they have worked with over 800 organisations, from Shetland to Jersey, including the V&A, National Trust properties, regional museums, hospitals and universities.
They have helped us welcome some of the nation's dedicated sculpture collections to Art UK, including F. E. McWilliam Gallery and Studio, Andrew Logan Museum of Sculpture and The Henry Moore Foundation (which will be added to Art UK this year).
The Coordinators have worked closely with our team of Photographers and have overseen the photography of over 15,600 sculptures. They have collectively attended 951 photography days, which meant spending a lot of time on their feet, making sure the right sculptures are photographed, checking measurements and inscriptions, and editing and preparing data. By the end of the project, they will have recorded over 47,000 sculptures.
We want to take this opportunity to thank our Coordinators for all their hard work and celebrate their incredible achievements during the project.
Hazel Buchan Cameron managed 12 of the Coordinators in Scotland, the north of England, Yorkshire and London. Hazel says that it was a great honour and pleasure working with her Coordinators. They all came to the post with excellent organisational skills and work ethic, which is important when project-based from home. They had very good diplomatic skills that allowed them to work with a large range of people, including collection staff, volunteers and Photographers under sometimes extraordinary pressure.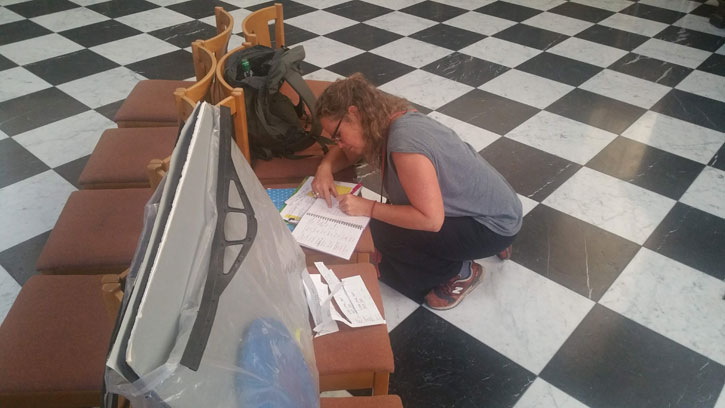 What impressed Hazel the most was their adaptability and skills at solving problems on the hoof – and it certainly was 'on the hoof', with one Coordinator clocking up seven miles of strenuous walking in just one photo day. During these days they often had to fit around the normal work demands of collections. For example, Laura Davidson (London City & Westminster, English Heritage) had to ensure photography stopped on the hour, every hour, to allow for the prayer sessions at St Paul's Cathedral.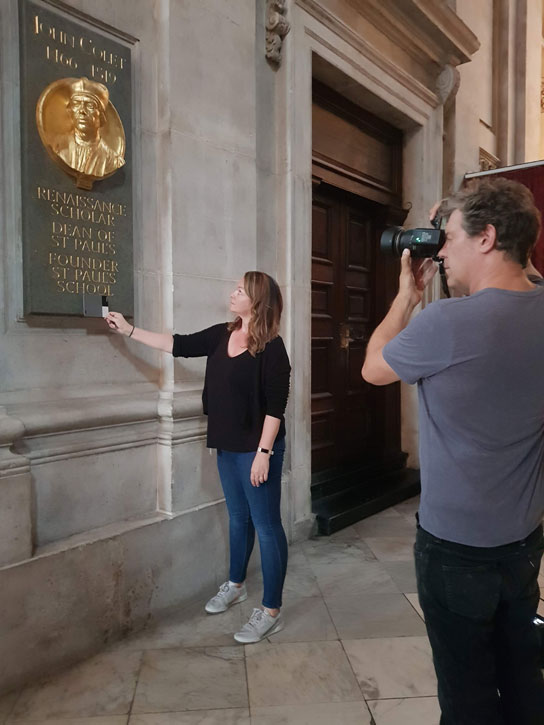 Claire Sleightholm (North of England/NW England) had the unexpected arrival of an artist's family on the day of a shoot in Liverpool. Helen Keighley (Yorkshire) had to reorganise a photography day as the collection had other work to do – shunting the Flying Scotsman! The Coordinators took these unexpected events in their stride. Their diligent work in even the smallest collections has highlighted many pieces which were only known locally.
Rhona Taylor (Edinburgh, Glasgow, Central and Southern Scotland) alerted the National Portrait Gallery to an additional marble bust of John Rennie, in East Linton Library.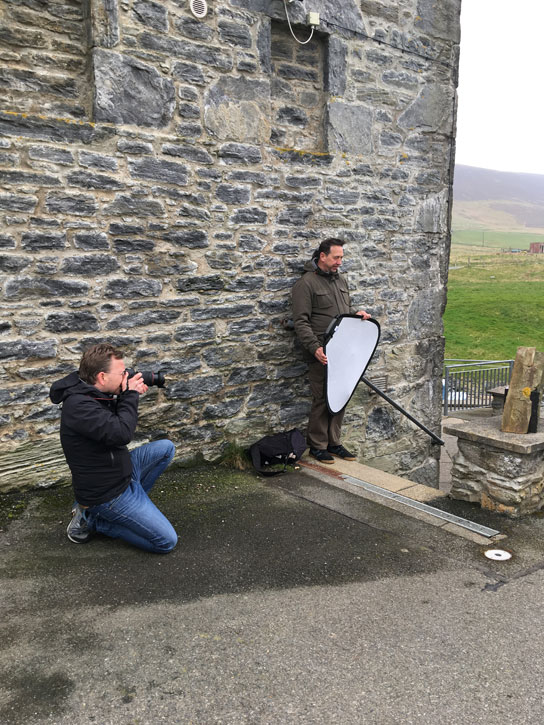 Iain Irving (East of Scotland, Highlands & Islands) made connections with artworks by James Christie in the small Glenesk Folk Museum and Hospitalfield, Arbroath.
During the project, two of Hazel's Coordinators also increased their families, with Sophia Sheppard (Highland & Islands) first to produce her daughter, Eilidh, and Elizabeth Heath (National Collections) giving birth to Evie a few months later.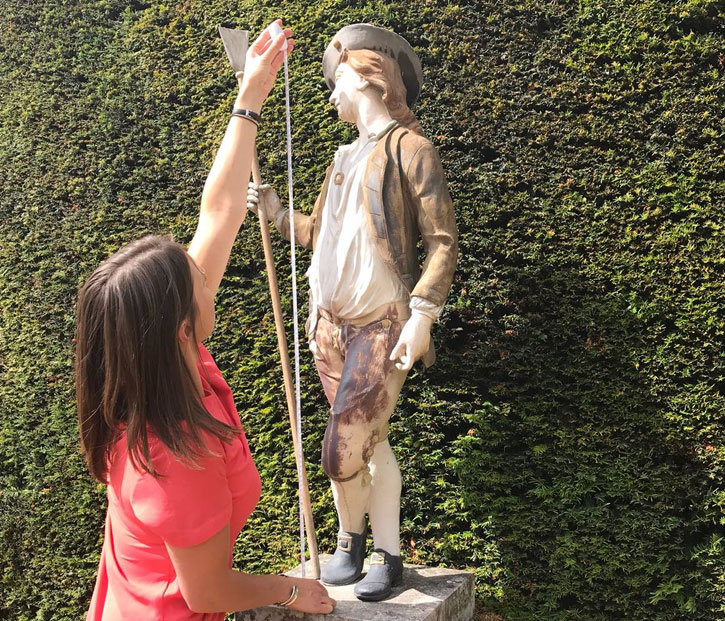 Having collaborated with many people and organisations over her career, Hazel can say with confidence that this group have stood out as work colleagues, always showing willing to step in and help each other. They have been an important part of this fabulous sculptural legacy.
Alison Mitchelson managed 14 of the Coordinators in the rest of England, Wales and Northern Ireland. Alison says that it was a great pleasure working with all the Coordinators, who went above and beyond on many occasions. They were armed with measuring tapes, torches, notebooks and sometimes umbrellas. Inclement weather did not deter them. Julia Abel Smith (Essex, Hertfordshire, Bedfordshire), for example, battled through the snow to get to The Munnings Art Museum, Essex!
Some travelled outside their own regions to cover photography at the National Trust properties and to help each other out. For example, Ben Stoker (East Midlands) travelled all the way from his home in Lincolnshire to oversee the photography at Stowe in Buckinghamshire, where they had to row over to an island on the lake to photograph some sculptures. He was not the only Coordinator that had to leave terra firma – Karen Clarke (Southern England and the Channel Islands) travelled to Jersey, the Isle of Wight and Brownsea Island.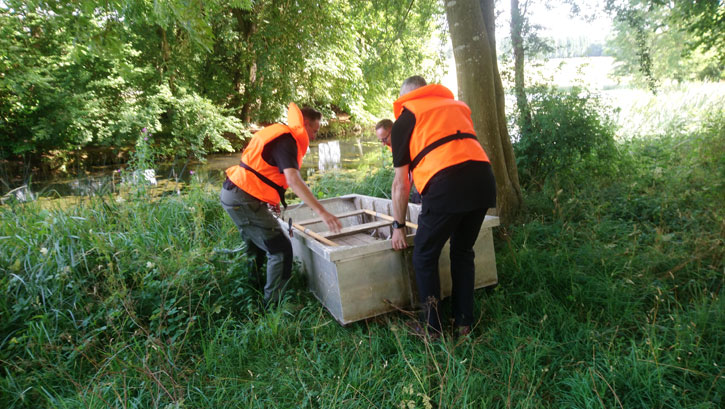 Three of the Coordinators – Rachel Bentley (West Midlands and North Midlands), Andrew Deathe (Wales) and Barbara Pezzini (South East England, Oxfordshire, Buckinghamshire, Berkshire) – picked up extra regions when some Coordinators left. Helen Clark covered the vast South West region, coming up close and personal with works by Banksy in Bristol to Barbara Hepworth in Cornwall. This meant the miles travelled and nights away from home became commonplace. We should have kept a tracker on them to record the miles they covered!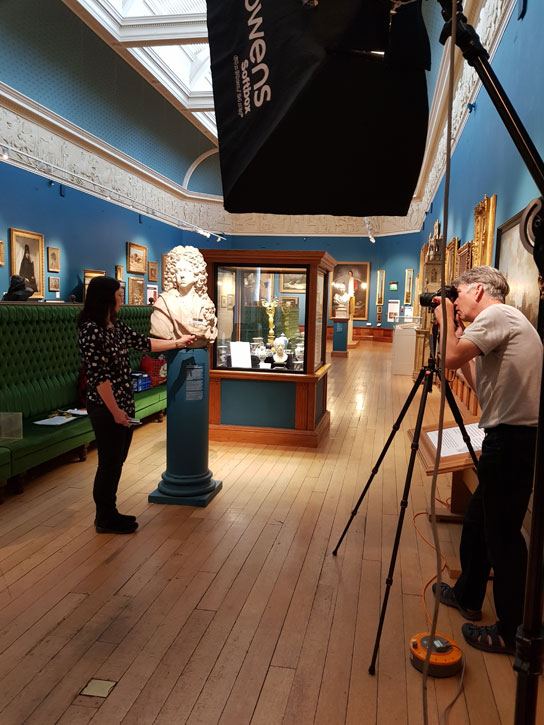 Each of them would have a tale to tell on their return from a photography shoot. Barbara made some great discoveries, identifying sitters and sculptors originally unidentified by the collections.
These included Queen Alexandra at Bankfield Museum; Elizabeth I at Jesus College, Oxford; and Julius Caesar at the Museum of Natural History, Oxford, all previously listed as unknown sitters.
Julia was also able to make some identifications, including Sir Isaac Newton at the Fry Art Gallery, and she tracked down a collection of plaster and marble busts in an undercroft in Bedford.
Hospitality from the collections was second to none. Karen was invited to strawberries and cream with the volunteers and staff at Russell-Cotes Art Gallery and Museum, Bournemouth, and Christine Blackburn (East of England) was invited to lunch at one of the Cambridge colleges.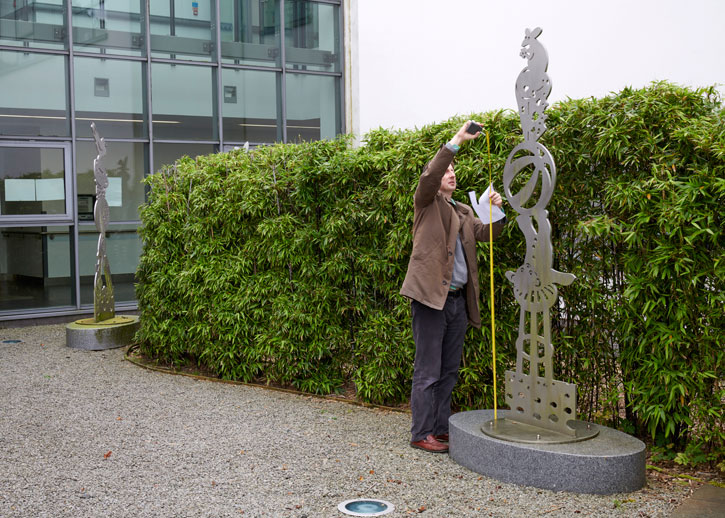 Dickon Hall (Northern Ireland) also added to his family during the project, with the birth of his son, Theodore.
Finally, we won't forget one of the first Coordinators to join the sculpture team, Rosie Macarthur, who sadly passed away in November 2018. Rosie worked for us as an oil paintings Coordinator, as well as a sculpture Coordinator. She is still greatly missed by her colleagues at Art UK.
Although our last Coordinator has now left, our sculpture digitisation work has not ended. The Covid-19 pandemic has resulted in the postponement of the last photography sessions, which Hazel and Alison will pick up again when the lockdown is eased. We hope that all the sculptures will be online by early 2021.
Thank you very much to every one of the Coordinators who have worked on the sculpture project and have made it such a great success: Julia Abel Smith, Russ Basford, Rachel Bentley, Diane Bilbey, Christine Blackburn, Helen Clark, Karen Clarke, Elanor Cowland, Laura Davidson, Andrew Deathe, Dickon Hall, Elizabeth Heath, Katherine Hughes, Iain Irving, Helen Keighley, Kathleen Lawther, Fiona Leslie, Rosie MacArthur, Barbara Pezzini, Bronwen Posner, Sophia Sheppard, Claire Sleightholm, Freya Spoor, Ben Stoker, Rhona Taylor, Adrienne Wallman.
Katey Goodwin, Art UK Deputy Director, Hazel Buchan Cameron, Art UK Regional Digitisation Manager and Alison Mitchelson, Art UK Regional Digitisation Manager