An omnivorous interest in objects, materials and artworks flavours Richard Deacon's conversation: from the repoussé metalwork covering painted icons, patterned linoleum, and Gothic cathedrals, to the relationship between time and space in Nicolas Poussin's Landscape with a Man Killed by a Snake (1648).
As a student at the turn of the 1970s, Deacon also looked to sculptors and thinkers of the generation before him – Donald Judd, David Smith, Buckminster Fuller – but over the course of a 40-year career, he has continued to examine and ponder the odd and the everyday.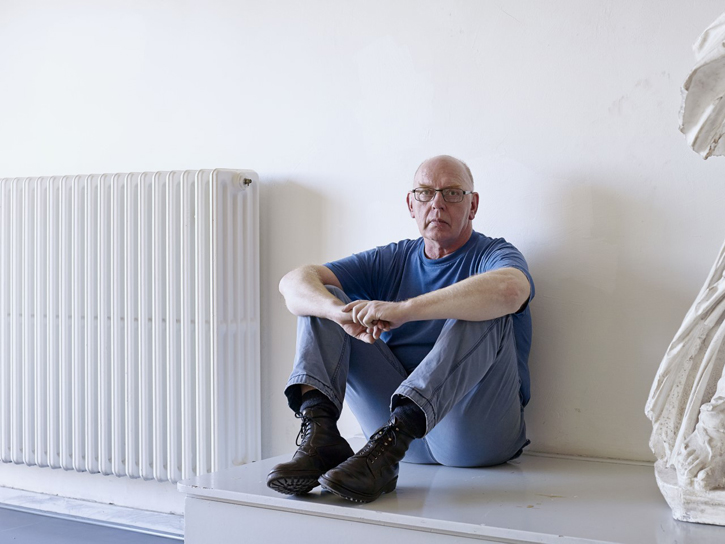 'The excitement is in exploring', Deacon says.
'The possibilities of the geological structure, or history of mapmaking or whatever: it can be something quite simple. By the time you know what you're interested in, it's kind of over. But that leads you to other places.'
Already, in the early 1980s, Deacon was a leading figure in the British art world: one of the 'New British Sculptors', alongside Tony Cragg, Anish Kapoor and Bill Woodrow. Perhaps without coincidence, all four leading sculptors were represented by the same London gallery, Lisson Gallery. This led to critic Waldemar Januszczak dubbing them the 'Lisson Boys'.
Following a breakthrough exhibition at Riverside Studios in 1984, Deacon was nominated for the inaugural Turner Prize (he was nominated again and won in 1987). The works he showed were open, curving, light, economical, bringing together a sensorial cocktail of materials – wood, stainless steel, brass and cloth – in forms that suggested deep structures of the human body.
Titles like The Eye Has It (1984) reflected sensory aspects of the human body used in idiom. For example, we say that words 'fall on deaf ears', or a person 'turns a blind eye' or has a 'heart in the right place', as if these were anatomical attributes, matters of physical rather than social structure. Eyes, ears and mouths are portals, both the exterior and interior of the body: Deacon's sculptures from this time were full of open forms, apertures, loops, twists and trails that blended the limits of the work with the surrounding space.
How much has his working method changed? How does he start? Deacon says he was initially averse to drawing, and to pre-planning works. 'I'm actually not very good at imagining what it is I'm going to make, I'm much better at starting something then continuing,' he says.
'I'll probably have vague ideas of some sort: it may be a process, it may be material.' Besides, the Brixton studio he used after leaving the Royal College was so damp that drawings disintegrated: 'I tended to use up the drawings as templates for making the work.'
With his works in wood, in particular, technical proficiency led Deacon in fresh directions. Looping ribbon forms at the Riverside Studios exhibition, such as Mirror Mirror (1984) were made in laminated wood. Experimenting with steam bending instead, his first challenge was to stop the wood cracking. He wanted to make spiral bends, but 'there's no way you can stop the wood both compressing and stretching, so as the pieces got bigger and we started twisting them, they would always split along the middle lines.'
The solution was to twist bundles of wood. To start with, he'd glue the bundle together to make a single piece. 'But after a while, you realise actually you could unpack the bundle and you have these rather extraordinary twists which you could then reconfigure in a different way, so then it goes on.'
View this post on Instagram
He cites the serpentine After (1998) as perhaps the ultimate expression of the 'straightforward' twists, and the convulsive, almost liquid waves of UW84DC#7 (2001) and Restless (2005) for their spiral bends.
As Deacon started to work with external fabricators, and on large public commissions from the late 1980s onwards, his habit of allowing forms to emerge in process often became an impossible luxury. In order to present a fabricator with a set of drawings they could work from, Deacon 'had to imagine something complete.'
By the end of the 1990s, a collaboration with the German artist Thomas Schütte led Deacon, unexpectedly, to ceramics. He started working with a ceramics workshop in Cologne, where he'd produce small models 'just by using a ball of clay: twisting, punching, bending, boring', then discuss which might work at scale.
The evolution between the ceramic sculptures Kind of Blue (2001) and Empirical Jungle (2004) is not only formal: it also demonstrates Deacon's growing interest in colour. Unlike the smaller ceramic works he had made in the 1970s, in the German workshop it was taken for granted that everything would be glazed. 'The interesting thing was that on a large scale, which is quite risky firing, you raw glaze it: you glaze the thing before the first firing.'
Deacon became interested in how raw glazing seemed to sit colour into the clay. 'Progressively, I began using the glaze in a much more mixed-up fashion. The kind of glazing activity I did, how I performed in relation to throwing the glaze around, became quite a significant part of the work,' he says. 'I've got quite interested in the way the colour works.'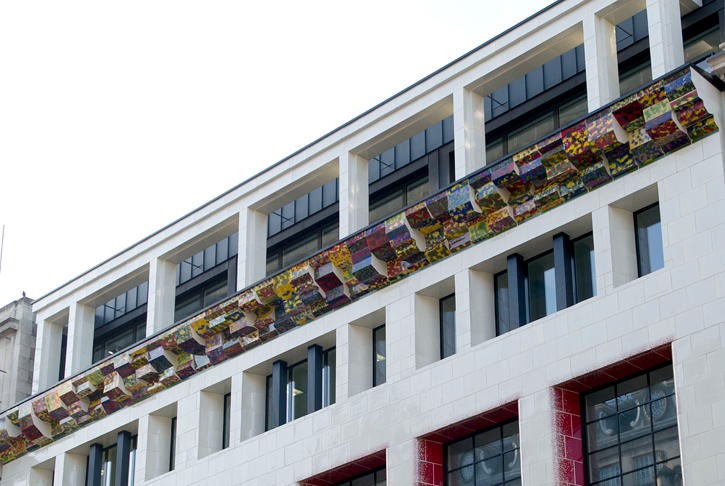 While not glazed, the cornicing created for Piccadilly (2013) on architect Eric Parry's One Eagle Place finds Deacon exploring the interplay between colour and architectural form. The outsized colour 'brushstrokes' on Deacon's ceramic cornice were derived from a suite of paintings, and they mingle, blend and adapt as your view of the building shifts, like the thronging crowds around Piccadilly Circus itself.
A deep sense of place informs other works in the public sphere. The big steel loop Moor (1990) responds to the language of railway architecture in general, but also to the two vast ellipses of Isambard Kingdom Brunel's Royal Albert Bridge crossing the Tamar.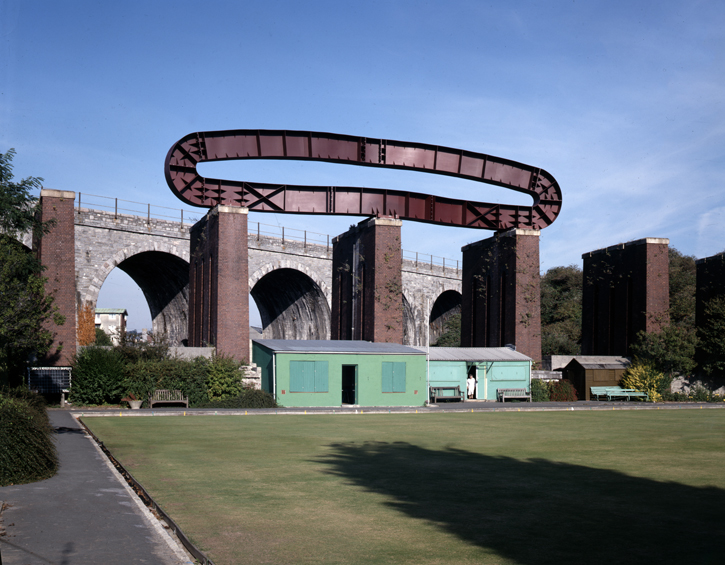 Moor 'is very close to where I went to school, I used to run underneath the archway. So I knew it very well: I knew that sightline,' says Deacon. 'Getting to Plymouth, the train goes along Brunel's track – past Dartmoor and you come up to the Tamar bridge, which has two very beautiful steel riveted arches.'
Let's Not Be Stupid (1991) was commissioned for the University of Warwick campus. Deacon describes the interplay of support, control and freedom between the four elements of the sculpture. Originally, one element was positioned on a chessboard that had been installed by the University social club. It has since been paved over, but Deacon rather liked it. 'The site provides a sort of pre-existing plinth: something provided by the architectural history.'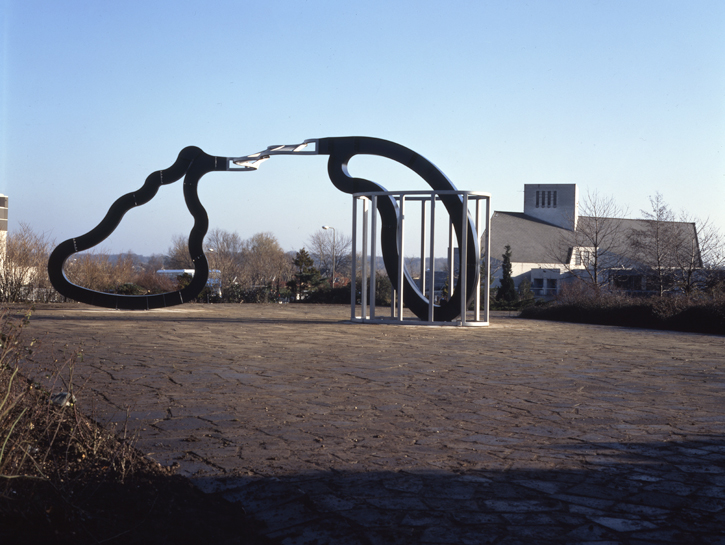 With major commissions in the public sphere, and work in museum collections around the world, Deacon has remained committed to teaching – at the Kunstakademie in Düsseldorf, École des Beaux-Arts in Paris, and the Chelsea, Sheffield, Bath and Central schools of art in the UK, only stopping in 2015, after he turned 65.
He considers himself lucky to have attended art school when he did: to graduate without debt, and to start out in London when space to live and work was still affordable. 'You could afford to waste time in the studio.' By which, at a guess, he means letting his mind wander – exploring, learning, experimenting – the keystones, in other words, of his creative process.
Hettie Judah, writer and journalist