Are you concerned about the lack of online visibility for women in the arts? Want to learn how to edit Wikipedia?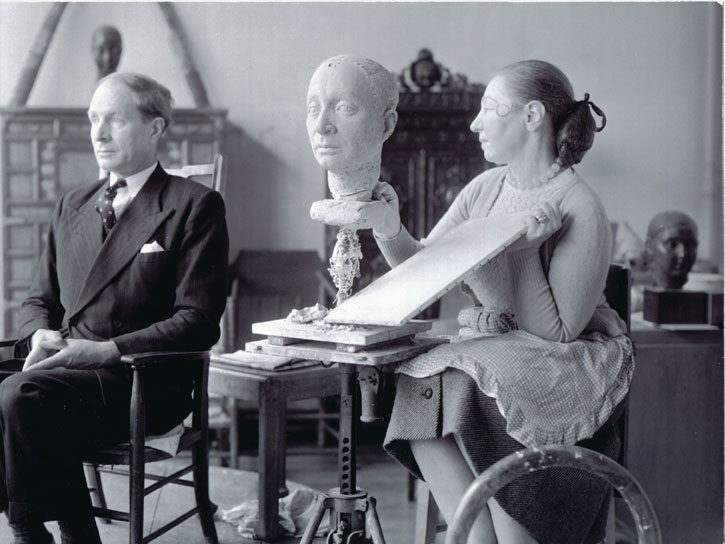 As part of Art UK's sculpture project, we will be co-hosting a series of events to increase the online visibility of women sculptors whose work can be found in UK collections. By hosting Wikipedia Edit-a-thons, we aim to teach individuals how to become beginner Wikipedians and fight the content gender gap.
Two upcoming events focusing on women sculptors include:
So why is editing Wikipedia so important?
In a recent survey, it was estimated that only 17.3% of Wikipedia biographies are about women, out of 1.5 million biographies. The Wikimedia Foundation also revealed in a 2011 survey that less than 10% of Wikipedia contributors identify as women. This lack of inclusive participation has led to an alarming gap of content in the world's most popular online research tool.
As part of our research into the representation of female sculptors on Wikipedia, we asked a representative from Wikipedia to estimate the ratio of female sculptors to male sculptors.
While there are approximately 1,781 biographies of women sculptors on Wikipedia, there are around 7,558 biographies of male sculptors, meaning the ratio is 23/77.
Of course, this content gender gap is a reflection of the historic institutional exclusion of women in the arts. Nevertheless, there is still room for improvement when it comes to editing pages for women sculptors, whether that involves adding detailed biographical information, including highlights of their careers, or ensuring that there are no factual errors.
Organised by Art UK's Project Officer Sarah Harmon and in partnership with Dr Sara Thomas, Wikimedia UK's Scotland Programme Coordinator, the Glasgow event will be hosted in the University of Glasgow Library – one of the oldest university libraries in Europe.
We are delighted that our London Edit-a-thon has been organised in collaboration with the Paul Mellon Centre and Art + Feminism. Stuart Prior, Wikimedia's UK Project Coordinator, will be on-hand to teach beginners how to use and edit the site.
The Paul Mellon Centre for Studies in British Art is an educational charity committed to promoting world-class research into the history of British art and architecture of all periods. They are committed to fighting the content gender gap online and successfully hosted a Wikipedia Edit-a-thon in collaboration with Art + Feminism earlier this year.
Founded in 2014, Art + Feminism has been responsible for organising hundreds of Wikipedia Edit-a-thons all across the world. In total, they have created and improved over 33,000 articles. Co-founded by Jacqueline Mabey, Sian Evans and Michael Mandiberg, the organisation seeks to give representation to women in the arts as a way to preserve cultural history and promote diversity in the digital sphere. Jacqueline Mabey will be attending the London event at the Paul Mellon Centre on Saturday 5th October.
If you would like to attend either of our forthcoming events, please reserve a free ticket on our Eventbrite pages (listed above). Unfortunately, we have limited capacity for both events, so you will be contacted directly if your reservation has been successful.
Lydia Figes, Content Creator at Art UK and co-founder of Encyclopedia of Courageous Women