Few artists are as deeply connected to a place as Stanley Spencer with his home village of Cookham. Not only did he live in the Thames-side community for the greater part of his life, but it dominated his imagination and was the setting for many of his paintings.
Spencer's love for Cookham was rooted in his idyllic childhood. He was the eighth of nine surviving siblings, and although the Spencers were not wealthy, they were a cultured and intellectually enquiring family. As a young student at the Slade School of Fine Art in London, Spencer returned home on the train each night, earning himself the affectionate nickname 'Cookham' among his fellow students. But Cookham was not just a source of happy memories; it was also inextricably bound up with his idiosyncratic but fervent Christian beliefs.
In Spencer's imaginative paintings, Cookham becomes 'a village in heaven', in which the spiritual world lies lightly veiled beneath scenes of everyday life. Biblical events take place in back gardens, angels descend into the High Street, and Christ preaches to the pleasure goers from a punt at Cookham Regatta. In his blending of the transcendent and the mundane, Spencer was one of the most visionary British painters of the twentieth century.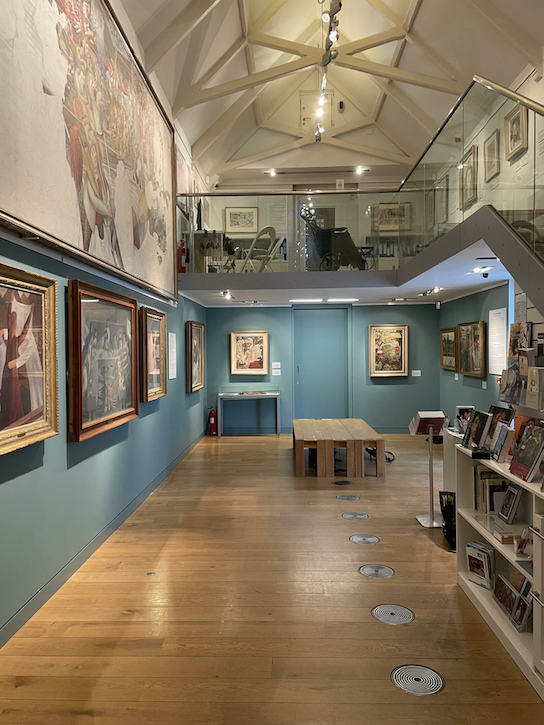 The Stanley Spencer Gallery, dedicated to the artist's work, is itself closely connected to Cookham. Located in a former Wesleyan chapel where he worshipped as a child, it is unusual in being run entirely by volunteers, many of whom are themselves Cookham residents. For the current exhibition, 'Most Loved Works in the Stanley Spencer Gallery', the volunteers were invited to nominate their favourite works from the gallery's collection. The result is a rare opportunity to see all the gallery's most loved works on display at once.
As you might expect, many are related to Cookham. Some are portraits, such as the charming pen and ink drawing of young Roy Lacey, leaning on a pew in Cookham's Holy Trinity Church, made when Spencer himself was just a teenager. Others are landscapes of still-recognisable views, with The Angel, Cookham Churchyard and View from Cookham Bridge both showing places located just a few minutes' walk from the Gallery.
It was in Spencer's imaginative figure paintings, however, that Cookham became the site of heavenly happenings. Sarah Tubb and the Heavenly Visitors is based on a story recounted to Spencer by his father, in which Old 'Granny' Tubb was so startled by the bright appearance of Halley's Comet that she fell to her knees in Cookham High Street and began to pray. But as though to open our eyes to the hidden spiritual world, Spencer shows her comforted by angels or 'heavenly visitors'.
Other paintings reimagine Biblical scenes as taking place in familiar Cookham locations. In The Last Supper, the 'upper room' in which Christ and his disciples meet becomes the loft space of the malthouses behind the Spencer family home. The malthouses held a mystic significance for Spencer, who was not allowed into them as a child. In his imaginative compositions, he strove to arouse the 'memory feelings' of his childhood, through which religious truth could be intuited rather than rationally apprehended. Since Cookham was their source, representations of Cookham became a conduit to spiritual connection.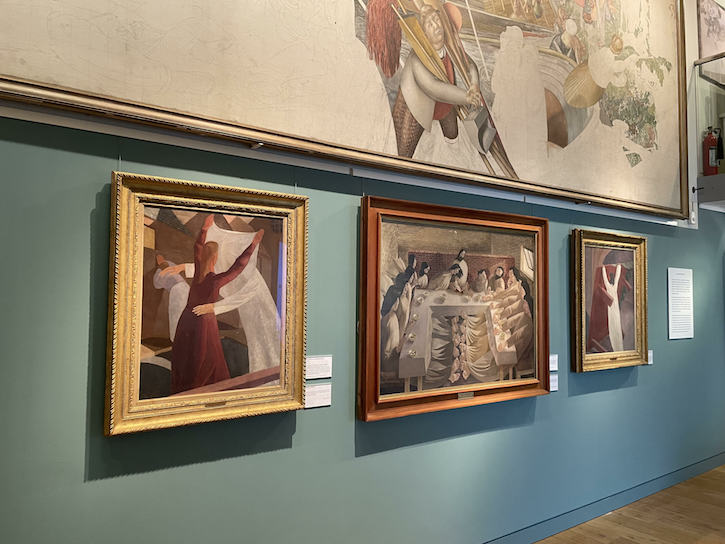 From 1932 until the end of his life, Spencer painted many works for a vast – but largely imaginary – project known as the Church House, or Church of Me. After his successful commission to paint Sandham Memorial Chapel (National Trust), inspired by Giotto's Scrovegni chapel in Padua, he hoped he would have another opportunity to create a complete cycle of paintings in a dedicated building. This time, instead of his war experiences, his whole life and loves would form the subject matter.
Cookham was the natural location for this imagined cathedral, with the High Street as the nave, the Moor as the close, Odney Common as the choir, and the lanes to Bourne End and Maidenhead forming the transepts. A project on this scale could never be realised, something Spencer eventually came to accept, but even after he knew it would not be built, he continued to conceive of his paintings as being intended for a particular location in it.
Among them was the extensive 'Marriage at Cana' cycle, based on the Bible verse John 2:1–11, in which Cana became Cookham, with Spencer and his wife Hilda as the bride and bridegroom, and the festivities taking place at the Spencer family home. (One example is held at the Glynn Vivian Art Gallery, as above.) Although at first glance these appear to be paintings of ordinary village folk going about their daily activities, in Spencer's mind, each was part of a lengthy Biblical narrative.
There were two associated series, 'Domestic Scenes' and 'Baptism' (Spencer's imagination was exhaustive). In At the Chest of Drawers, Spencer and Hilda appear as wedding guests choosing their clothes. The second series, which includes Girls Returning from a Bathe and Sunbathers at Odney, imagines Christ's baptism taking place in Odney Pool, a popular Cookham bathing spot. Odney held a particular spiritual resonance for Spencer, who recounted how in the mornings, 'we all go down to Odney Weir for a bathe and a swim... I feel fresh awake and alive; that is the time for visitations'.
Our volunteers have chosen these works because they love them, and it is fitting that they are on display so close to their place of creation and inspiration. But Spencer's visionary perception resonates far beyond the confines of his native village. As the critic R. H. Wilenski observed in his introduction to the first monograph of Spencer's work, 'The world's masterpiece, he believed, might be painted in Cookham if a man could but realize all that Cookham had to give'.
Through Spencer's paintings of Cookham, we can experience life, love, loss, death, happiness, ecstasy and agony. We all have our own personal Cookham, where angels walk among us, if we only have eyes to see them.
Amy Lim, curator, Stanley Spencer Gallery
'Most Loved Works in the Stanley Spencer Gallery' is showing in Cookham until 26th March 2023