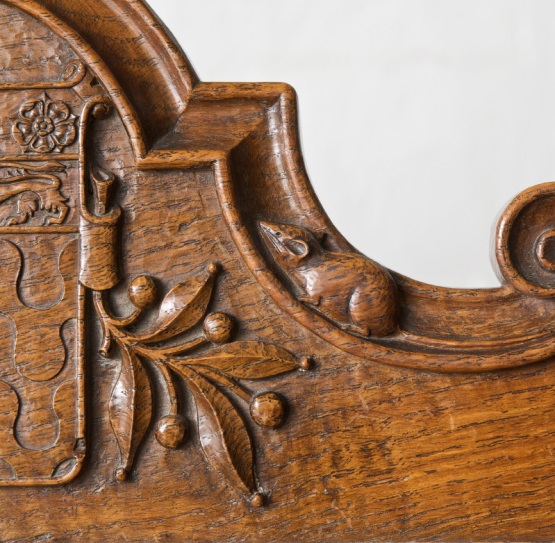 Did you know there's a sentient, wooden mouse carved into a chair in the Merchant Adventurers' Hall in York? We didn't either, so we were pleasantly surprised when we were invited to sit down with him to discuss some of the highlights in the Hall's superb painting collection.
Art UK: Hi Mousey! Tell our readers a little bit about yourself.
Mouse: Well, I am a wooden mouse. I live on this chair in the Merchant Adventurers' Hall in York and from my fine vantage point there is very little I miss in this old building. I have many interests but I like the paintings most of all – they tell stories of men and women long departed, show views of a city constantly changing over 500 years and of buildings demolished and replaced countless times. I like to see myself as the unofficial keeper of the paintings. I'm a curatorial mouse, really.
Art UK: You must have learnt a lot about the collection at the Merchant Adventurers' Hall over the years. Tell us something interesting about the paintings.
Mouse: There are many paintings in the Hall of grand ladies and gentlemen who look most peculiar – they have a head and a body but no hands and legs. I have heard when the humans do their tours of the Hall, that in the eighteenth-century you paid extra should you wish to have your hands painted – even more if you wished to have a full-length portrait! I wonder how much more it would cost to get a tail painted?
Art UK: You must be very brave to explore the Hall – you are so small! Are there any paintings that are particularly scary?
Mouse: A most mysterious and macabre portrait of a sixteenth-century merchant hangs in the Great Hall. He is sombre but wealthy – wearing black clothing, costly at that time as fabric was very difficult to dye blackest black. His hand rests upon a human skull – I wondered at first whether he was rehearsing his Shakespeare, but alas not! A skull was a 'memento mori', Latin for 'Remember you must die': a reminder of the inevitability of death and to live a good life. I studied this very carefully and he even has a tiny skull on his ring. You may not be surprised to know that I do not venture into this room after dark!
Art UK: Are there any paintings that inspire you to explore the outside world?
Mouse: On my travels around the Hall I often pass a painting of humans in another country – walking on water! I have overheard that they do not walk on water, although this is what it looks like, but are in fact skating on a frozen river – there is also a horse-drawn sledge on the ice. This is in the Netherlands – it is certainly not in York, the river here is too warm for such frozen merriment. I plan to take a trip to try skating – if the dogs can join in, I do not see why mice should not be frivolous also!
Art UK: York is such a historic city. Give us an example of a painting that captures the spirit of the place at a certain time.
Mouse: Oh, to be a merchant in York! To see the spices, wine and other expensive goods being unloaded off the boats from all over the world! Of course I would not be welcome, so I make do with this lovely view of Old Ouse Bridge – a medieval bridge covered in shops, houses and a chapel. Sadly it was demolished but I can almost imagine I am there amongst the hustle and bustle of old York. This was painted by a very talented man called Joseph Farington – it was displayed in 1784 at the Royal Academy of Arts, don't you know!
I have plenty more stories to tell, but I must away. The life of a busy museum mouse is never done – I will sit on my grand wooden throne to survey new paintings and to greet new people as they visit this splendid old Hall. I hope to see you again soon – until next time, friends!
Thanks to Lauren Marshall, Hall Manager & Audience Development Officer at the Merchant Adventurers' Hall for arranging this interview.