At the very far end of platform two at Stoke-on-Trent railway station sits a sculpture that has intrigued me for many years. It will have been glimpsed by thousands of passengers from the windows of trains leaving or arriving into Stoke, but I doubt that many will have seen it up close. It's sited so far down the platform that unless you are getting out of Coach K of a Virgin Pendolino from London to Manchester (the only coach that stops in that part of the station) you would never have any reason to walk past it.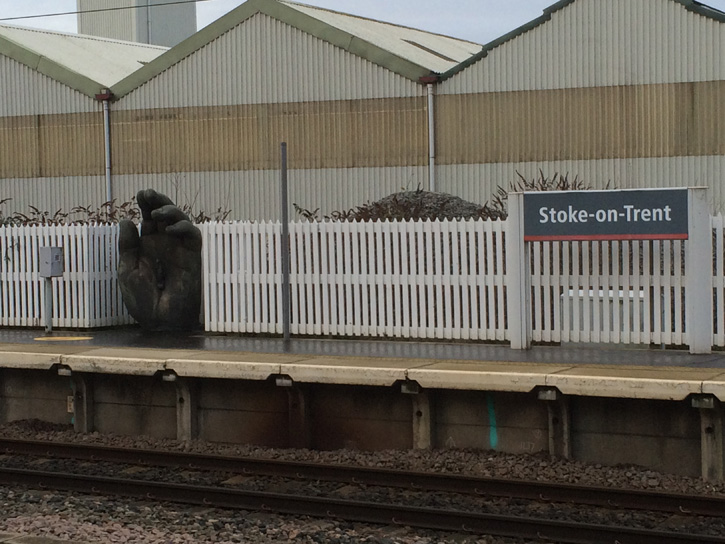 Yesterday, I finally made the effort to take a closer look, wondering if I would be stopped by a member of the station staff thinking I was going to throw myself off the end of the platform. There is nothing by the work to tell you what it is, but a bit of research on the Public Monuments and Sculpture Association's National Recording Project database tells us that it is Hand with Chronos by Vincent Woropay (1951–2002). Their entry states that it was commissioned by British Rail and unveiled in 1988. Other sources, however, including the online Stoke Sculpture Trail, say that it was originally commissioned for the National Garden Festival at Gateshead in 1990 and then later moved to Stoke Station.
Up close, the detail on the fingers of this oversized hand can be seen, as well as the small figure resting in its palm. The figure, a chronos, has the head of a lion, a snake wrapped around his body and a pair of small wings sprouting from his hips. He holds a staff and a key.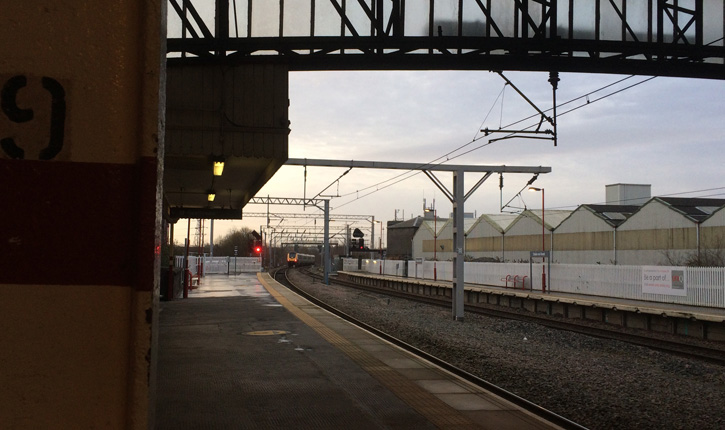 The PMSA database entry gives a full description of the meaning behind this small figure on the oversized hand, relating it to the personification of time, and a failure to look forward or back and just be stuck in the present.
Woropay was born of Polish parents in London, moving with his family to Los Angeles in 1964. He returned to London to complete his schooling at the Salesian College, Battersea, before studying sculpture at Brighton Polytechnic (1974–1977) and the Slade School of Fine Art, London (1977–1979).
Another Woropay sculpture can be seen in Stoke-on-Trent – a colossal head of Josiah Wedgwood, made for the 1986 Stoke Garden Festival, which is now sited near Wedgwood's former home, Etruria Hall.
It's a shame that so few people get to see this sculpture, except for fleeting glimpses as they race past. It would be good to see it moved to a more visible location.
Katey Goodwin, Art UK Deputy Director and Project Manager for the Sculpture Project