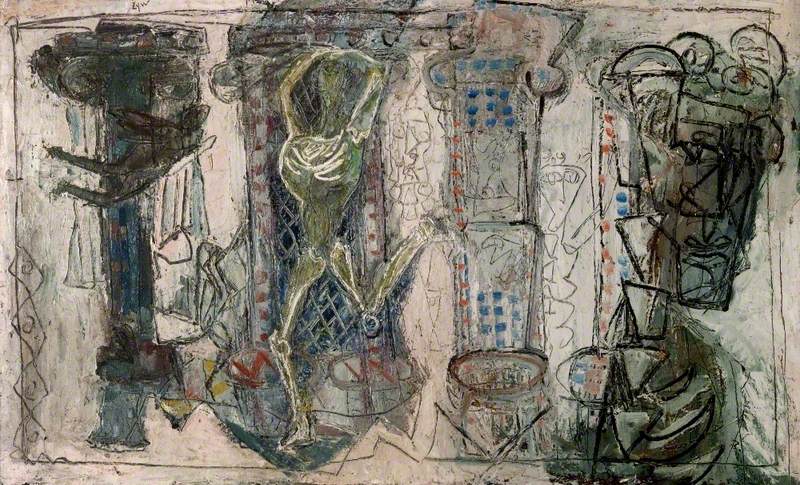 © the artist's estate. Photo credit: Glasgow Life Museums
Painter, born in Lida, Poland, who studied at Warsaw Academy of Fine Arts, 1926–32, then travelled in Dalmatia, Greece and Italy the following year, settling in Paris for five years in 1934. During World War II served with the Polish Army, which brought him to Britain in 1940. He was an Official War Artist, following the allied campaign into Belgium. Żyw had had his first one-man show at the Art Institute in Warsaw in 1936, a first British solo exhibition taking place at the Scottish Gallery, Edinburgh in 1945. It gave him a retrospective in 1957; others included Zachęta Museum, Warsaw, 1967, and Scottish National Gallery of Modern Art, Edinburgh, 1972 (and tour) and 1986. Żyw took a studio in Edinburgh where he often worked in isolation, broken by occasional trips to Tuscany, Italy, where he finally lived, growing olives.
Read more
Żyw was a restlessly experimental artist whose output spanned a number of series, each lasting some years. For the last 30 years his output stemmed from careful observation of plants and natural forms. Latterly, when he could not work in oil, he sketched. Tate Gallery holds his work, which is also in several Scottish collections. Died in Castagneto Carducci. Calton Gallery in Edinburgh held a show of Żyw's boldly coloured figurative, geometrical and elemental abstracts from the late 1940s and 1950s in 2002. One son, Adam, was an architect and sculptor, another, Michael, also a painter.
Text source: 'Artists in Britain Since 1945' by David Buckman (Art Dictionaries Ltd, part of Sansom & Company)