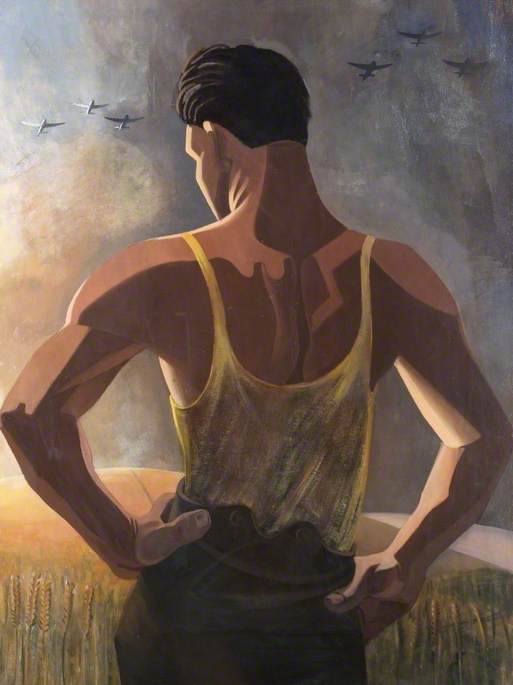 © the copyright holder. Photo credit: IWM (Imperial War Museums)
Figure, animal and landscape painter, born near Godalming, Surrey, remembered by friends as a modest, witty and lovable eccentric, of Huguenot descent. After a turbulent period at Farnham School of Art attended Slade School of Fine Art under Henry Tonks, she worked in Frank Calderon's School of Animal Painting, went to Paris where she studied at La Grande Chaumière and Atelier Colarossi, then returned to England and was at Guildford School of Art a pupil of Frederick Hinchliff, to whom she said she owed all that she achieved. This was in part due to great self-discipline, as in 1937 Jillard suffered a crippling attack of multiple sclerosis from which she only slowly and partly recovered. In 1939, just before World War II, she had a prophetic and controversial exhibition at the Wertheim Gallery which included the picture 1939 What Harvest?, acquired by the Imperial War Museum, which showed a sun-tanned farm labourer surveying his golden corn under a darkening sky and approaching war-planes.
Read more
Jillard spent a dozen years in Cornwall from 1942, travelling and painting widely on the continent from her St Ives studio. Became a member of the Newlyn, St Ives and Penwith Arts Societies and in 1947 exhibited at the Castle Inn with the sculptor Denis Mitchell. Jillard eventually settled near Petworth, Sussex, where she continued to paint, showing locally and in London until her death.
Text source: 'Artists in Britain Since 1945' by David Buckman (Art Dictionaries Ltd, part of Sansom & Company)