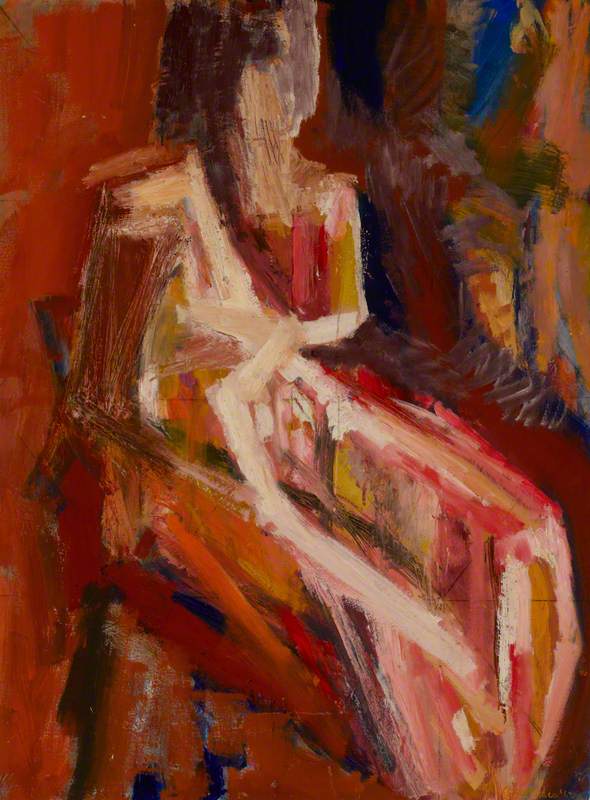 © the artist's estate. Photo credit: A David Bomberg Legacy – The Sarah Rose Collection at London South Bank University, Borough Road
Painter, designer, draughtsman, printmaker and teacher, born in Manchester. He initially studied agriculture and veterinary science, then philosophy at the City Literary Institute from 1944 where he met David Bomberg, Edna Mann and Dorothy Mead (with whom Holden was closely associated for 11 years). In 1945 these artists followed Bomberg to the Borough Polytechnic and joined his group from the Bartlett School of Architecture in drawing at various venues. In 1944–5 Holden and Bomberg conceived the Borough Group, established 1946, the first of seven shows taking place in 1947. Holden was its president, 1946–8, but resigned over policy issues. Bomberg reorganised the group, which disbanded in 1951. Holden met the Swedish artist Torsten Renquist and in 1952 showed in Four Englishmen in Gummesson's Gallery, Stockholm; in 1956 he was invited to show more in Sweden and set up a design studio in Gothenburg with Lisa Grönwall and Maj Nilsson; in 1959 Holden and the studio moved to Marstrand, the trio becoming known internationally as Marstrand Designers.
Read more
Holden also taught in Sweden and abroad, including Goldsmiths' College. Participated in many group shows and solo exhibitions were held in Sweden, later ones including Möbelcentrum, Stockholm, from 1977, and Marstrand Designers (with his son Thomas Holden, the painter), 1979. Holden was a member of LG, was a fellow of the Free Painters and Sculptors and Chartered Society of Designers, a design associate of the American Institute of Interior Designers, as well as several Swedish artists' organisations. Extensive public commissions included hotels, ships, offices, embassies and consulates. Tate Gallery, Arts Council, Victoria & Albert Museum, Scottish National Gallery of Modern Art in Edinburgh, Manchester City Art Gallery and a series of Swedish collections hold examples. Holden promoted Swedish artists in Britain and British artists in Sweden, such as the sculptors Armitage, Chadwick and Butler.
Text source: 'Artists in Britain Since 1945' by David Buckman (Art Dictionaries Ltd, part of Sansom & Company)