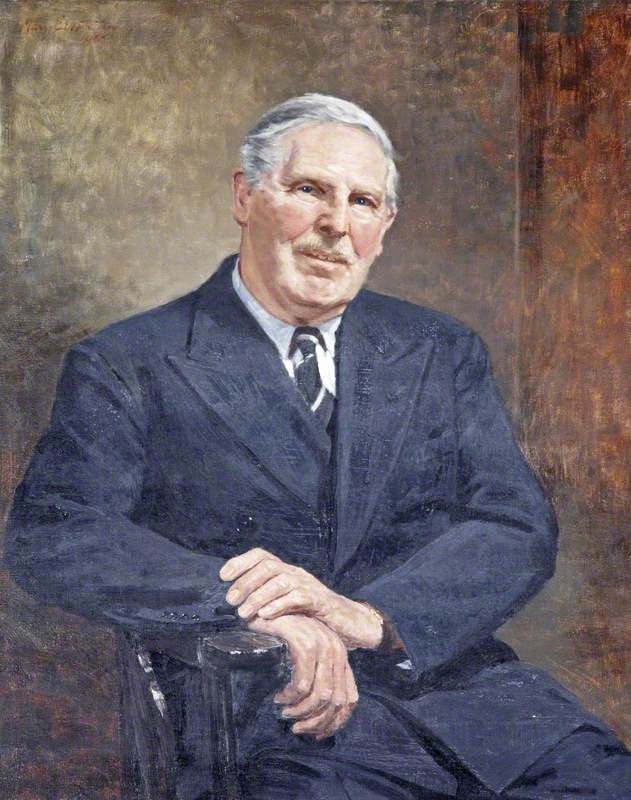 © the copyright holder. Photo credit: Tiverton Town Hall
[Agnes] Mary Eastman (1906–1990), was a portrait painter. Her parents were the artists Frank Samuel Eastman (1878–1964) and Edith Maud Eastman, née Mair (1878–1950).
Read more
Eastman trained at the Royal Academy Schools between January 1929 and January 1934 and had two portraits in an RA exhibition of student work in October 1932. The show did not impress the art critic of The Times (22nd October) but he made positive comments on her work, including a self-portrait; her father's portrait of her appeared in the RA summer exhibition of the same year. She herself exhibited three more portraits at the Academy in 1942–1943. One of them, a uniformed Second World War Land Girl, 1943 (no. 116), is spirited and strikingly coloured: this was last seen when sold at Bonham's, Oxford, on 14th October 2014 (lot 331).

By late 1939, after a few years living on her own in Avonmore Road, West Kensington, Mary moved almost next door to her parents, to Swan Studios at 67 Deodar Road, Putney. The wartime Register identifies her there as 'Artist, Portrait and Landscape Painter' and a full-time ARP Warden for Wandsworth Council. She showed a few works in post-war RA exhibitions in 1946, 1953, 1954 and 1970, all except a view of Winchelsea beach being flower paintings. As a portraitist, most of her sitters were of the same 'boardroom' sort as her father's and conventional likenesses rather than strikingly distinctive in artistic terms. One reason was that, by 1953 at the latest, she became one of the Hans Gallery's production-line artists, painting portraits commissioned through them and mainly from photographs. In this, she appears to have joined the gallery a few years before her better-known father. One by her of Lord Derby featured in the gallery's Coronation year exhibition of 'Portraits for Posterity', and in a double-page spread of them published by The Sketch (June 1953).

Shortly after her mother's death late in 1950, Mary began using her father's address (Thames Studio, 63 Deodar Road) for exhibiting purposes and in about 1959 moved in with him. She remained there, apparently still working, until about 1970 when she moved to Banff, Scotland. She died there on 23rd January 1990, aged 83.
Text source: Art Detective