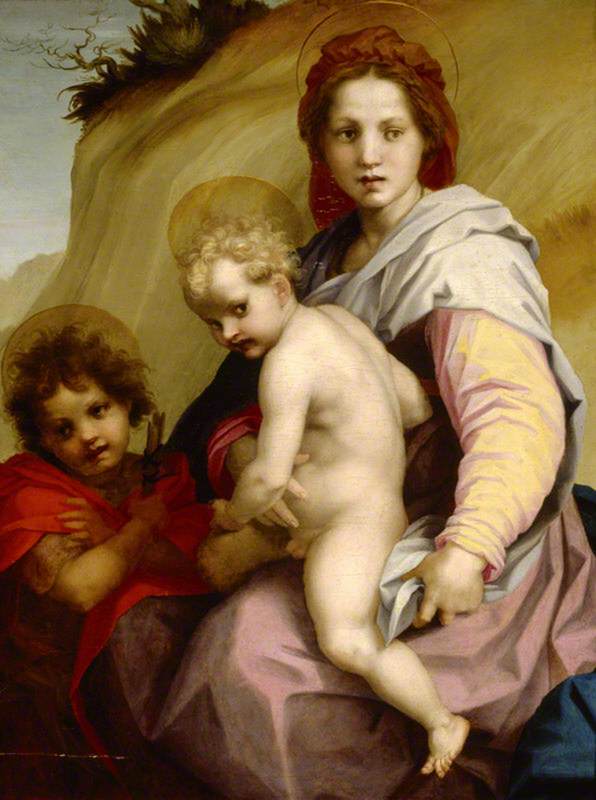 Photo credit: National Trust Images
(b Florence, ?16 July 1486; d Florence, 28/29 Sept. 1530). Florentine painter. The epithet 'del sarto' (of the tailor) is derived from his father's profession; his real name was Andrea d'Agnolo. According to Vasari, he was first apprenticed as a goldsmith and then taught by Piero di Cosimo; another early source says he studied under Raffaellino del Garbo (d c.1527), who has been described as 'eclectic and second-rate'. However, Andrea's poised and graceful style was more obviously influenced by Fra Bartolommeo and Raphael, and following the departures of Leonardo, Raphael, and Michelangelo (all of whom had left Florence by 1508) he became established with Bartolommeo as the leading painter in the city. Apart from a visit to Paris in 1518–19 to work for Francis I, he was based in Florence all his life, although he probably visited Rome soon after his return from France, and made short visits elsewhere.
Read more
He excelled as a fresco decorator (there are outstanding examples in Florence in SS. Annunziata and the Chiostro dello Scalzo), and he also painted superb altarpieces (Madonna of the Harpies, 1517, Uffizi, Florence) and portraits (A Young Man, c.1517, NG, London). Andrea's posthumous image was largely made and marred by Vasari, who described his works as 'faultless' but represented him as a weakling completely under the thumb of his wicked wife. In Robert Browning's poem on the painter (1855) and in a psychoanalytic essay by Freud's disciple Ernest Jones (1913) attempts are made to link a supposed lack of vigour in his mellifluous art with these traits of character. This approach, however, is hardly just and a good deal of Vasari's account of Andrea's private life has been shown to be factually inaccurate (the scandal-mongering is mainly in the 1550 edition of his book and was suppressed in the 1568 edition). Andrea has suffered from being judged against such giants as Michelangelo and Raphael, but he nevertheless ranks as one of the greatest masters of his time. In grandeur and gracefulness he approaches Raphael, and he had a feeling for colour and atmosphere that was unrivalled among Florentine painters of his period. He also numbers among the finest draughtsmen of the Renaissance (the best collection of his drawings is in the Uffizi). Certain features of his art foreshadow the Mannerist experiments of Pontormo (who was his pupil) and Rosso Fiorentino (who probably also spent some time in his busy workshop). The many other artists who trained with him included Salviati and Vasari.
Text source: The Oxford Dictionary of Art and Artists (Oxford University Press)