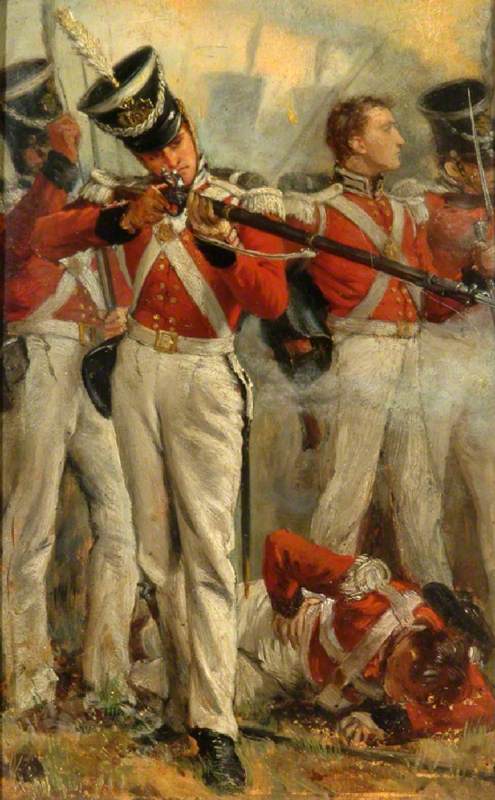 Photo credit: Surrey Infantry Museum
A historical and genre painter, and illustrator, Davidson was the second of eight sons and the fifth child of fifteen, of Thomas Davidson (1803–1874) and Elizabeth Bracknell Turner (1813–1868). He was born at 13 (later 14) St George's Place, Knightsbridge, London, on 17th January 1842 and baptised at St Peter's, Pimlico, on 23rd February.
Read more
The family was prosperous, based on the successful military tailoring business that Thomas senior's Scottish father, John Davidson (1762–1837), had by 1802 established in Cork Street, London. Thomas senior first worked in this while his elder brother, John Davidson FRS, FSA (1797–1836), began but did not finish medical training and became a noted traveller. In 1836 John's murder by tribesmen while attempting to reach Timbuctu meant that Thomas senior inherited the bulk of their father's estate the following year. In 1844 he sold the business and was thereafter listed in census returns as a 'stock-holder', presumably supporting his family on investment income.

At about the age of four Thomas junior caught scarlet fever which left him profoundly deaf and effectively dumb since he was unable to learn to speak properly, although a few people could understand him. He attended the London Asylum for the Deaf and Dumb in the Old Kent Road and was taught to write and communicate by hand sign-language. His disability thwarted an ambition to join the Navy and he turned to art, attending the Government School of Design, by then at South Kensington, and Leigh's (later Heatherley's) art school in Newman Street until 1861, when he was enrolled in the Royal Academy Schools on the recommendation of David Roberts RA. Here he won two silver medals, for a painting and a drawing from life, first exhibiting at the Academy in 1863 and thereafter fairly regularly until 1903. By 1867 he was living independently at 27 Fitzroy Street and in 1868 spent a year in Paris, sharing a studio with Claude Calthrop (1844–1893) and attending the atelier of Léon Bonnat, whose other pupils included Sargent, Toulouse-Lautrec and Braque.

Davidson had a successful artistic career, several of his works reflecting his early nautical leanings and others being of military subjects. In the years approaching the centenary of Trafalgar in 1905, a period in which Nelson was being harnessed in propaganda for Imperial naval rearmament, they included several more-or-less fictional evocations of his career and example. These include Nelson's Last Signal at Trafalgar and On Hostile Ground, best known as prints, and England's Pride and Glory and The Pensioner's Story (both in the National Maritime Museum). Plymouth Art Gallery has his Burial of Admiral Drake (exh. RA 1899, on loan to Buckland Abbey).

On 7th July 1871, Davidson married Charlotte Douglas Macheath (1851–1930) at St Mary-le-bone, London, and they had six sons and two daughters, of whom Allan Douglas Davidson (1873–1932) was also a well-known artist. In 1880 Davidson's elder brother John died, leaving him head of the family and with much of its resources. This allowed him to build a large house called 'Culloden' at 6 Netherhall Gardens, Hampstead, which is today the headquarters of the British College of Naturopathy and Osteopathy.

Davidson was also a prominent figure in what became the Royal Association for the Deaf, donating paintings to assist their work. Apart from the Royal Academy, he exhibited at the Royal Society of British Artists; the Royal Society of Artists, Birmingham; the Royal Hibernian Academy; the Royal Institute of Oil Painters; the Glasgow Institute of Fine Arts; the Dudley Gallery and New Dudley Gallery; Manchester City Art Gallery; the Walker Art Gallery, Liverpool, and Arthur Tooth and Sons, London. Apart from at the National Maritime Museum and Plymouth, there are examples of his work in the Royal School for Deaf Children, Margate, and the Brontë Parsonage Museum: he was an illustrator of the work of Emily Brontë.

In 1898 Davidson moved from Netherhall Gardens to a smaller house in Greencroft Gardens, West Hampstead, but by 1900 retired to 'Seaholme' at Walberswick, Suffolk, a house designed by his architect son Thomas Gerald Davidson. He died in Walberswick Cottage Hospital on 13th November 1919 and was buried at St Andrew's parish church, where the Hebrew word EPHPHATHA ('be opened'), Christ's injunction when healing the deaf-and-dumb man, is inscribed on his gravestone. His wife Charlotte died in 1930, aged 79.

Adapted by Pieter van der Merwe from a National Maritime Museum biography and for which the sources included: notes supplied by Nicholas Hide, Secretary of the Clan Davidson Association, based on information from Nicholas Temperley, great-grandson of the artist (inc. family papers); TNA Census returns, National Registry of BMD and Probate; additional notes by James Taylor; printed sources including National Trust Buckland Abbey Guidebook; The British Deaf-Mute and Deaf Chronicle, March 1895; W. R. Roe, Peeps into the Deaf World (Bemrose: Derby and London, 1917); Richard Scott, Artists at Walberswick; An East Anglian Interlude, 1800 – 2000 (Bristol, 2002); ODNB on John Davidson.
Text source: Art Detective