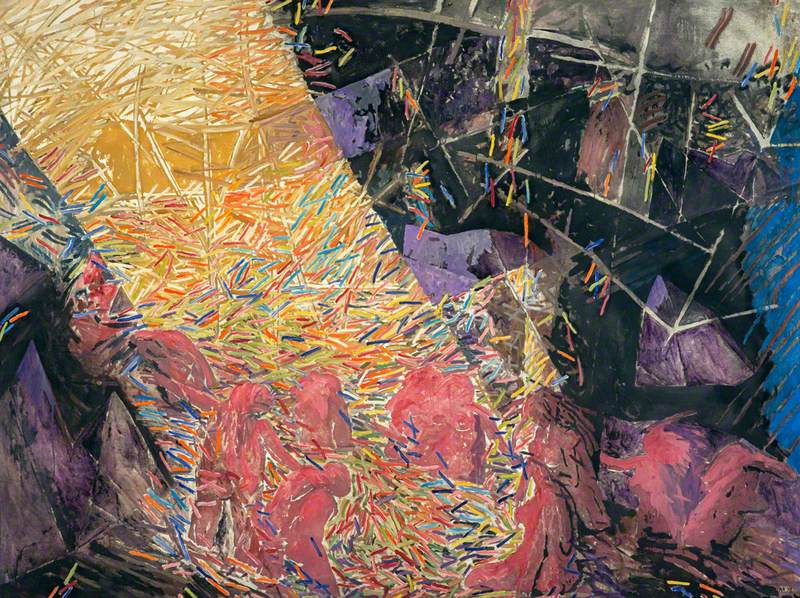 © the artist's estate. Photo credit: National Galleries of Scotland
Painter, stage and costume designer, mural and ceramics artist and teacher, born in London. He studied at Harrow School of Art, 1940–6, then Royal College of Art, 1948–51. Had first solo show at Gimpel Fils in 1952, later ones including North House Gallery, Manningtree, 2001, and Sailing to Byzantium, works on paper, Fine Art Society, 2004. Adams made an early name as a stage designer, in 1951 handling the Royal Ballet's A Mirror of Witches at Covent Garden, in 1953 the Sadler's Wells production Saudades. Murals were also a strong theme. In 1969 he gained an Abbey Major Award for the study of mural painting. He won a commission for a ceramic relief of the Stations of the Cross for the Roman Catholic church Our Lady of Lourdes, in Milton Keynes, Buckinghamshire in 1975–6.
Read more
Stations of the Cross in oils for St Mary's, Manchester, known as "The Hidden Gem", followed in 1994, The Adoration of the Magi for Aylesbury in 1995. From 1962–70 Adams was head of the painting school of Manchester College of Art; he was professor of fine art at Newcastle University, 1981–6; then was professor of painting and keeper at Royal Academy, 1986-95, being elected RA in 1972, Hon. RWS in 1987. Adams said his work was concerned with his religious beliefs or the lack of them. Tate Gallery holds his work. Lived in west London.
Text source: 'Artists in Britain Since 1945' by David Buckman (Art Dictionaries Ltd, part of Sansom & Company)