Like many galleries, Manchester Art Gallery does not have an acquisition fund, a pot of money from which to buy art.
When we acquire work, we usually do so through gifts or applying for money from trusts and foundations, a time-consuming and not-guaranteed process. When the Royal Manchester Institution (as we were originally called) was taken over by the Manchester Corporation (now the City Council) in 1882, this was on condition of the provision of an annual acquisitions budget of £2,000 to purchase new works for the collection. This purchasing fund no longer exists so we are even more reliant on the generosity of others to grow the collection.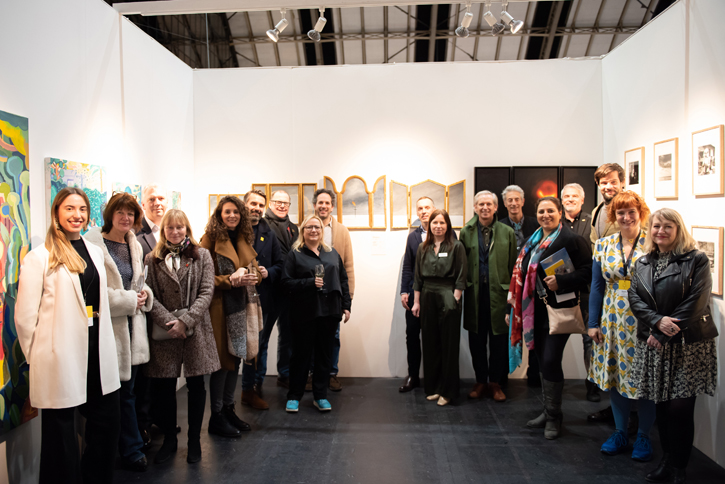 Help has come from the patrons of Manchester Contemporary's Art Fund. Manchester Contemporary is the largest contemporary art fair outside of London, bringing leading international and UK contemporary galleries to Manchester every autumn. It is run by Thom Hetherington, who is also a Trustee of Manchester Art Gallery's Development Trust and curated by Nat Pitt, founder of Division of Labour.
Hetherington established a group of local businesspeople who are passionate about artists, their city and its cultural heritage. They each donate an amount of money to the fund which Manchester Art Gallery use to buy work from the fair. It enables fund members to give something back to the city and also help support rising artists, providing them with a platform through which to achieve critical acclaim and greater popularity.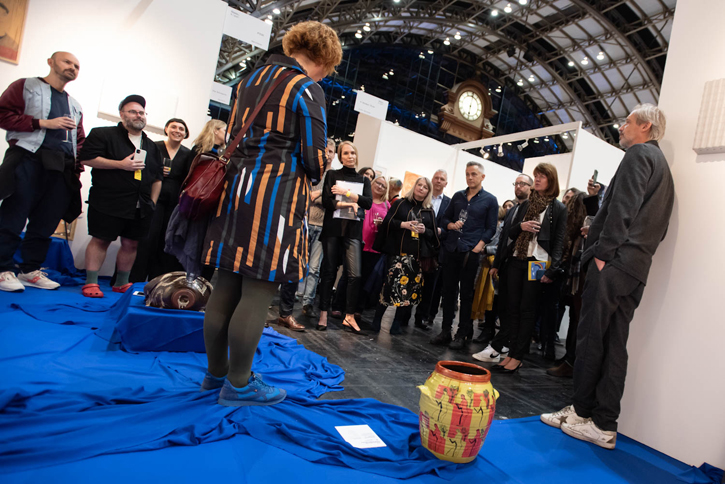 Since 2017 the fund has raised tens of thousands of pounds and gifted 18 pieces of work to the Gallery. Works are selected by Gallery curators for the collection, independently of fund members or art fair staff.
We look for works which speak to works or themes in our collection, thinking about where we could place artworks in dialogue with existing pieces on display. We are also actively focusing on increasing artists under-represented in our collection, including women, LGBTQIA+ identifying artists and global majority artists.
Here are some of the highlights of the works we have acquired so far.
Juno Calypso stages a dual self-portrait examining the complexities of self-perception and the feminine ideals.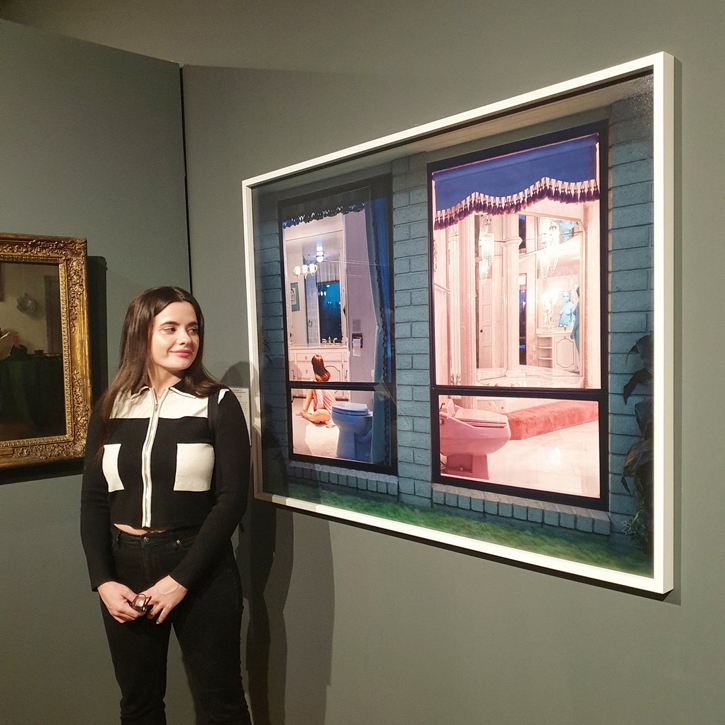 Through windows, we see a solitary woman in adjacent private spaces – an ensuite bathroom and a dressing room – where acts of self-improvement and beauty rituals are typically performed.
Calypso spent three days alone photographing herself in an unoccupied and perfectly preserved bunker 30 feet underground in Las Vegas. Designed in 1979 to withstand a nuclear fallout, it had been the luxurious home of Gerry and Mary Anderson of the Avon cosmetics dynasty. The light is that of a computerised system of blue and gold lights providing fake sunshine. The time of day and season of the year can also be controlled. Here, femininity as a construct is made more fake.
Ritherdon factory is a family-owned manufacturer of steel enclosures which house street-side electricals, meter box covers and portable builders' storage. In Return to Ritherdon artist Nicola Ellis was in residence in the factory in Darwen, Lancashire and with the help of technicians, was allowed to use the powder coating spray machinery on a Friday afternoon once production had finished for the week. Dead Powder refers to the small amount of leftover pigment in the machines which imbues her works with subtle colours.
Mario Antón draws on the influence of his grandmother, owner of traditional religious icon paintings, who raised his awareness around human intervention in nature and the impact we have levelled upon the landscape and planet. He sources religious painted panels, traditional symbols of authority and veneration, and overpaints them using contemporary symbolic imagery.
Here, Antón relates the image of a cross to the concept of alchemy – turning matter into gold. One of the first phases in this process is the decay or rotting of matter before it transmutes into gold, represented here by fossil fuels, sometimes referred to as 'black gold'.
The work acquired by Jamie Holman is a series of 23 hand-cast cockles in Victorian lead, presented in a wall-mounted case. This work commemorates the 2004 Morecambe Bay tragedy that took the lives of 23 Chinese workers.
One cockle remains displaced from the group, representing Dong Zin Wu, who is still missing. The title is taken from a translation of a Chinese news article on the disaster – in translation, the French name for seafood, fruit de mer, was used.
Holman dug up cockles from the inshore beds at the location where the cockle pickers were working on the night of the disaster. He poured molten lead into the 23 moulds he made that day. The picking and processing of the cockles into lead was an unwitnessed performance.
Masimba Hwati draws on his father's photographs and diaries to create images that explore how colonisation and liberation shape the identities and behaviours of nations and individuals.
A former police officer in Zimbabwe, his father fought against the British but had a passion for music and fashion imported from the nation that colonised his country.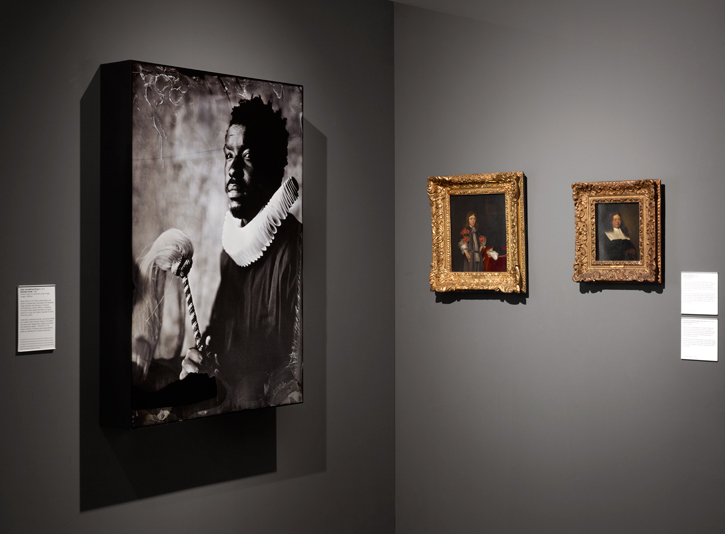 Hwati uses props as symbols to reinvent photographs of his father as a police officer, Maasai Warrior or in second-hand clothing that mirrors his treasured British bands.
Styled in the manner of a traditional portrait, Hwati here uses items representing a history of military and ceremonial regalia: the ruff of a seventeenth-century German mercenary and holding a decorated fly-whisk, used to reference the power and status of nobility in many parts of the African continent. Emblematic of violence and power, these objects have been silently assimilated into mainstream culture.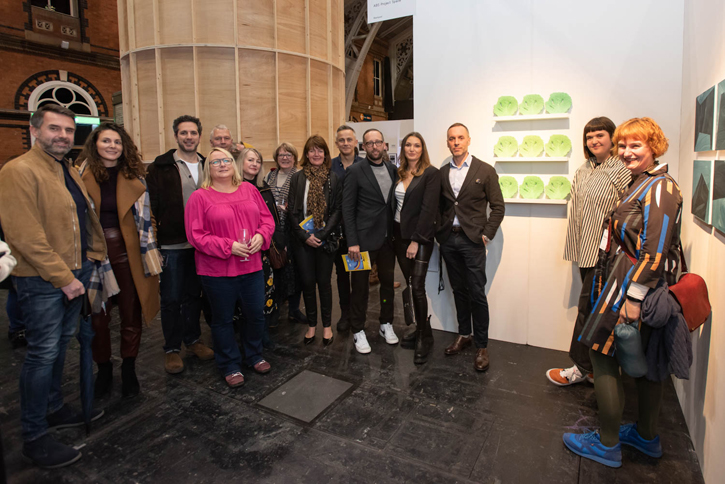 This year, in honour of the Gallery's 200th anniversary, the fund has tripled in size, providing us with over £20,000 to acquire news works. This grant provides much-needed funding at a time of fierce competition for grants and other sources of support. It is an opportunity to bring contemporary work into the collection and support the arts ecology of the city.
To have a fund available where we can make immediate decisions about what to buy is unique for us. It enables us to collect with intention and expand the city's collection with artworks by the most engaging emerging artists, ensuring that the Gallery stays relevant to today's times.
Natasha Howes, Senior Curator at Manchester Art Gallery
With thanks to The Manchester Contemporary Fund members: Christian Anderton & Sarah Maskell, Lisa Ashurst, Jo & Tom Bloxham, Netanya Clixby, James & Katie Eden, Mark Garner, Mark & Toni Hawthorn, Thom Hetherington & Sophie Helm, Alison Loveday, David Blake & Lucy Noone Blake, Jeremy & Jane Roberts, Howard Ratcliffe & Melissa Ratcliffe, Jon Sharples, Martyn & Valerie Torevell, Pepin Aslett, Gill Crook, Emma Holden, Nic Konig and Adnan & Carmel Siddiqi.
Get discounted tickets for the 2023 Manchester Contemporary Art Fair, taking place on 17th, 18th and 19th November.