My journey with the 'Casta Paintings' started in 2010. I was a trainee curator, studying towards my MA in Museum and Heritage Management Studies. One day I was in the Leicester Museums and Galleries art store accompanied by the then Fine Arts Curator, and I came across a set of paintings stacked by the back door.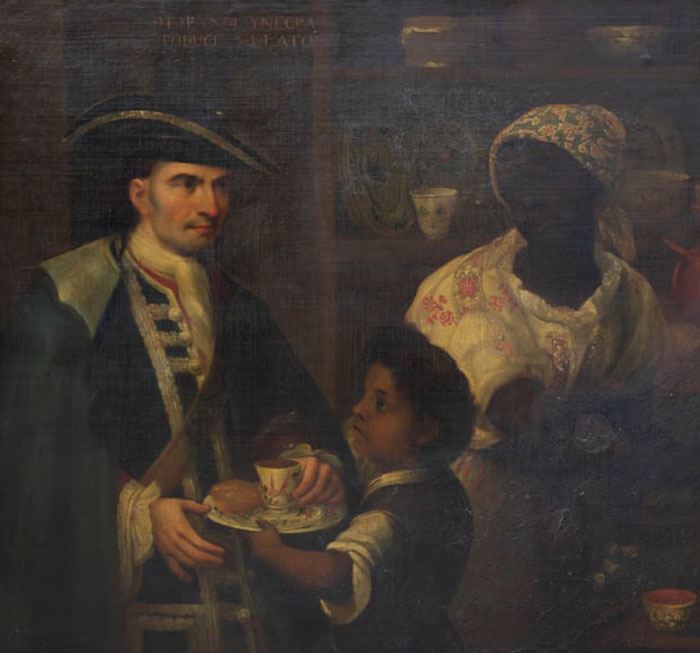 These paintings had clearly been unloved: only three were in their original frames and they all were damaged in some way. They had damp patches and tears, and a couple had also been used to train students on conservation techniques. But, you could still see the images within the paintings. They were portraits that had Spanish text written above the people.
When I looked at the portraits, I was immediately aware that I was looking at something that I had never seen before, and definitely something I had limited knowledge of. These paintings were presumably from the eighteenth century, maybe even earlier, but that wasn't it – that wasn't what had interested me. These paintings included people of colour, in family settings. This was something I was not used to seeing in any paintings of this age. Black people were often included in paintings such as these, but as enslaved or people in servitude, but never as families. These paintings included what appeared to be mixed raced families, a Black woman, a white man, and a child that was in skin colour somewhere in the middle, and the written description was of the racial identity of those within the painting.
The more I found out about the paintings, the more I wanted to know – I was fascinated. My breakthrough was finding Ilona Katzew's book on Casta paintings. This gave me the information that these paintings were a form of racial classification and maybe the first found in pictorial form. It explained the logic behind the development of this genre of paintings, why they were developed and what importance was put on them in their original form, which would have been a set of sixteen.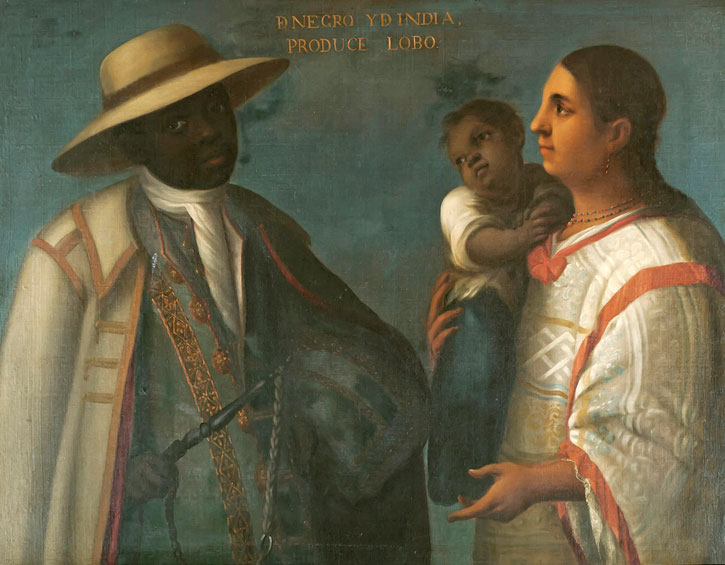 The original set is thought to have been created by Juan Rodríguez Juárez, commissioned by the Viceroy of Mexico to be delivered to King Charles of Spain, to show how the races could be brought back to white through racial dilution. Unfortunately, the King did not share this same sentiment and sent the paintings back, with the note that this was 'unpurifying' the Spanish Bloodline and this was not something to be celebrated.
These paintings were then used as a form of visual representation that assisted people to be identified by their physical appearance. At the time written registers were also developed, but not linked to the paintings, to clearly document what each individual's racial background was and to make sure individuals could never cross over, which was known as 'passing' – passing for white. If you were white enough to be able to pass, and no one knew your background, you could get better pay, better jobs, marry whom you wished, and generally live life in a very different way than if you were known as mixed, Black or indigenous.
As the story of the identity of the paintings unfolded, I became interested in why the Spanish and European colonisers felt the need to place individuals into a form of racial hierarchy. It had been initially explained that the paintings were showing the hybridity of the population in Mexico. But if that was the case, why were many of the labels given to the children, zoological terms: donkeys, wolves, and coyotes? It was hard for me to separate the dialogue from the imagery. I, myself, am a person of Caribbean mixed racial heritage, so these paintings were talking about me, my family, and my children, and something inside them really felt quite unsavoury.
I tried to understand what was happening in Mexico around the time that these paintings were created – a time when the Spanish had gained colonial power. Mexico was given the name of 'New Spain', and in New Spain, the ideals of race, based on biology and superficial visual differences were being developed as enforcement of power. A power that was given solely based on where you were born, and who you were born to. A Spaniard born in Spain had rights in the government, whereas a Spaniard born in Mexico was a Creole and had no rights in the government (though they could run a business). A person of mixed identity could not. The lowest of the hierarchy was the indigenous and the African. Casta paintings show us a window into colonial society, that as British Europeans we claim not to have been part of. They show us how the formalisation of the terms of race are irrational and inaccurate.
They come from a time when many pockets of the population were illiterate, therefore to develop a set of paintings that would clearly highlight the differences of individuals and fixed names to them that were linked to animals was a powerful statement, one that has endured beyond decolonisation until today. These paintings were the establishment of the colour bar, and such classifications carried on to postcolonial times. In 1953, Mr A. Brockway, MP for Eton and Slough, begged Her Majesties Government to remove the colour bar from the British Colonies and explained that racial equality or racial discrimination and segregation – the colour bar – was a fundamental and enduring issue. He made it clear that unless the equality of all people, whatever their colour, race, or creed, is recognised there can be no harmony, no world operation, and no peace. His request was refused.
This made me think about visual representation in today's current climate. How we see each other and how the images we look at enforce the stereotypes that our brains have formed that make us navigate towards different people at different times. My journey is now taking me to analyse the works of artists such as Hogarth and Agostino Brunias to understand how stereotypes of people could be included within paintings as a display of society.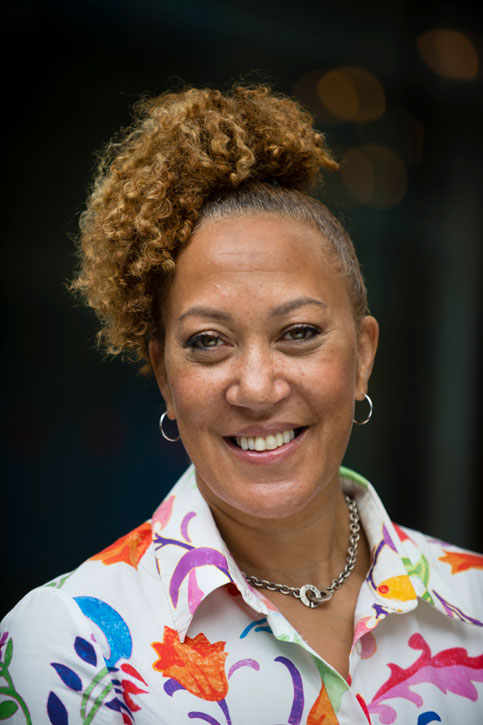 I will also try to get to grips with why some things are valued higher than others purely due to the racial background of the artist, or who is represented within the objects. Why were these paintings unloved? Why did it take someone from my background to see a different story? Why did these artworks visually jump out to me, whilst others lost them in plain sight?
Tara Munroe, Creative Director of Opal22 Arts and Entertainment
Leicester Arts & Museums and Opal22 Arts and Entertainment intend to raise funds to restore the 'Casta Paintings' so that they may be exhibited in the future. More about this can be read at Casta.Opal22ArtsEd.com