How do visual representations shape identity and determine our sense of belonging?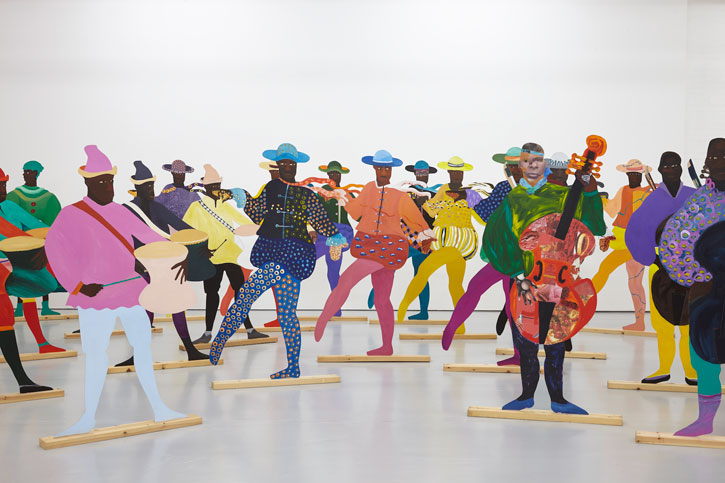 This broad and challenging question lies at the heart of Lubaina Himid's multilayered practice. A Tanzanian-born, Preston-based artist, curator and cultural activist, Himid's work aims to 'fill in the gaps of history', giving representation to marginalised histories and to what was previously invisible or silenced. Significantly, Himid's art reinserts black narratives into the forefront of cultural practice and conversation.
In her own words, the artist's practice is the valorisation of 'the contribution black people have made to cultural life in Europe for the past several hundred years.'
Clearly she is having an impact. In 2017, she became the first black female artist in history to win the Turner Prize, shattering records and breaking traditional prize rules (previously only artists under 50 could receive the award).
Born in Zanzibar in 1954 (now part of Tanzania), Himid arrived in Britain with her mother in the same year, shortly after the death of her father. Initially trained as a theatre set designer, Himid's immersive work invites engagement and dialogue with an audience. Her work doesn't shy away from serious subject matters – the dark legacies of empire, colonialism and slavery. Yet she deliberately balances the hard-hitting political message with playfulness, colour and humour.
Interested in traditions of satire, Himid's work often references European art history and the work of eighteenth-century caricaturists like William Hogarth and Thomas Rowlandson – artists who sometimes featured people of colour in their works as exotic symbols of status, wealth and high fashion. For example, here a young black servant boy can be seen playing a pipe and tabor in a Hogarth painting.
Himid's work A Fashionable Marriage was a direct reworking of Hogarth's Marriage A-la-Mode (1743–1745). Adding a contemporary message to the famous satire, she replaced figures of eighteenth-century nobility with emblematic political figures from the 1980s – Margaret Thatcher and Ronald Reagan.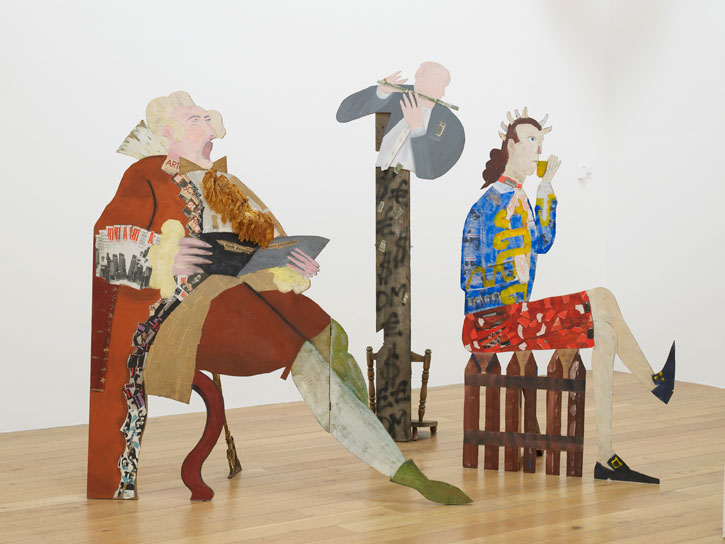 Pointing to the presence of the black figure in European art history, Himid's Turner Prize-winning installation Naming the Money showcased 100 of her signature 'cut-outs' – life-size, painted figures representing slaves and servants in the royal courts of eighteenth-century Europe. Each cut-out had a name, a real identity and profession: ceramicists, herbalists, toymakers, dog trainers, viola da gamba players, drummers, dancers, shoemakers, map makers and painters. This work offered an alternate history, one in which the wide-ranging, creative contributions of people of colour in European society dating back to the sixteenth century were highlighted.
In the late 1970s, Himid returned to Tanzania for the first time, accompanied by the artist Maud Sulter – an event which had a significant impact on her practice. One decade before, the country had endured a bloody revolution that ended two centuries of Arab dominance in the region. Initially afraid to return, she told Lauren Laverne on Desert Island Discs: 'I'd spent years and years making paintings that were trying to understand the place [...] and then when I arrived, I thought this is just like being in Manchester.'
In the 1980s, Himid joined the Black Arts Movement, a group echoing the aims of the USA's Black Arts Movement, which had brought together art and activism during the Civil Rights Era. In Britain, British African-Caribbean artists like Keith Piper, Marlene Smith, Eddie Chambers and Donald Rodney were radically challenging racist and sexist art world discourses.
In 1982, Himid attended The First National Black Art Convention, an event that inspired her to curate exhibitions specifically for black artists and, in particular, female artists of colour. She curated 'Five Black Women' at the African Centre (1983), 'Black Women Time Now' at Battersea Arts Centre (1983–1984) and 'The Thin Black Line' at the Institute for Contemporary Arts (1985). These pivotal exhibitions gave a platform to artists whose work would have otherwise been neglected by the art world.
Himid's work not only explores identities of the African diaspora but also focuses on the marginalised experiences of women. In this painting housed in Tate's collection, Hannibal's Sister (1989), Himid deliberately chose to depict the imagined sister of the Carthaginian military leader Hannibal – a historical figure who was possibly of black Phoenician heritage but often portrayed as white. In this work, Himid chose to portray a potentially overlooked, or even 'whitewashed' history.
In Spinster Salt's Collection (1989) is a work from the artist's Wing Museum series, in which Himid painted an imaginary travelling exhibition of black cultural objects. In this painting, we can see an ancient Egyptian mirror and a pair of 'sistra', which were musical instruments played by female devotees of the Egyptian cow-goddess Hathor. Painted like a museum display or artefact's case, the work explored black creativity while critically examining the way that western museums have treated African and female artefacts.
The daughter of a textile designer, another facet of Himid's work is her interest in fabrics and weaving.
She is particularly interested in the history of textiles in both the East African and British contexts – how the making of clothing is loaded with the histories of industrialisation, female labour, migration and globalisation. She regards clothing as a form of communication, rather than as passive items that we use to dress ourselves with. After returning to Zanzibar, Himid found inspiration from the 'kangas' – the traditional clothing worn by women from the region, which often bear a written inscription or motto.
In 2011, she started developing a series of kanga works, such as Allow Your Friends to Meet Your Enemies (2011). Himid exhibits each kanga work with a small portrait of the kind of woman who might connect to the motto emblazoned on the fabric. Speaking to Hettie Judah in Interwoven, Himid points out: 'kangas are women's clothes and they're quite often making remarks about men and the life we lead.'
Beyond the museum, Himid's work has raised awareness about harmful representations of people of colour in British society, showing that liberal media platforms can also intentionally (or inadvertently) fall into the trap of racial stereotypes. Speaking to Lauren Laverne on Desert Island Discs, she explained why she started to combat such representations in the 1980s: 'you didn't see many black people anywhere. We were here [..] but we were not on the television, or in newspapers unless something drastic or dangerous happened.' In 2018, Himid became the first Guardian artist-in-residence, a role that allowed her to draw attention to racial bias in newspapers and journalism.
A professor of contemporary art at the University of Central Lancashire, she is spearheading a movement called Making Histories Visible, an interdisciplinary visual art research project that collects, curates and researches the contributions of black visual art. She is also on the board of many leading museums across the country.
In an era where cultural institutions are actively overhauling centuries of systemic prejudice and discrimination, Himid is an artist leading this movement and driving new conversations about equality, representation and a sense of belonging for artists of colour in the global, contemporary art world.
Lydia Figes, Content Creator at Art UK