Enduring and brave, Tracey Emin's I Lay Here For You is the latest work to be unveiled at Jupiter Artland, the sculpture park just outside Edinburgh. Emin first visited the site with its founder, Nicky Wilson, in 2019, shortly before the life-changing events that unfolded across the globe in 2020 and Emin's personal encounter with serious illness.
Following pathways winding through old-growth coppice woodland, Emin was drawn to a secret clearing away from the beaten track, selecting a site at the threshold between a grove of mature beech trees and the surrounding pastureland.
Here she envisaged a female figure, monumental in scale, radiating warmth and vulnerability that would lie perpetually in wait. Her body would resist onlookers; her gaze would be turned in towards herself. She would be alone. In the history of female nudes sited in the landscape, this work by Emin would present a different narrative on women's place in nature.
Founded in 2009, Jupiter Artland has grown to become one of the most important collections of site-specific sculpture in Scotland, with a strong emphasis on supporting female and non-binary artists. Artworks are created in dialogue with the natural world surrounding them. Yet this is not a picture of nature as placid or bucolic, easily tamed and available for our pleasure. Each artist has created work that variously frames nature as violent, sexual, contradictory, enchanting or deeply unknowable.
It is a far cry from arcadia as an imagined space of harmony between man and environment – the artists and the work they create are moving the conversation about art and nature towards something more contemporary to the urgent issues facing us today as we realign our relationship with the natural world.
Tracey Emin's six-metre bronze I Lay Here For You joins canonical works such as Helen Chadwick's Piss Flowers, Rachel Maclean's Mimi and Phyllida Barlow's quarry, each of which tells a different story about women and the land.
Significantly, Emin's work at Jupiter Artland coincides with the unveiling of the artist's largest work to date, The Mother, on Oslo's waterfront. This is another defiant female form, this time of an older woman, bent over as if leaning over an invisible child, with legs open towards the fjord. With Emin's oeuvre, works speak to each other across place and time.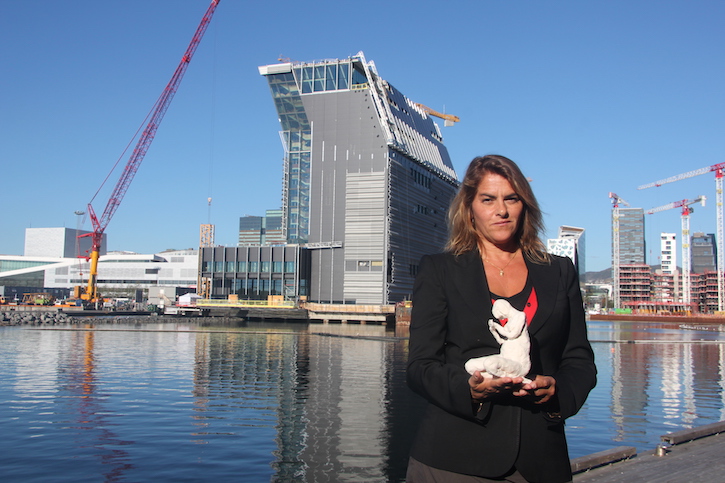 Alongside the permanent sculpture at Jupiter Artland, Emin is presenting an exhibition of new work across the site's indoor galleries. Described as a gesture of love and hope, Emin's exhibition at Jupiter Artland follows directly from her recent show entitled 'A Journey Towards Death' in her hometown of Margate at Carl Freedman Gallery.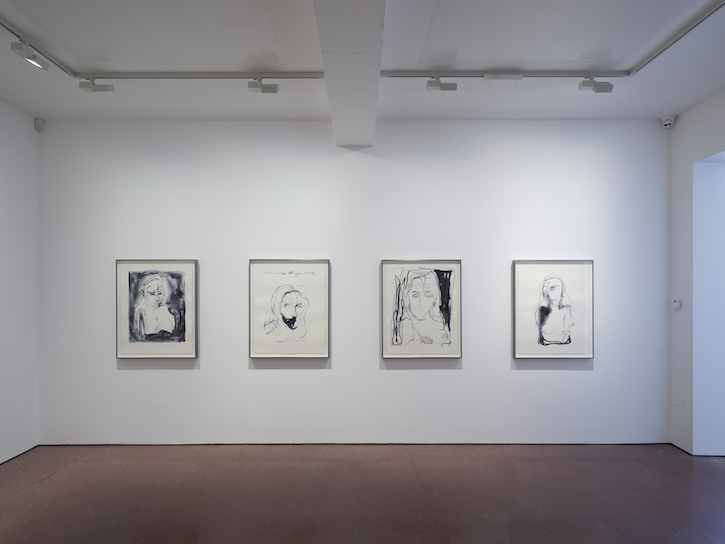 Two sides of the same coin, one body of work confronts pain and endings, whilst the other looks to the promise of love and healing after trauma. Both are united by Emin's singular vision and her unshaken commitment to representing the human condition honestly and without apology.
An image of the artist's bed appears as a recurring motif across Jupiter's gallery spaces, appearing in monotypes, drawings, small canvases and her larger-scale works. In 1999, Tracey Emin's bed, now titled My Bed, was displayed at Tate for the first time, and swiftly become one of the iconic artworks of the late twentieth century.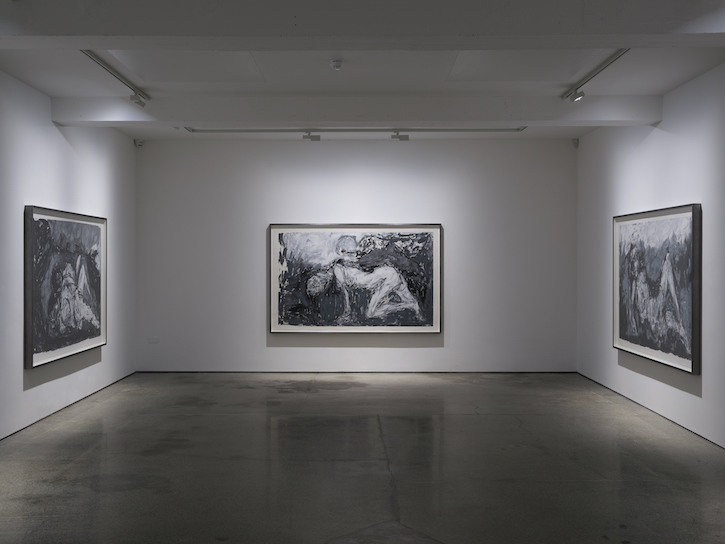 After the turmoil of the last few years, one can't help seeing these new works as haunting images of time spent in recovery, of the bed as a site of refuge and retreat, where one is confronted with the truth of the body's fragility and mortality. And yet there is an enduring message of hope that resonates through the work, a vulnerable tenderness imbued with gentleness and love.
Emin paints spaces where privacy belongs, sites of patience and resilience. The exhibition, which is also titled 'I Lay Here For You', speaks powerfully of the possibility of love returning. Set across the domestic spaces of Jupiter Artland's galleries, the artist's exhibition offers an intimate encounter and an unflinching look at pain, tenderness, longing and recovery. Where there is bodily vulnerability, there is also a defiance and love.
Emin is known for her autobiographical and confessional artwork. She represented Great Britain at the 52nd Venice Biennale in 2007 and was appointed Professor of Drawing at the Royal Academy of Arts in 2011. Her art is one of disclosure, using her life events as inspiration for works ranging from painting, drawing, video and installation, to photography, needlework and sculpture.
Emin reveals her hopes, humiliations, failures and successes in candid and, at times, excoriating work that is frequently both tragic and humorous. In 2020, a major solo exhibition entitled 'The Loneliness of the Soul' opened at the Royal Academy, London. The exhibition then toured to the new Munch Museum, Oslo, in Summer 2021 to critical acclaim.
'I Lay Here for You' at Jupiter Artland will be Emin's first solo exhibition in Scotland since her 2008 major retrospective at the Scottish National Gallery of Modern Art in Edinburgh.
Claire Feeley, Head of Exhibitions and Learning Programmes at Jupiter Artland
'I Lay Here for You' continues at Jupiter Artland until 2nd October 2022, and the public commission The Mother is now on view outside Oslo's Munch Museum.