One of the most formidable leaders in European history, Empress Catherine II ruled over Russia from 1762 until her death in 1796.
This famous depiction of her by Dmitriy Levitsky (1735–1822), shows the Empress burning poppies in the Temple Devoted to the Goddess of Justice, a symbol of her eternal sacrifice for Russia and role as a liberal legislator.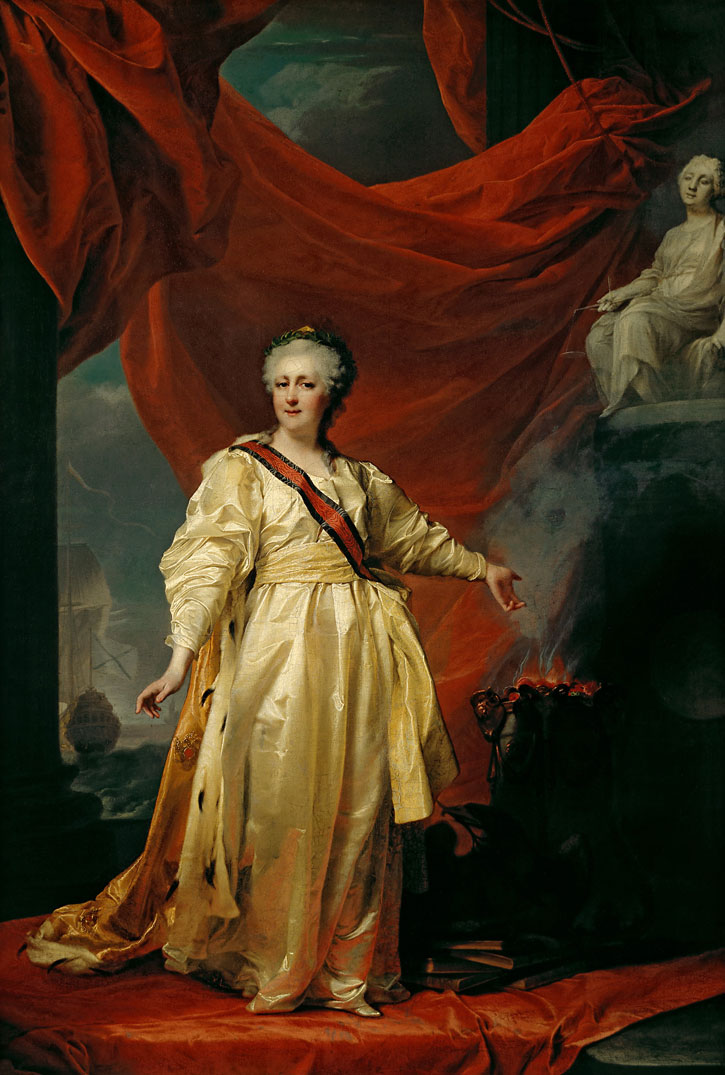 A woman without a biological claim to the throne, she legitimised her autocracy through cunning and sometimes ruthless strategies, often involving outwitting her enemies and by using sex as a political weapon. She was also an enlightened visionary, one who tried to become a new kind of liberal and merciful ruler.
Her legacy as a 'Great' leader was unfortunately sullied by misogynistic rumours about her personal life, which included speculations that she died while having sex with a horse and that she was a nymphomaniac. We know that Catherine enjoyed a degree of sexual liberation throughout her reign, a result of the fact that she was an independent woman who had usurped (and possibly approved the killing of) her husband Peter III.
While many historians regard Catherine as an enlightened 'hypocrite' and a megalomaniacal despot, others highlight the sexist double standards that were used to discredit her. Now, her remarkable story is being brought to the screen in Sky Atlantic's production Catherine the Great starring the most majestic of all British actresses, Helen Mirren.
Keep scrolling for more facts about the unusual reign of Catherine the Great, as well as the many depictions of her in British and European collections.
She was German and had no direct claim to the throne
Born in 1729 in the small town of Stettin in Prussia (now Szczecin, Poland), she came from a princely Germanic family who had fallen on hard times. Although she was blue-blooded, she was a relatively unknown aristocrat before marrying into the Russian royal family.
Her name at birth was Sophie
She was born Princess Sophie Friederike Auguste von Anhalt-Zerbst-Dornburg.
Upon converting to the Russian Orthodox religion after marriage, she took the name Catherine, which was chosen to evoke the legacy of Catherine I.
Her marriage to Peter III was a disaster
In 1744 she came to Russia at the age of 14, destined to be the demure and pretty bride of the Grand Duke Peter, her second cousin who would eventually become Peter III.
Her arranged marriage to Peter was far from happy. In fact, it was nothing short of a disaster. In her memoirs, she described her young husband as 'immature' and 'boorish'. She was known to have found him particularly unattractive, most likely due to his facial disfigurement – a result of smallpox. In return, Peter was indifferent to Catherine and repeatedly humiliated her in public. The couple were soon estranged from one another, though they posed for this portrait together in 1756.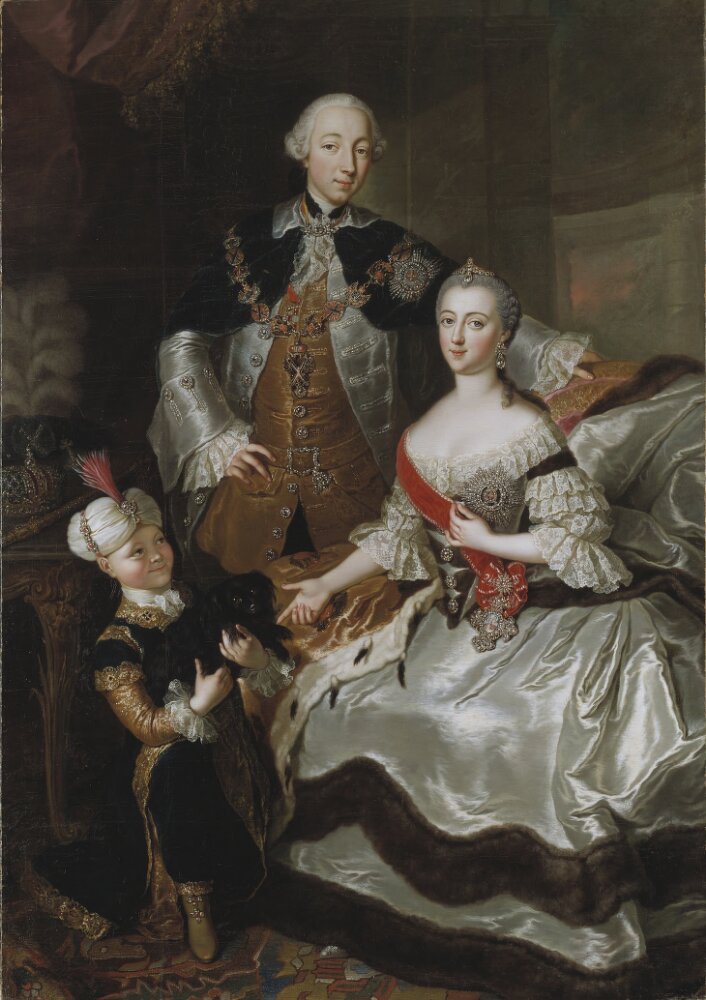 Catherine remained childless for many years, a fact which undermined her position as the bride to the successor of the Russian throne. According to her memoirs, this was because of her husband's impotence.
With the help of her lover, she usurped Peter III in a military coup
Catherine's lover, Grigory Orlov, helped her remove Peter III from power in a military coup in June 1762. Immediately after, she became Empress of Russia in her own right.
Meanwhile, Peter III was arrested and forced to abdicate. He died shortly afterwards in suspicious circumstances. While his death was presented as complications due to haemorrhoids, most believe that he was murdered by Aleksey Orlov, the brother of Grigory.
His death was wildly convenient for Catherine, whose position as sole ruler of Russia was now rendered secure. The event led to the popular Russian expression: 'autocracy tempered by assassination'.
She was an enlightened ruler who published ideas about liberal governance
In 1767, she published Nakaz (Instruction of Catherine the Great), a text that proposed a radically new, liberal, humanitarian approach to political theory.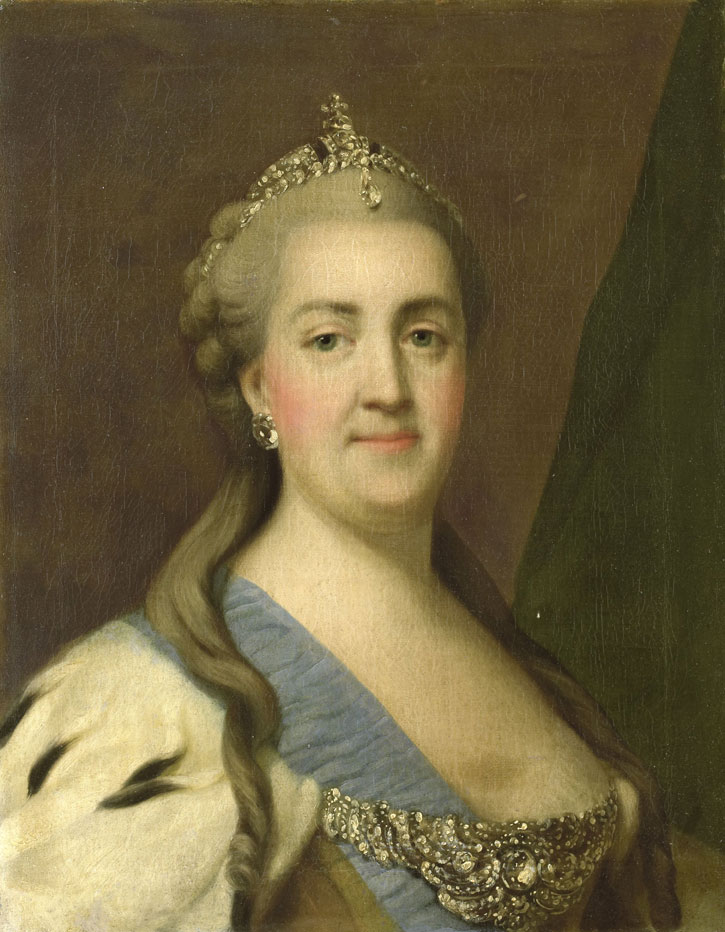 Largely inspired by ideas rooted in the French Enlightenment, the text proposed a new code of laws and reforms, including the proposed abolition of capital punishment, torture and serfdom.
Catherine hoped her Instruction would modernise Russia, but also strengthen the monarchy.
Her attempts to abolish serfdom were unpopular
Catherine's Instruction argued for the abolition of serfdom, which was a feudal system of indentured servitude that had existed in Russia since the twelfth century.
However Catherine's stance on the issue was hugely unpopular. The Russian nobility were not ready to emancipate their serfs.
She was forced to drop the idea, as without their support she was unable to remain popular and modernise Russia.
She was regarded as a nymphomaniac
Many believe Catherine was highly promiscuous. Historian Janet Hartley claims she had at least 12 lovers in her lifetime, before and after the death of her husband.
Others suggest that because Peter III was impotent, advisors encouraged her to have sexual relations with other men, with the goal of producing an heir.
In 1754, she gave birth to her first child, a son, Paul – who later became Paul I. To this day no one knows whether he was the son of Peter III, or the son of her lover Sergey Saltykov.
After she lost interest in Orlov, Catherine began a relationship with lieutenant-general Grigory Potemkin, a war hero who had been present at the 1762 coup. Potemkin was ten years younger than Catherine, and took Orlov's place in the imperial bedchamber in 1773.
While many believe Potemkin did love Catherine, it is likely that other suitors were simply using her to assume power and favour. She certainly did elevate the status of her lovers, or would threaten to sabotage them if they betrayed her.
Because she couldn't trust those around her, Catherine changed her lovers frequently, pulling political strings through sex, but also to guarantee that no man became too powerful.
She was friends with Voltaire
Enlightenment philosophy had swept across Europe by the time Catherine took power.
She was famously in correspondence with the French philosopher Voltaire, whose ideas and wit she greatly admired. In return, Voltaire praised Catherine's secular reforms and had a particular interest in Russia, a country he believed to be the most civilised nation in eighteenth-century Europe.
Though he was fascinated by Russia, Voltaire never voyaged there, nor met Catherine.
She had an aggressive foreign policy
Catherine expanded the Russian Empire considerably during her reign, both southwards and westwards.
In 1764, she placed her estranged lover Stanislaw Poniatowski on the Polish throne. Between 1768 and 1774 she staged a Russo-Turkish war against the Ottoman Empire, and in 1783 she annexed Crimea, an event that led to the concept of Potemkin villages (when Potemkin created fake portable villages to impress the Empress upon her visit to Crimea in 1787).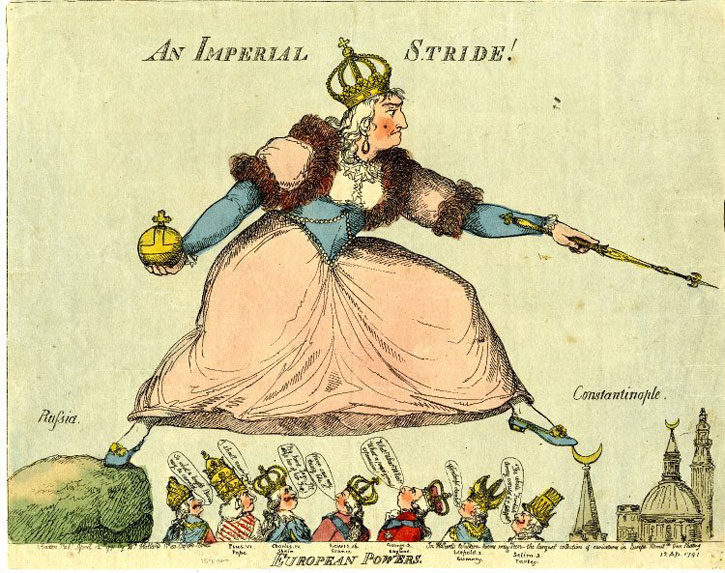 This satirical print found in the British Museum derives from a sexist joke that was originally published in The Bon Ton Magazine in 1791:
'The Empress of Russia is said to intend placing one foot upon Petersburgh, and the other upon Constantinople. What a delight must the Imperial stride afford to the curious inhabitants of the intermediate countries.'
The French created a more sordid version of the cartoon, in which Catherine is shown bare-breasted.
She supported introduced inoculation to Russia
By the end of the eighteenth century, smallpox had killed hundreds of thousands of people across all over Europe.
Fearful of contracting the disease, she invited the English physician Thomas Dimsdale to Russia to inoculate both herself and her son.
She became the first in Russia to undertake the procedure. She reportedly said: 'My objective was, through my example, to save from death the multitude of my subjects who, not knowing the value of this technique, and frightened of it, were left in danger.'
Here is a portrait of Dr John Rogerson, Catherine's Scottish adviser and physician. He was also the person responsible for checking that her lovers didn't have venereal disease.
She was a great patron of the arts
Catherine was a passionate patron of the arts, especially theatre, literature, painting and sculpture. Her art collection became the basis of The Hermitage Museum in the Winter Palace, St Petersburg, which is arguably one of the most impressive collections in the world.
Her collections included works by Rembrandt, Frans Hals, Rubens, Titian, Raphael, Van Dyck and Élisabeth Vigée Le Brun, the French portraitist who had painted Marie Antoinette.
In her memoir, Vigée Le Brun recounted visiting the Empress:
'The sight of this famous woman so impressed me that I found it impossible to think of anything: I could only stare at her. Firstly, I was very surprised at her small stature; I had imagined her to be very tall, as great as her fame. She was also very fat, but her face was still beautiful, she wore her white hair up, framing it perfectly.'
While in Russia, Vigée Le Brun painted the Empress' granddaughters, and also this portrait of Countess Golovina, who had become a maid of honour at Catherine's court in 1783. Catherine was due to sit for Vigée Le Brun but died before she could begin.
Art was an important tool for Catherine, as it allowed her to propagate representations of her as an absolute ruler, both in Russia and abroad.
In 1779, Catherine famously snapped up the collection of Britain's first prime minister, Sir Robert Walpole, whose vast collection of over 200 paintings had to be sold off when his descendants found themselves in debt. The only work she was unable to purchase was a work by Andrea del Sarto that had been hidden in the attic of Walpole's stately home, Houghton Hall, Norfolk.
Horace Walpole was deeply depressed that the family's prized collection was sold to the Russians, saying: 'To be sure, I should wish they were rather sold to the Crown of England than to that of Russia where they will be burnt in a wooden palace on the first insurrection.'
Out of the original 203 paintings, 163 are still housed in The Hermitage.
Perhaps above all, the acquisition and dissemination of art was the most important political and diplomatic tool for Catherine.
She commissioned many Russian and French artists to paint and sculpt portraits and busts of her, which can now be found in collections all over Europe.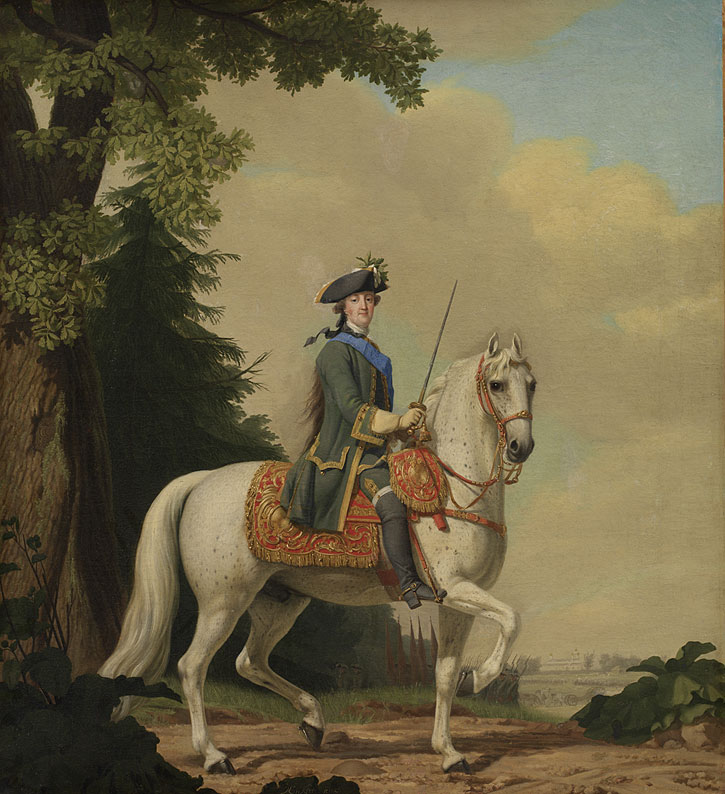 In fact, the infamous rumour that she died while having sex with a horse was likely because of the many equestrian sculptures and paintings she had commissioned, like this one above.
While Catherine's legacy was 'great', history was far from kind to her. Her tarnished reputation – as a woman who enjoyed, sex, power and even warfare – would follow her for centuries. Of course, this was undeniably because she was a woman, behaving like a man, in what was undeniably still a man's world.
Lydia Figes, Content Creator at Art UK
Further reading
Adam Gopnik, 'Voltaire's Garden: The philosopher as a campaigner for human rights', The New Yorker, 7th March 2005
Isabel de Madariaga, Catherine the Great: a Short History, Yale University Press, 1990
Roderick Conway Morris, 'A Magnificent Collection Comes Back to England', The New York Times, 20th May 2013
Larry Wolff, '"If I Were Younger I Would Make Myself Russian": Voltaire's Encounter With the Czars', The New York Times, 13th November 1994