'Annual exhibitions of sculpture have produced two main classes of work. There is the ordinary, merely representative and non-expressive sculpture which we have always had with us. The other class, the work of artists who attempt some serious expression, has shown almost exclusively the influence of Rodin's dominating genius.' So said Roger Fry in 1910.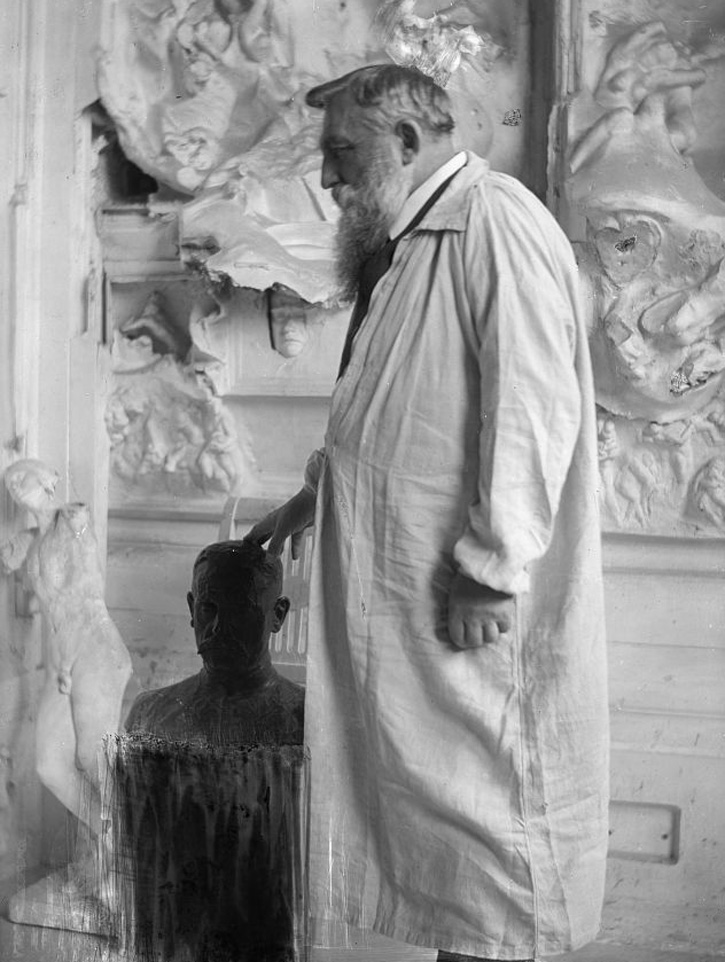 In 1877, the lithe figure The Age of Bronze by Auguste Rodin (1840–1917) was considered so lifelike that it was suggested that it must have been cast from a human being. This was a potentially damaging accusation for the artist at a vital stage in his career and may have been made with malicious intent. But for the generation who followed him, Rodin did indeed breathe life into clay. Numerous casts were made of the sculpture.
The three sculptors that are the starting point for the 'Being Human' exhibition at Bristol Museum & Art Gallery (until October 2020, temporarily closed), Emile-Antoine Bourdelle (1861–1929), Robert Wlérick (1882–1944) and Wilhelm Lehmbruck (1881–1919), all followed where Rodin led. Rodin restored the vitality of Michelangelo to figure sculpture. He worked with ordinary people rather than professional models and brought human emotion to his sculptural language. He had a long apprenticeship as a stonemason.
While many sculptors commissioned craftsmen to carry out the heavy work, Rodin did his own carving and modelling. His sculpture of Eve, first exhibited in 1881, which was based on a pregnant model, shows her ineffectually attempting to hide her body with her arms in a pose that is wholly natural in its very awkwardness. Accomplished, complex, daring: in creating a visual language that transgressed the academic establishment, Rodin galvanised sculpture for years to come, whether artists were building on his influence or reacting against it.
To some extent Bourdelle and Wlérick occupy these conflicting poles: both artists were frustrated by the traditional teaching they received at the École des Beaux Arts in Toulouse and moved to Paris. Bourdelle joined Rodin as a studio assistant in 1893. Wlérick fell in with the so-called 'anti-Rodin' camp of Lucien Schnegg (1864–1909), although Schnegg himself had been an assistant to Rodin.
Bourdelle learned carving from his cabinet-maker father before his studies in Toulouse. In Paris, he worked in Rodin's studio from 1893 until 1908, where he built on the drama and realism of Rodin's style. We can trace the influence of Rodin and Bourdelle in a direct line through sculpture in the early twentieth century. They established a free sculpture school attended by Henri Matisse (1869–1954). Bourdelle taught Alberto Giacometti (1901–1966) and Germaine Richier (1902–1959), who in turn were significant influences on twentieth-century British sculptors, especially Elisabeth Frink (1930–1993).
Bourdelle's La bacchante was made the year he left Rodin's studio. She stands in an exaggerated contrapposto position on one leg with the other climbing up onto an ornamental rock. The pose seems to anchor the movement of the torso and the arms. The bacchante's raised leg – an exultant, stamping, grape-crushing gesture – is balanced by her arm which holds vines and a bowl aloft over her head. Her body forms a figure of eight, with her stomach at its centre.
The bacchante is a traditional subject. Even so, the dynamism of the dancer follows the rhythms of Rodin. We can see the influence of the older artist in the expressive realism of this sculpture.
Wlérick was born in Mont de Marsan and trained in Toulouse. Like Bourdelle he was dissatisfied with the school at Toulouse and moved to Paris in 1906. Here he became close to the so-called 'Bande a Schnegg'. The aims of the group are ambiguous: although described as 'anti-Rodin', this seems to refer to their harking back to an earlier, classical ideal predating the more vigorous aspects of his work, rather than an actual opposition to Rodin.
Nevertheless, Wlérick's torso of a young woman, La jeunesse (1935), owes much to Rodin's treatment of what is described as the partial figure. We frequently see the fragmented forms of modern sculpture as an allusion to classical sculptural ruins. For Rodin, the concentration on details animates the bodies. We can see this in the subtle turn of the female figure's head in La jeunesse. This version was cast in 1935 but was modelled in 1911 on the artist's wife, Georgette. The subtle poise of the figure contrasts with the giddy kineticism of the bacchante. A sense of movement is immanent in the gentle turning of the torso and the way in which her head nestles into the collarbone: it is even comparable to Eve.
Lehmbruck's legacy to modern sculpture is the most poignant. An accomplished violinist as well as a sculptor, he was very sensitive and prone to melancholy. As he bemoaned in 1904: 'What a state I have been reduced to! Through concentrating on what is ideal, I have quite lost my sense of grip on what is real, and am surprised to find myself once more again in a physical body. I have difficulty in coming to terms with reality.'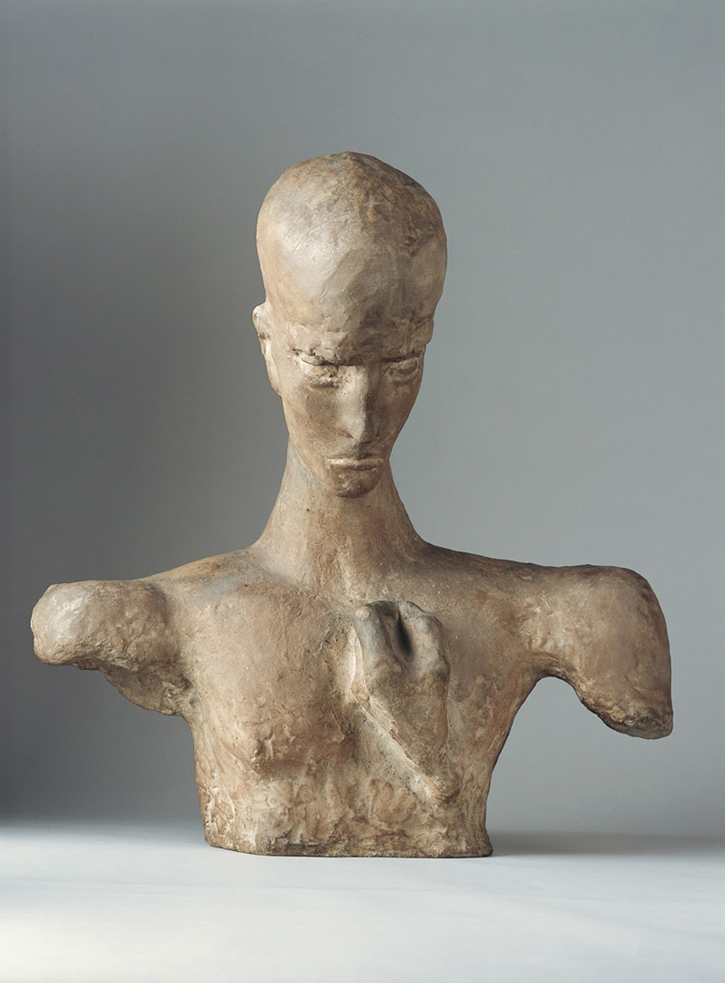 Lehmbruck's father was a miner and his early work celebrated the heroism of labour. He had studied carving and casting. When saw the work of Rodin in Düsseldorf in 1904, the revelation inspired him to move to Paris in 1910. He met Constantin Brancusi (1876–1957), Alexander Archipenko (1887–1964) and Amedeo Modigliani (1884–1920). He developed a style made up of elongated forms and fragmented figures. Lehmbruck was the only German sculptor to have a show in Paris between the Franco-Prussian War and First World War. The First World War forced him to leave his beloved France and he took ambulance driving lessons to avoid military service. He was permitted to work as a war artist in Switzerland but acute depression at the war led to his suicide in 1919.
'you who have made so much death/have you none for me?' (1918)
Like Wlérick's La jeunesse, Lehmbruck's Small Female Torso is a partial form that concentrates on the core of the body. As in many of Rodin's marble carvings, the roughness of the cut-off limbs makes the figure appear to emerge from the material from which it is carved. The torso was actually cast in cement and then given a patina in order to appear like stone. Cement and concrete were commonly used by sculptors, being less expensive than casting in bronze at a foundry. The torso is a more solid and inert form than Lehmbruck's long-limbed figures. After Lehmbruck's suicide, many of his sculptures were recast in bronze, and there are three such casts known to have been taken of this work.
Bourdelle, Wlérick and Lehmbruck continued Rodin's push to reanimate sculpture. His radicalism and passion echo in their work and throughout the twentieth century. There was no reversing these creations to clay.
Julia Carver, Curator of 'Being Human: an exhibition of modern sculpture', Bristol Museum & Art Gallery, open until 4th October 2020