Download and subscribe on iTunes, Stitcher or TuneIn
Art Matters is the podcast that brings together pop culture and art history, hosted by Ferren Gipson.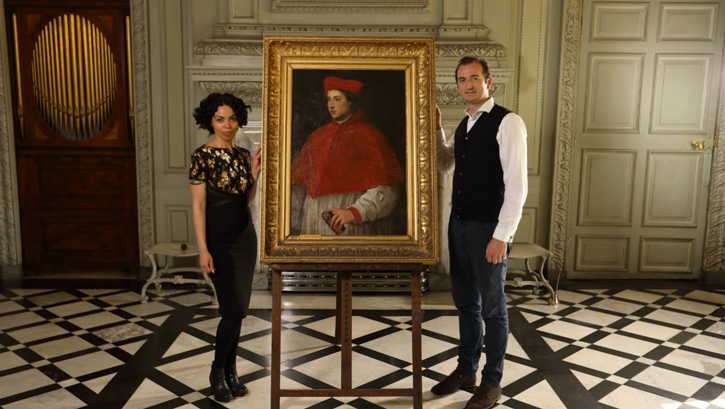 The BBC's third series of Britain's Lost Masterpieces has just finished, and it saw the hosts Dr Bendor Grosvenor and Emma Dabiri visit venues across the UK to see if they could uncover hidden gems in the nation's collections. What goes into producing a series like this? How do they go about selecting which masterpieces to investigate? I spoke with Bendor to find out more, starting with how they decide on which paintings to research.
'We have absolutely no guarantee – or no way of knowing – before we start whether the pictures have got a good chance of getting the 'nod', so to speak, from our chosen experts,' Bendor says. 'We can't subject the viewers of the BBC to an hour of me being completely wrong... so we have to think really hard about which pictures to go for.'
With over 200,000 paintings in public collections, it seems a daunting task to know where to start. Bendor tells me that he begins his search on the Art UK website before paying a visit to his chosen masterpieces to review them in person with his trusty binoculars and torch.
It's probably something like between 500 and a thousand pictures I'll look at – either online or somewhere – and then that'll get boiled down to one contender.
For any aspiring art investigators out there, Bendor reveals the three key things he's looking for in a potential masterpiece: changes, condition, and quality. Assessing these three factors help tell him if he's on the right path to uncovering a lost gem.
Throughout the series we hear different terms around how paintings can be attributed. Is a painting by an artist or is it attributed to the artist? It may seem like a minor difference, but Bendor explains the hierarchy. 'On the attributional ladder at the top, you've got the artist's name, and if you say 'Titian' then that means you're fairly certain it's by Titian. Underneath that, you've got 'attributed to' which means you're sort of 80, 90 percent there, but there may be criteria you haven't been able to satisfy... Underneath that, then you've got 'studio of Titian'. So, is it painted by someone using Titian's paints and styles in his workshop? Because, of course, these artists had huge art factories and churned the pictures out, but not necessarily painted by the man himself.'
Before coming to the point of discussing attribution in the series, the investigation often begins with some cleaning and restoration at Simon Gillespie's studio – a key part of the process. 'If I've got any skills in art sleuthing, it's being able to assess condition because that is the number one reason why paintings lose their attribution,' says Bendor.
Paintings are often coated with a layer of varnish, which can yellow over time. Additionally, some paintings may be subject to restorations or damage that can obscure their true quality. The restoration work carried out at Simon Gillespie's studio can help claw back years of damage, enabling the team to fairly assess the quality and authenticity of a painting. Removing a layer of varnish that's gone yellow brings out the subtleties in colour which can be revealing in the hunt for a masterpiece, as we saw in the second episode of the series looking at a work by Zoffany.
In speaking with a lot of young people with an interest in art, one of the common questions I'm asked is about the types of jobs available in the field. One of the interesting things about Britain's Lost Masterpieces is that it shows some of the science and problem-solving that can go into art historical research. Bendor spoke with me about how this type of research fits into wider art history and why it's so impactful.
'One of the reasons I do this programme is to try to show to people that it's not this sort of mystical, elitist, strange practice, but something that you can demonstrate clearly how it works and why it works. The other reason I do it is because it's actually a fantastically useful way of getting people engaged in art history.'
In the full podcast episode above, Bendor and I discuss each of the masterpieces from the BBC series, and demystify more of the process of making the show. Click the player above to hear the full episode.
If you found this conversation interesting and didn't catch Britain's Lost Masterpieces on BBC Four, you can watch it for a brief period on the BBC iPlayer. I also encourage you to head over to our Art Detective platform, where you can get stuck into solving your own art mysteries.
Explore more
The quirky side of Johann Zoffany
Ten top Titians in UK collections
Listen to our other Art Matters podcast episodes
.