Download and subscribe on Apple Podcasts, Stitcher or TuneIn
Art Matters is the podcast that brings together popular culture and art history, hosted by Ferren Gipson.
When it comes to tracking beauty trends throughout art history, looks are always more than they seem. By examining the clothing, hairstyles and make-up of sitters in paintings, we can gain deeper insight into the politics behind the styles of a given era. 'Art is a really good way of fossilising the moment,' says Jon Sleigh, freelance arts educator and learning curator.
In this episode, we look at beauty trends across a few periods as a way of demonstrating how paintings capture moments in the history of beauty.
The Elizabethans
Elizabeth I was aware of the precarious state of her throne and how she was perceived by the men around her.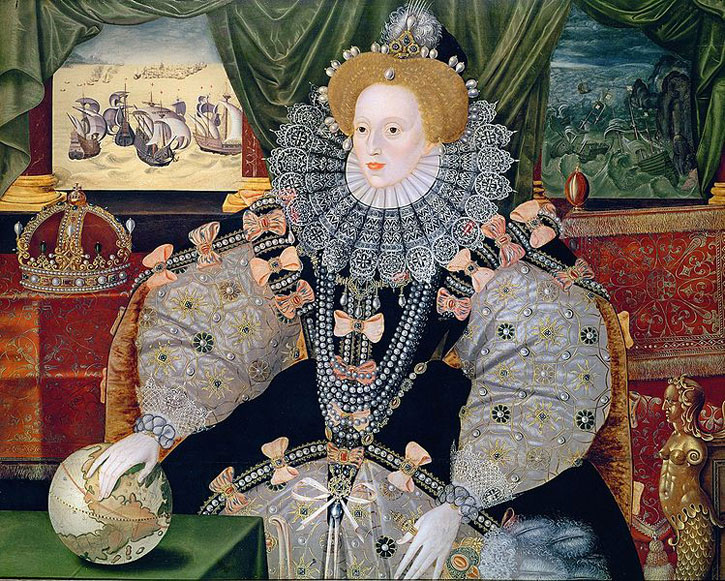 As England faced an oncoming invasion by the Spanish Armada, Elizabeth delivered a speech acknowledging that she had the body of a 'weak, feeble woman' but the 'heart and stomach of a king'. She matched the fierceness of her words with her exterior, creating an outer appearance that commanded respect. 'Her use of cosmetics and her use of styling were almost her battle cry,' says Jon.
After the success of the English in battle, jewellery featuring Elizabeth and symbols of her strength and purity were worn with her encouragement. The famous Armada Portrait was also commissioned, which is rich in symbolism and insight into the beauty trends of the period. We observe the pale pallor of her face and the layers upon layers of garments adding to her girth.
'The detail on the dress is so rich and there are layers of perspective, but when we get to the face, it's bleached out,' says Jon. 'The idea that a woman and her presentation could equal some kind of weakness politically meant that she created this gargoyle of herself in order to maintain power.'
Beauty trends trickled down from Elizabeth, who leveraged her appearance for power, to noblewomen who sought emulate her likeness. If you look at portraits of women from this period, such as a painting of a courtier's daughter named Catherine Killigrew, one notices that she shares Elizabeth's alabaster complexion and high forehead. Even her dress has the same large sleeves, high collar and shape of the queen's dress in the Armada Portrait.
'Elizabeth is known to have lost her hair and wore ever-greater elaborate wigs as she got older. The women of the court did exactly the same thing – they were deliberately shaving their heads, they were reducing their hairline back further and further to match hers,' says Jon.
Cosmetics and promiscuity
Moving forward to the era of Charles II, we can look to the works of portraitist Peter Lely, a prominent seventeenth-century court painter also known for his fleshy paintings of beautiful women. 'What's fascinating about looking a Lely's portraiture is that these women are painted ladies – they're referred to in art history as painted ladies because the cosmetics they're wearing were designed for the stage so that you could see them from far away. That over-sexualisation – how extreme it was from natural beauty – suddenly became a vogue,' says Jon.
This was a time when women were beginning to be allowed to act on stage, though acting was sometimes connected to prostitution. Cosmetics became linked to both professions and wearing cosmetics developed associations of promiscuity.
'For hundreds of years afterwards, that link in art history between cosmetics and sexual licence was so prevalent that when we get to the Victorian period, Victoria was keen to eradicate the Georgian era and all of the sexual excess that was associated with it, so cosmetics were massively frowned upon,' says Jon.
The Georgians
In looking at the later trends of the Georgian period including the corsetry, make-up and elaborate wigs, we can get a further understanding of how to decode the surface beauty of paintings.
Taking Mrs Siddons by Thomas Gainsborough as an example, we see a fashionable woman, with a powdered hairstyle and large hat, looking off-canvas with a composed posture. Mrs Siddons was a successful actress who married well and became a socialite in important circles.
'On the one hand, she looks incredibly beautiful, aristocratic, and in charge of the world – there is such an air of intelligence when you look at her portrait. But then that's counteracted by the fact that she's got lead and mercury on her face, that she's very heavily corseted to a point where her organs would have been displaced, and that she has the most ginormous hairstyle – which is based, in part, in Georgian art as a reaction to syphilis,' says Jon. 'People were back-combing their hair, whitening it and making it look as thick as possible because one of the side effects of syphilis is open sores on the scalp.'
The Victorians
Following the powdered wigs and faces of the Georgians, the beauty trends of the Victorian era were markedly different. While it was still desirable for women to have the clear, healthy-looking skin that cosmetics could offer, it also became the fashion to look natural and use natural products. This even had an impact on men's fashions.
'We'd gone from Georgian men, which could be glamorous and beautiful – heavy cosmetics, huge wigs, elaborate waistcoats – and then suddenly we start to work towards the Victorian aspect of a man, which is a standard suit, breeches and a cravat. It really changes what we perceive people to be and also what's respectable,' says Jon.
The work of the Pre-Raphaelites is a great example of this aesthetic shift. The women visible in the imagery of this movement eschewed tightly cinched clothing in favour of loose-fitting dresses and more plain fabrics. In portraits of the model and embroiderer Jane Morris, we observe that her wavy hair is loosely swept back and her face is devoid of make-up. We previously discussed the group's emphasis on naturalism in our episode on the Pre-Raphaelites' relationship with science, and this idea carried through to their personal aesthetics. They even went so far as to say the way they dressed was 'healthier', and artists including George Frederic Watts and Louise Jopling joined a group called the Healthy & Artistic Dress Union.
Moving into modern and contemporary art, the relationship between art and beauty trends played out in other ways. Portraiture can hold up a mirror to the trends of a given era, but artists also engaged directly with beauty trends as tools for expression. Salvador Dalí designed a range of make-up compacts, for example, and Cindy Sherman used wigs and cosmetics to become dramatic and varied characters in her self-portrait photography.
'Looking at the cosmetics and the styling of people in portraiture is a really good vehicle for empathy,' says Jon. 'Women denied so much social voice found it in the use of their bodies and cosmetics. It's really quite poignant to find the individual behind the mask.'
Listen to our other Art Matters podcast episodes