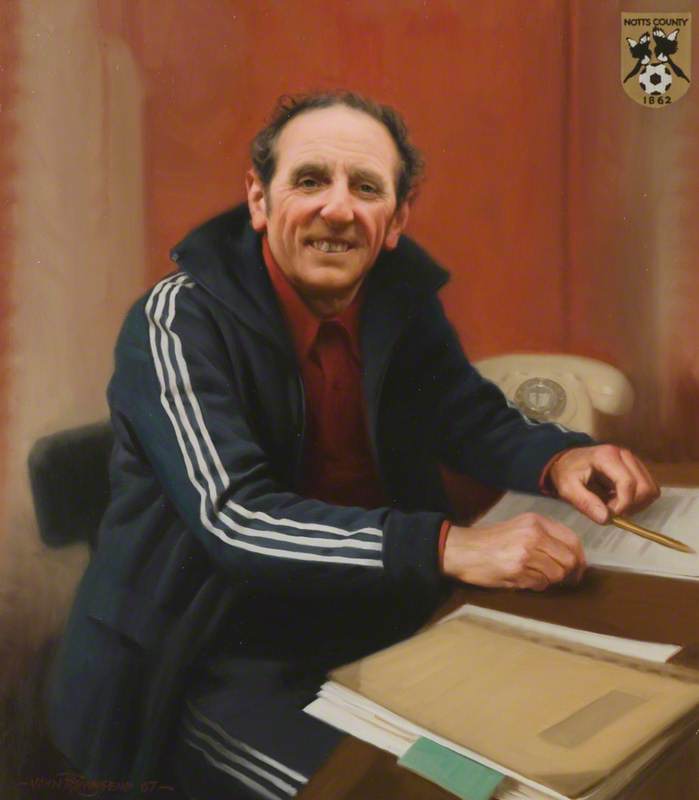 © the copyright holder. Photo credit: Nottinghamshire County Football Club
Painter, notably of portraits, also of landscapes, born in Sherwood, Nottinghamshire, where he settled at Hoveringham. His father was art director at the printing firm Thomas Forman, his grandfather the Nottinghamshire and England cricketer John Gunn, who helped set up the cricket bat firm Gunn and Moore. Townsend grew up in an artistic atmosphere, his father a weekend painter, their home being visited by well-known artists including William Russell Flint and Gerald Kelly. He was encouraged to attend Nottingham College of Art. After National Service from 1952 Townsend became a commercial artist, travelled widely in Europe and, with the help of the Duke of Bedford, who encouraged Townsend to paint his family, developed as a portrait painter. He took over the Nottingham studio of the retiring Arthur Spooner and painted many masonic portraits in the Midlands.
Read more
In 1971 he was commissioned by the industrialist Lewis Colton to portray Queen Elizabeth II, the work being completed from photographs and hung in Nottingham Council House. Van Dyck and Rembrandt were influences.
Text source: 'Artists in Britain Since 1945' by David Buckman (Art Dictionaries Ltd, part of Sansom & Company)