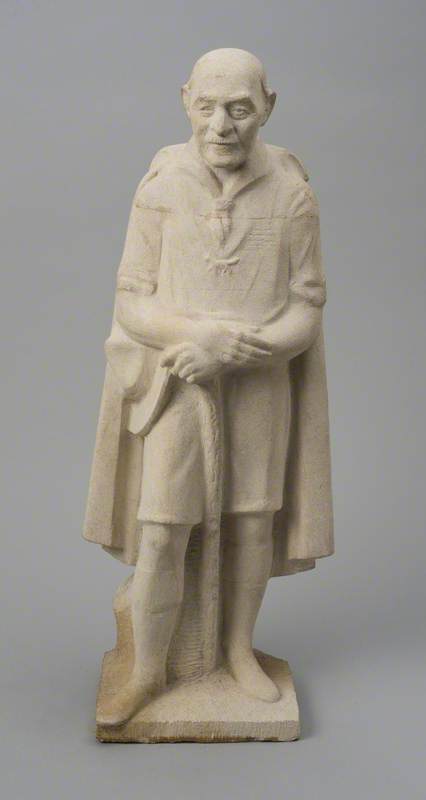 © the copyright holder. Photo credit: The Scouts Heritage Service
Sculptor in a variety of materials, potter and teacher, born in Newington, Kent, a pupil of the sculptor Eric Gill. Potter assisted Gill with the carving of two sea-horses in Portland stone on the outside of Morecambe Hotel and based on Gill's sketches brought to fruition such projects as the sculpture of St Sebastian for Winchester College, doors depicting scientists for the Bodleian Library, Oxford, and a crucifixion for St Peter's Church, Gorleston-on-Sea. Potter's memories of working with Gill were published privately in 1980. He was elected a fellow of RBS. Among his works were a figure of St Sebastian at Winchester College and a statue of Robert Baden-Powell, founder of the Boy Scout movement, in Queen's Gate, Kensington. Lived with his weaver-artist wife Mary at Bryanston School, Blandford Forum, Dorset, where they both taught, he from 1941–82.
Read more
The designer Terence Conran, architects Quinlan Terry and and Richard Burton, letterer Bryant Fedden and studio potters Richard Batterham and Mike Dodd were all enthused by Potter's instruction. While at Bryanston, Potter completed much church work in tandem with the architect Richard Twentyman and his later commissions included a crucifix for St George's Chapel, Windsor, 1970, and in 1991, aged 89, Mary, Jesus and St Nicholas for Durweston Church, near Bryanston. Dorset County Museum celebrated Potter's hundredth birthday, beyond which he continued to carve, with a retrospective exhibition.
Text source: 'Artists in Britain Since 1945' by David Buckman (Art Dictionaries Ltd, part of Sansom & Company)