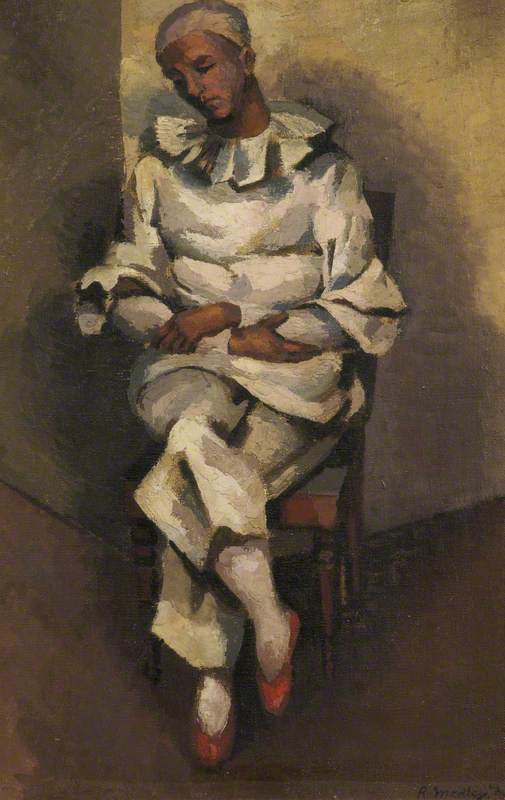 © the estate of Robert Medley, courtesy of James Hyman Gallery, London. Photo credit: Salford Museum & Art Gallery
British painter and theatre designer, born in London. He studied at the Byam *Shaw School, London, 1921–3, the *Royal Academy Schools briefly in 1924, the *Slade School, 1924–6, and in Paris under Jean *Marchand, 1926–7. In the 1930s he worked with the left-wing Group Theatre, designing sets and costumes for plays by W. H. Auden (who was Medley's lover for a time), T. S. Eliot, Christopher Isherwood, and Louis MacNeice. During this period he became interested in *Surrealism and his work was included in the London International Surrealist Exhibition in 1936. In the Second World War he worked mainly on camouflage in the Middle East. Before and after the war he taught at Chelsea School of Art, then in 1951–8 taught stage design at the Slade School.
Read more
From 1958 to 1965 he was head of the Department of Fine Art at Camberwell School of Arts and Crafts. His main subjects as a painter were landscape, still-life, and figure compositions, and his approach was highly varied. In 1979 he summed up his stylistic development as follows: 'Early influences until 1939 were the *Bloomsbury Group and the *École de Paris, though from 1932 Surrealist and political pressures also exerted their influence. After the war my work was concerned with the movement of human figures in space…and with industrial landscape…By the 1960s the freedom of line and direct brushwork disintegrated the "representational", but the pictures remained metaphors for actual visual experiences. This was followed by an entirely non-figurative and geometric period…I now work in both conventions—non-figurative and figurative—as I feel inclined.' In 1976 he played the role of Diocletian in Derek Jarman's film Sebastiane and in 1983 he published an autobiography, Drawn from Life. He continued working and exhibiting until the end of his long life and in the year of his death he won a prize for the most distinguished work in the Royal Academy summer exhibition.
Text source: A Dictionary of Modern and Contemporary Art (Oxford University Press)