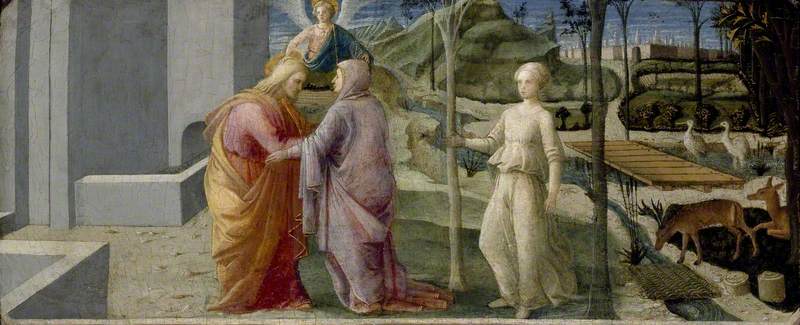 Photo credit: Ashmolean Museum, University of Oxford
(b Florence, c.1406; d Spoleto, 10 Oct. 1469). Florentine painter. He was brought up as an unwanted child in the Carmelite friary of S. Maria del Carmine, where he took his vows in 1421. Unlike the Dominican Fra Angelico, however, Lippi was a reluctant friar and had a scandalous love affair with a nun, Lucrezia Buti, who bore his son Filippino Lippi and a daughter Alessandra. The couple were released from their vows and allowed to marry, but Lippi still signed himself 'Frater Philippus'. His biography (romantically embroidered to include capture by Moorish pirates) is one of the most colourful in Vasari's Lives and has given rise to the picture of a worldly Renaissance artist, rebelling against the discipline of the Church—an image reflected in Robert Browning's poem about Lippi ('Fra Lippo Lippi' in Men and Women, 1855).
Read more
He must certainly have had a more eventful life than most, but there is little solid evidence of his character and personality. Vasari writes that Lippi was inspired to become a painter by watching Masaccio at work in the Carmine church, and his early work, notably the Tarquinia Madonna (1437, Gal. Naz., Rome), is indeed overwhelmingly influenced by him. From about 1440, however, his style changed direction, becoming more linear and preoccupied with decorative motifs—thin, fluttering draperies, brocades, etc. Lippi is associated particularly with paintings of the Virgin and Child, which are sometimes in the form of tondi, a format he was among the first to use—a beautiful example (c.1453), showing the wistful delicacy and exquisite pale lighting that characterizes his best work, is in the Pitti, Florence. Another formal innovation with which Lippi is closely associated is the sacra conversazione—his Barbadori Altarpiece (begun 1437, Louvre, Paris) is sometimes claimed as the earliest example of the type. As a fresco painter Lippi's finest achievement is his cycle on the lives of St Stephen and St John the Baptist (1452–66) in Prato Cathedral. Lippi was highly regarded in his day (he was patronized by the Medici, who came to his aid when he was imprisoned and tortured for alleged fraud), and his influence is seen in the work of numerous artists, most notably Botticelli, who was probably his pupil. Four centuries later he was one of the major sources for the second wave of Pre-Raphaelitism.
Text source: The Oxford Dictionary of Art and Artists (Oxford University Press)