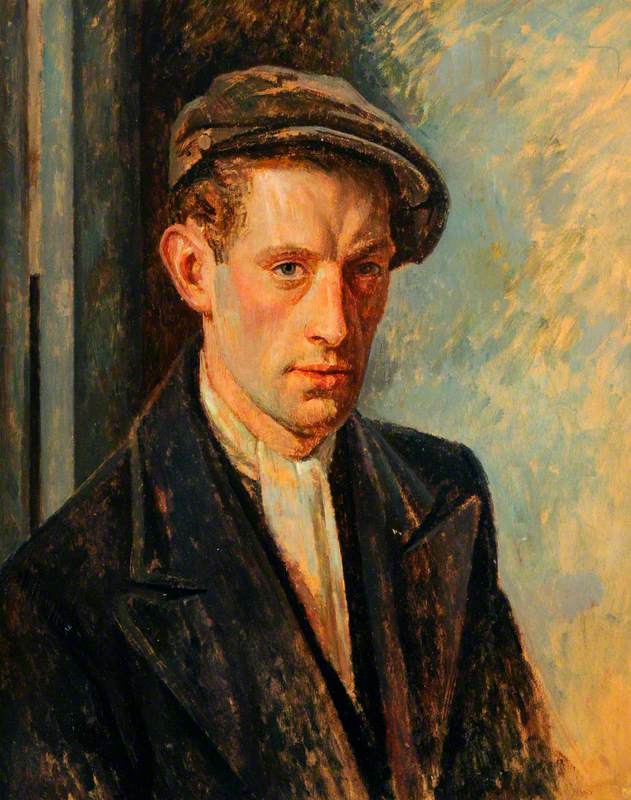 © the artist's estate. Photo credit: Museums Sheffield
Painter and draughtsman, born in Brighton, Sussex. Studied at Brighton School of Art, 1918–20, where he had a scholarship. Horton was a man of strong radical convictions, and because he was an absolute conscientious objector he had to endure two years' hard labour in Carlton Prison, Edinburgh, 1916–18, during World War I. From 1916–18 was at Central School of Arts and Crafts under A S Hartrick and Ernest Jackson, then with a Royal Exhibition attended Royal College of Art, under Randolph Schwabe and Allan Gwynne-Jones, 1922–5. Horton went on to teach at the Royal College, 1930–49, where he was a highly respected figure, becoming Ruskin Master of Drawing at Oxford University, 1949. Taught voluntarily at the Working Men's College, London, for a time.
Read more
Horton's social commitment is evident also in his early membership of the AIA, writings in the New Left Review and subject matter, such as his picture Unemployed Man, held by Sheffield City Art Galleries, which held a major show of his work in 1982. Tate Gallery also holds his picture The Invalid, of his mother. Horton was a realistic painter, influenced by Cézanne, who showed from 1926 with NEAC, also RA and Goupil Gallery. His younger brother was the artist Ronald Horton. Lived in Lewes, Sussex.
Text source: 'Artists in Britain Since 1945' by David Buckman (Art Dictionaries Ltd, part of Sansom & Company)